Looking for an amazing blueberry mojito recipe? This blueberry coconut mojito is the ultimate refreshing cocktail for a warm day. Made with fresh mint, blueberries, lime juice and simple syrup, this malibu mojito is perfect anytime you're in the mood for a cold drink.
This post may contain affiliate links. Delightful E Made is a participant in the Amazon Services LLC Associates Program, an affiliate advertising program designed to provide a means for us to earn fees by linking to Amazon.com and affiliated sites.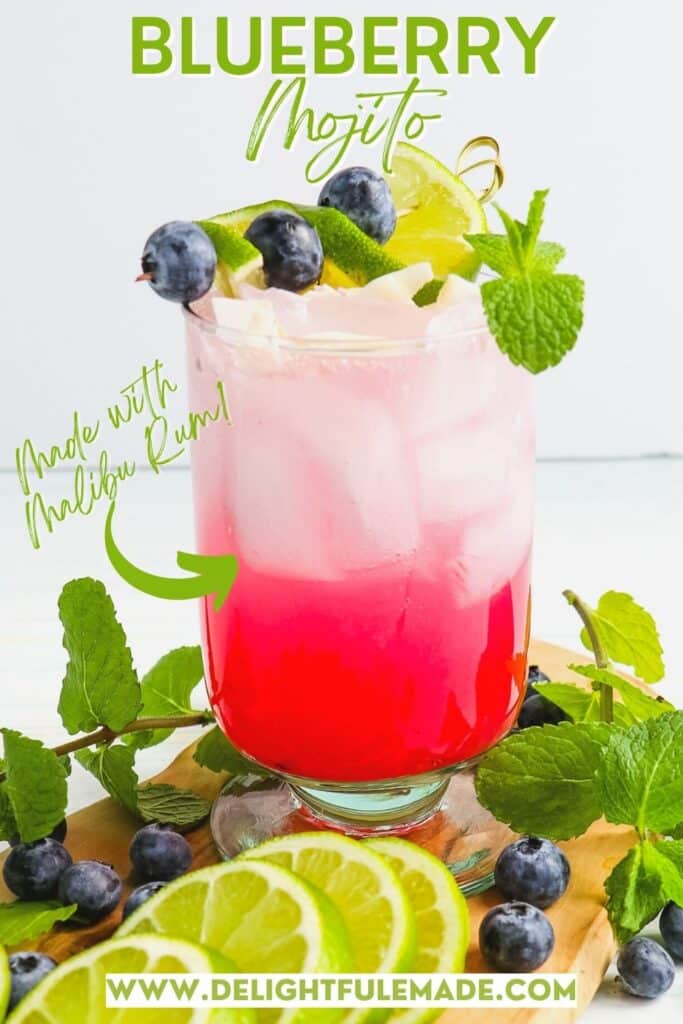 Do you remember the first time you tried a mojito? For me is was several years ago, and mojitos were becoming very popular on restaurant menus. My husband and I were at our favorite Tex-Mex place, and it was especially warm outside. Ordering a cold, refreshing cocktail was definitely in order.
The moment the cocktail hit the table, I knew I would love it! It's very pretty with fresh, green mint leaves, and even the look of the cocktail says "cold….refreshing…laid-back." This is exactly what a delicious mojito brings, and my Blueberry Coconut Mojito is no exception.
What do I need to make a blueberry mojito?
Here's a quick reference checklist of the ingredients you'll need to make a blueberry mojito:
Fresh mint
Fresh blueberries – you could also use frozen blueberries if fresh are unavailable or out of season
Simple syrup – you can make your own simple syrup by mixing a 1:1 water/sugar and simmering in a saucepan until completely dissolved. There are also sugar-free simple syrup options.
Limes for lime juice – I recommend using limes for fresh-squeezed lime juice. If making a large batch of mojitos, you can use bottled lime juice (be sure to choose a good-quality juice.)
Club soda – this is used to top off the drink and add a bit of sparkle to every sip.
Coconut Rum – I used Malibu coconut rum. If you would prefer to use a standard white rum, go with a Bacardi or other good quality rum.
Flake coconut for garnish
For exact ingredient amounts and full recipe instructions be sure to scroll down to the bottom of this post to the recipe card. Thanks!
How do I make a mojito?
To make this delicious mojito, you'll start with a cocktail shaker or mason jar. Add about 6-8 mint leaves, torn into pieces, along with fresh blueberries, and lime juice.
In the jar or shaker, you'll muddle these together. To muddle means "to crush together." You can use a muddling tool, or feel free to use the end of a wooden spoon. Muddling these ingredients together really brings out the flavors of the mint, blueberries and lime.
Next, pour in the rum and simple syrup over the muddled ingredients and add ice. Secure the lid on the jar or shaker, and shake vigorously.
Next, strain the cocktail into a glass, over ice and top with the club soda. Feel free to garnish with additional blueberries, coconut and a sprig of mint leaves.
You'll have an amazing cocktail that is just as refreshing and delicious as it is pretty!
FAQ's about making a blueberry mojito recipe:
What is a blueberry mojito made of?
A blueberry mojito is made of blueberries, mint, simple syrup, lime juice, white rum and club soda.
Does blueberry mojito contain alcohol?
Yes, a mojito is an alcoholic drink made with rum.
Is mojito a rum or vodka drink?
A mojito is traditionally made with white rum.
Are mojitos healthy?
A classic mojito can be rather heavy on calories, as it is made with simple syrup. To cut down on calories and sugar, use a sugar-free simple syrup.
How many calories are in a mojito?
A mojito will have approximately 250-350 calories, depending on the ingredients used. If you're using a sugar-free simple syrup, the calories will be significantly less.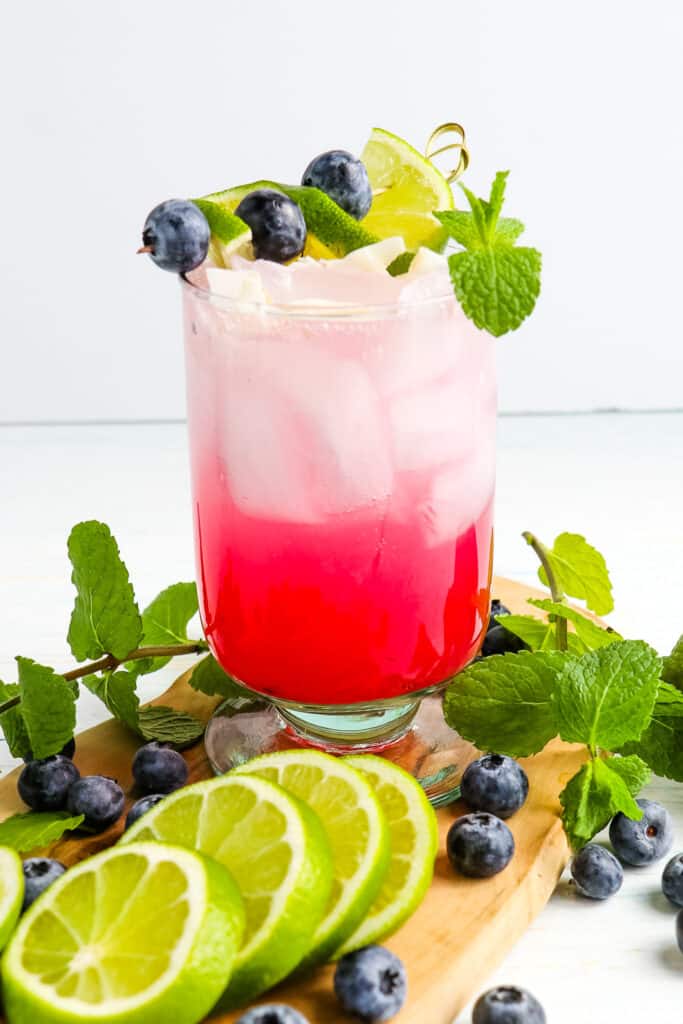 If you loved this refreshing cocktail, check out some of our other drink recipes:
You'll discover that this blueberry coconut mojito is perfect for Cinco de Mayo celebrations, and goes wonderfully with any Tex-Mex meal!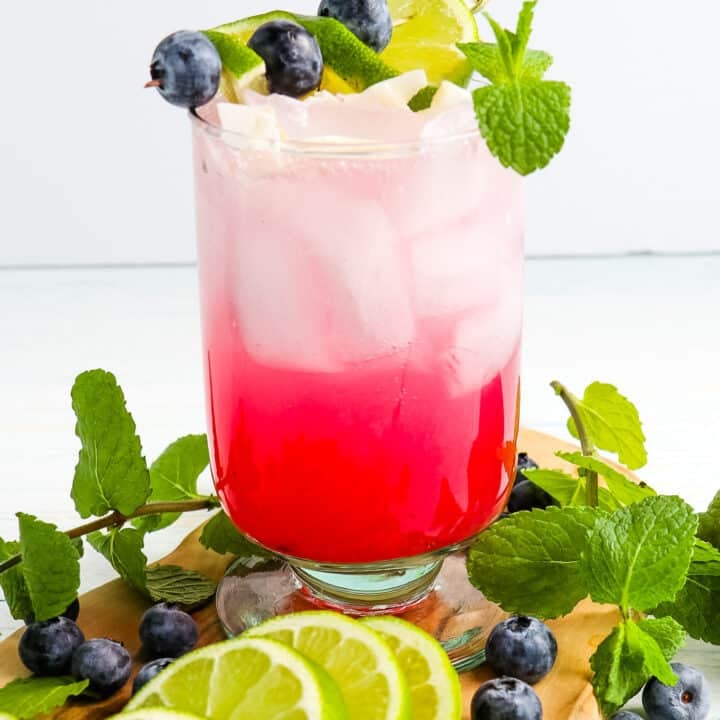 Blueberry Mojito
This Blueberry mojito recipe is an amazing cocktail perfect for sipping on a hot day! Coconut rum along with muddled blueberries, mint leaves and coconut come together wonderfully to make this refreshing, delicious drink.
Ingredients
1/4 c. fresh or frozen blueberries
6-8 torn mint leaves, plus more for garnish
1 Tablespoon lime juice (juice of 1/2 lime)
2 oz. coconut rum, like Malibu
2 Tbsp. simple syrup
1 cup club soda, divided
For garnish:
Fresh mint sprigs
Fresh blueberries
Unsweetened flake coconut
Instructions
In a mason jar or cocktail shaker, add the blueberries, mint leaves, and lime juice and muddle or crush together.
Pour in the rum and simple syrup. Add ice. Secure the lid, and shake together for a few seconds.
To a cocktail glass, strain the cocktail over the ice, and top with the club soda. Garnish with additional blueberries, coconut and mint leaves. Enjoy right away while cold.
Notes
Malibu rum will give this drink a great coconut flavor. However, if you would prefer to use a traditional white rum, go with Bacardi or your preferred white rum.
Nutrition Information:
Yield:

1
Serving Size:

1
Amount Per Serving:
Calories:

243
Total Fat:

1g
Saturated Fat:

0g
Trans Fat:

0g
Unsaturated Fat:

1g
Cholesterol:

0mg
Sodium:

35mg
Carbohydrates:

44g
Fiber:

8g
Sugar:

33g
Protein:

4g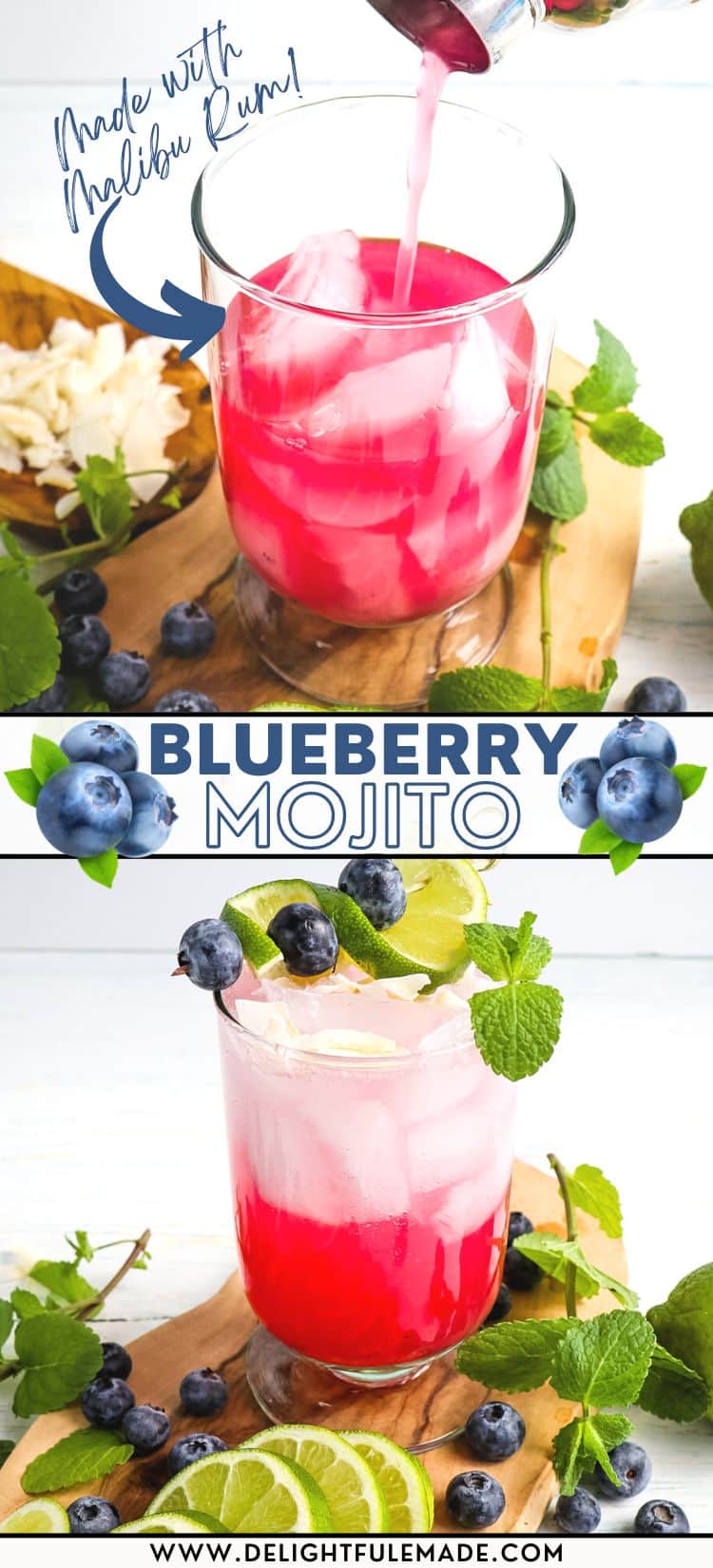 You Might Also Like These Recipes