This hot, cheesy white queso dip is perfect for game day!  Loaded with two types of cheese, along with jalapenos, tomatoes and onions, this restaurant-style white queso recipe is the perfect appetizer anytime you want a great snack!
This post may contain affiliate links. Delightful E Made is a participant in the Amazon Services LLC Associates Program, an affiliate advertising program designed to provide a means for us to earn fees by linking to Amazon.com and affiliated sites.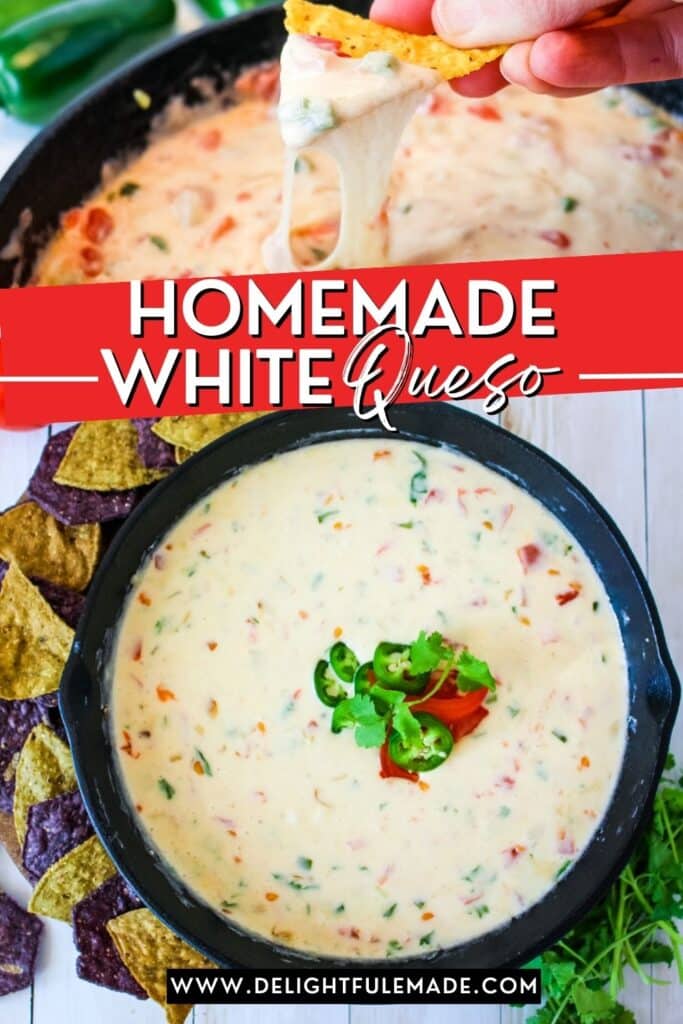 If you love ordering white queso dip with tortilla chips at your local Tex-Mex restaurant, know that you can now make it easily at home.
Perfect for watching the game at home, or gathering with friends for margaritas, this delicious homemade queso will quickly become your new favorite party recipe.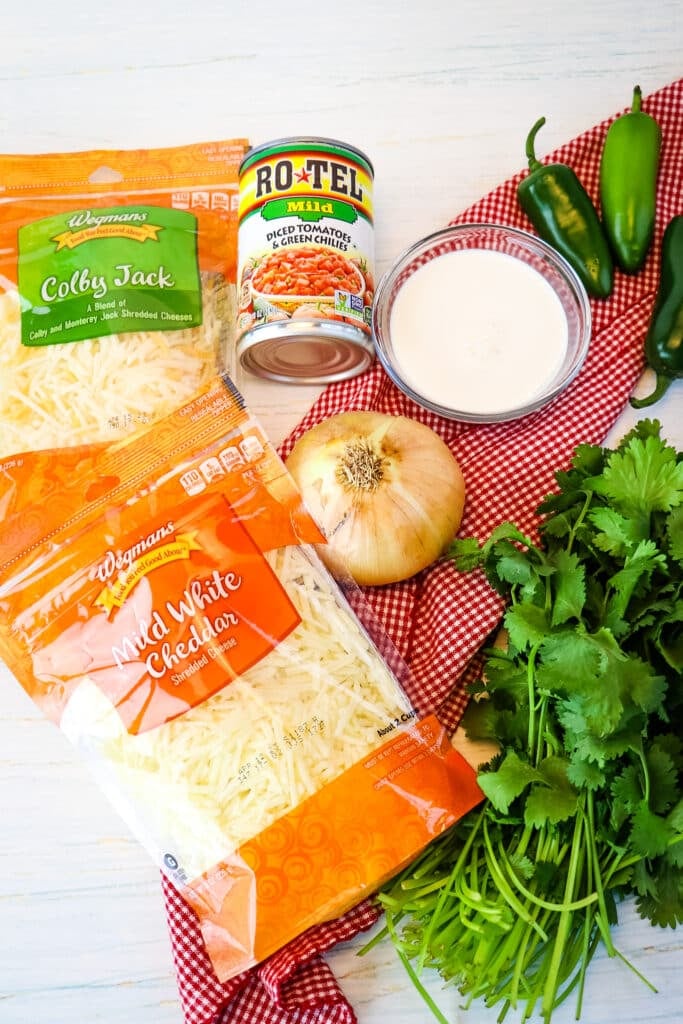 What do I need to make homemade queso?
Here's a quick-reference check list of the ingredients you'll need to queso at home:
Olive oil – this is for sautéing the onion and peppers in the skillet.
Yellow onion – adds a great flavor and body to the dip.
Jalapeno peppers – when the peppers are seeded and diced, much of the heat is removed, making this dip on the mild side. If you would prefer to not use jalapenos, you can substitute a very mild, unspicy green bell pepper.
White Cheddar Cheese – adds a great sharpness to the dip. If you would prefer a more creamy dip, you can swap out the white cheddar for white American cheese.
Monterrey Jack Cheese – melts great and comes together nicely with the cheddar.
Half and Half – very helpful when melting the cheeses together. It will keep the dip consistency cream and thick.
Rotel diced tomatoes with chilies – a great addition to the dip and adds some nice color and volume.
Tortilla chips for dipping – choose your favorite corn or tortilla chips. We recommend a thicker chip that can hold up to this thick, delicious dip!
For exact ingredient amounts and full recipe instructions be sure to scroll down to the bottom of this post to the recipe card. Thanks!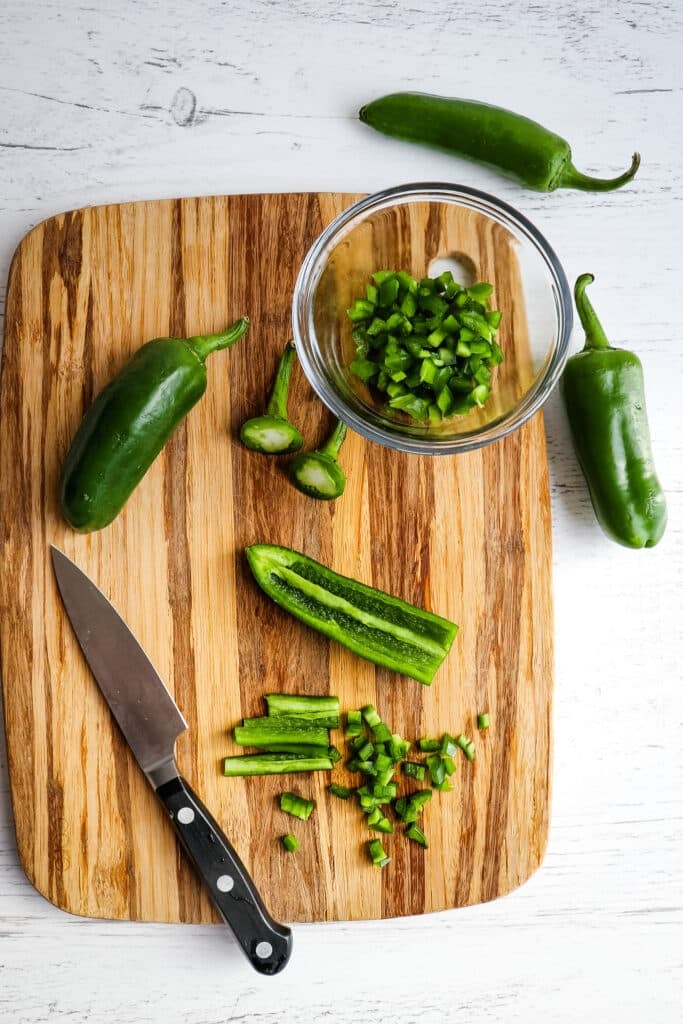 The best way to chop jalapenos for dip:
This recipe calls for two diced jalapenos. Jalapeños are naturally very spicy and acidic. If any of the juices come in contact with your face or hands, you'll likely experience burning and extreme irritation.
To safely and effective chop jalapenos, I recommend two things; disposable latex gloves and a sharp pairing knife. The glove will keep your hands safe from any acidic juices. Wearing gloves is also a helpful reminder to NOT touch your face while preparing the peppers.
A sharp pairing knife is very helpful in slicing and removing the inner seeds and dicing the outer flesh.
How do I make white queso dip?
To make white queso dip, you'll first need to sauté diced onions and jalapeno peppers. When adding the jalapenos make sure to NOT include the seeds, as the seeds can make it especially hot. Sauté for 2-3 minutes or just until the onions become translucent.
Next, add in the diced tomatoes along with the shredded cheeses. Heat over medium heat as you continually stir the mixture. Gradually add in the half and half as the mixture melts together.
Be sure to not over heat. The heat level should be no higher than medium. If heating too hot, too quickly the cheese will seize and become lumpy, dry and unappetizing.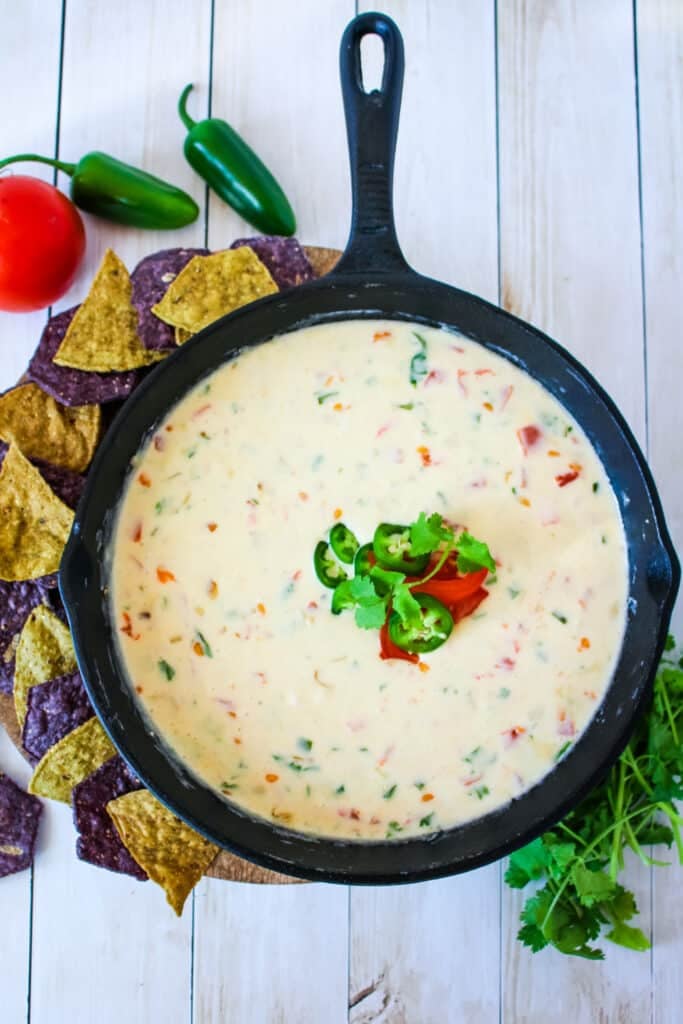 FAQ's about making white queso dip:
What is Mexican restaurant cheese dip made of?
The cheese dip served at many Mexican restaurants is made of melted cheeses (American, Monterrey-Jack and or White Cheddar) and often includes chilies, jalapeno peppers and tomatoes or salsa.
What can I use instead of Velveeta to make queso dip?
If you would rather not use Velveeta to make queso, you can use a mixture of Monterry-Jack, White Cheddar and or Mozzarella cheeses. The cheese dip will be very thick, so use half and half or evaporated milk to thin out while melting.
What can I add to queso dip to make it spicy?
To make queso dip more spicy, you can add additional jalapenos, and 1-2 tablespoons of your preferred hot sauce to give it some additional kick.
How do I keep homemade queso warm for a party?
I recommend using a crock pot or slow cooker to keep the queso dip warm. It can be served right out of the crock pot. Let your guests serve themselves, and be sure to have lots of tortilla chips on hand.
What can I serve with queso dip?
Drinks that would be perfect with chips and queso are margaritas, daquiris, Pina Coladas and mojitos. Here are some of our most popular drink recipes that would be fantastic with this white queso recipe:
Looking for some other party appetizer recipes? Check out some of our favorite recipes to serve at a party: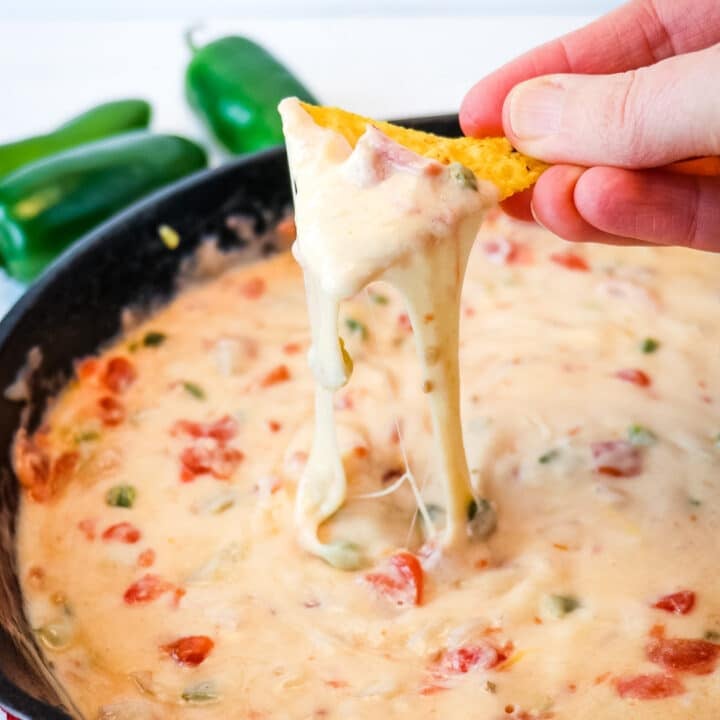 White Queso Dip
If you love restaurant queso dip, you'll love this easy white queso dip recipe. Made with two different types of cheeses along with jalapeno peppers, tomatoes and onions, it will quickly become your new favorite dip to serve at a party.
Ingredients
2 Tablespoons olive oil
1/2 cup yellow onion, diced
2 medium jalapeno peppers, diced (about 1/4 cup)
16 oz. Monterrey-Jack cheese, shredded
8 oz. White Cheddar cheese (American cheese can be substituted)
1 (10 oz.) can, diced tomatoes and chilies (like Rotel)
1/2 - 3/4 cup half and half
1 Tablespoon hot sauce (optional)
Instructions
In a medium skillet, add the olive oil and heat over medium-high heat. Add the diced jalapenos and onion, and sauté for 3-4 minutes or until the onions are translucent.
To the sauteed onions and peppers, add in the shredded cheeses, tomatoes and optional hot sauce. Reduce the heat to medium, and continually stir. As the cheeses melt, gradually add in the half and half to keep the mixture smooth. Note: be sure to keep the heat moderate to low - DONT use high heat. A high temperature will cause the cheese to seize up and become lumpy, dry and separate.
Serve the dip right away while hot. Enjoy with your favorite tortilla chips.
Notes
You could serve this dip in a crock pot or slow cooker at a party to keep warm. Be sure to use the lowest heat setting to prevent the cheese from separating or becoming lumpy.
Cheese options: some people swear by Velveeta white "cheese" product. I don't really like the ingredients used in Velveeta, but I will say it melts nicely and smoothly. Feel free to swap either the Monterrey-Jack or the white cheddar with Velveeta or another white American cheese.
Recommended Products
As an Amazon Associate and member of other affiliate programs, I earn from qualifying purchases.
Nutrition Information:
Yield:

12
Serving Size:

1
Amount Per Serving:
Calories:

267
Total Fat:

22g
Saturated Fat:

12g
Trans Fat:

1g
Unsaturated Fat:

8g
Cholesterol:

59mg
Sodium:

394mg
Carbohydrates:

4g
Fiber:

1g
Sugar:

2g
Protein:

14g