Super moist, chocolaty and completely delicious!  This decadent chocolate sheet cake is topped with a luscious chocolate icing making it my all-time favorite chocolate cake!  Once slice won't be enough!
Today is my baby brother Jared's birthday.  He's certainly not a baby anymore – he's in his 20's working on his masters, and following his dream of working on the staff of the Tennessee Volunteers Athletics Department.   I really admire Jared's tenacity and willingness to overcome obstacles in order to get to the next step.  He is goal-driven, smart, and hard-working – he will no doubt go far in life!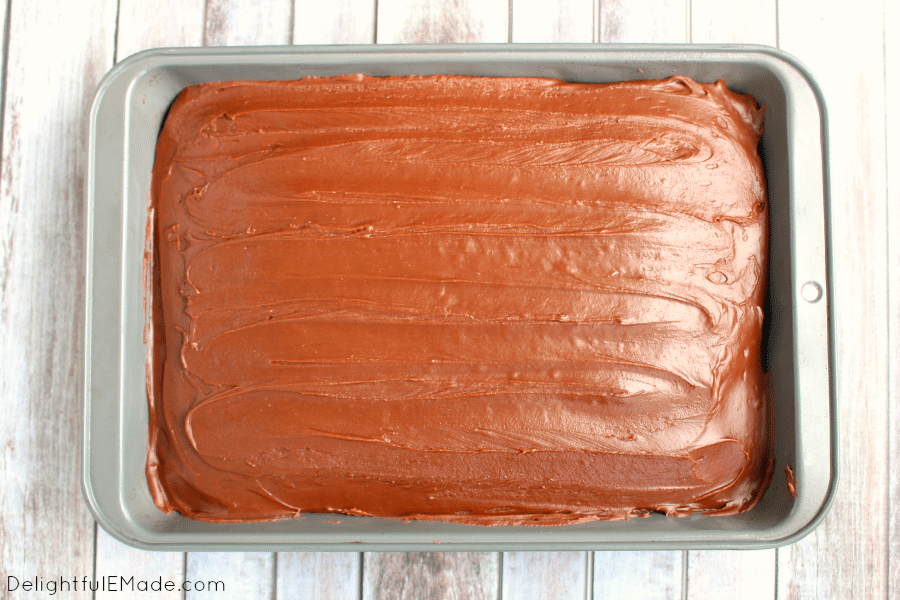 For Jared's birthday, our Grandma Dona thoughtfully sent him a card with a recipe for her famous chocolate cake.  Grandma Dona is a sweetheart, and like many other grandma's, will spoil her grand kids with the best goodies.  One of these goodies is her AMAZING Chocolate Cake.  Originally, this was a recipe that her mother-in-law, my Great-Grandma Ruth Deffenbaugh, passed down to her.  There are few things I love more in life than how recipes get passed down from generation to generation.  I am now making it for my family, so this beloved recipe has been passed down 4 generations – my son will be the 5th!
Here is Grandpa Denny and Grandma Dona with a few of their Great-Grandkids.
This photo of Grandma and Grandpa was taken earlier this summer when Harrison and I went back to SD to visit.  I love spending time with our family and Harrison loves getting the chance to play with his cousins, which he only gets to see once a year.  I really enjoy being back home in South Dakota, as it reminds me of how lucky I am to be from a place that really values family.
Any time we are with Grandma, (either in SD or at their new winter-home in Florida), she will happily whip up this delicious cake.  It is certainly a crowd-pleaser, and a dessert that will bring the entire family together.  She will serve this for a birthday, or for any after-dinner dessert.  Everyone loves the moist, rich cake, and the frosting brings it all together with its chocolaty, sweet goodness.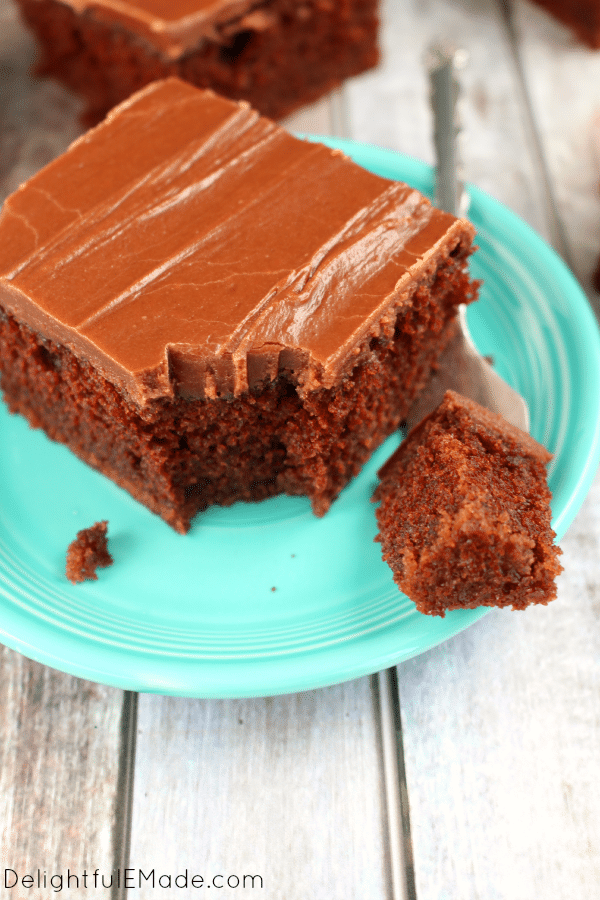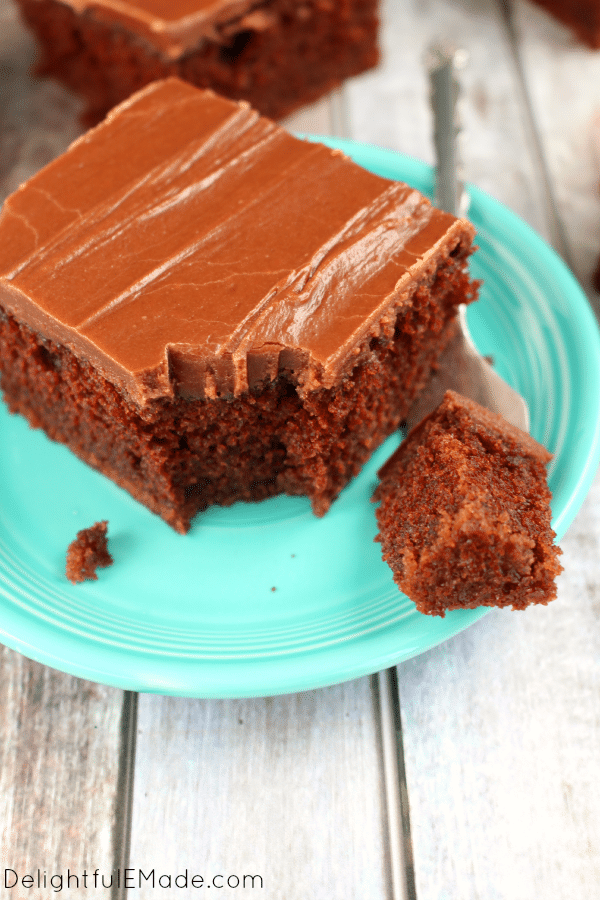 Happy Birthday, Jared!  If our family was all together today, I'm sure this chocolate cake would be a part of the celebration.

Erin Indahl-Fink
Yields 16
Grandma's Best Chocolate Cake
Super moist, chocolaty and completely delicious! This decadent chocolate sheet cake is topped with a luscious chocolate icing making it my all-time favorite chocolate cake! Once slice won't be enough!
30 minPrep Time
30 minCook Time
1 hrTotal Time
Ingredients
2 c. Sugar
2 c. Flour
1/2 tsp. salt
1/2 c. butter (1 stick)
1/2 c. vegetable oil
1/4 c. cocoa
1 c. water
1/2 c. buttermilk
1 tsp. baking soda
2 eggs
1 tsp. vanilla
Frosting:
1/4 c. milk
1 c. sugar
1/4 c. butter (1/2 stick)
1/2 c. chocolate chips
1 c. mini marshmallows (or 10 large marshmallows)
Instructions
Preheat oven to 350 degrees. In mixing bowl, flour, sugar and salt together. Set aside. In saucepan, add butter, oil, cocoa, and water and on medium bring to a boil. Pour hot liquid over dry ingredients and stir until combined. Dissolve baking soda in buttermilk, and add to mixture. Whisk in eggs and vanilla. Pour batter into a greased 9x13 pan and bake for 30-35 minutes. Let cool.
For frosting: In medium saucepan, heat milk, sugar, and butter stirring often. Promptly remove from heat after mixture comes to a boil. Add in chocolate chips and marshmallows, and beat until both are melted and smooth. Let cool for about 1-2 minutes, while stirring often. Pour frosting over cake, and let set up. Enjoy!
7.8.1.2
15
https://delightfulemade.com/2013/08/28/grandmas-best-chocolate-cake/
Copyright by DelightfulEMade.com
I hope you enjoy this cake as much as our family has over the years.  Thanks to my grandma's, I'm sure we will enjoy for many more years to come.  ~E