Wondering how to make mimosas? These Lemon Raspberry Mimosas are made with fresh raspberries, lemoncello liqueur, and topped off with a Champagne Rosé. Your brunch just got even more fabulous!
Lemon Raspberry Mimosas
Do you love a good brunch cocktail? We don't brunch out very often, but when we do, I'm always inclined to order myself a delicious Mimosa, Tequila Sunrise, or Salty Dog. I think it's rather funny that drinking in the morning is socially unacceptable, unless it accompanies breakfast food on the weekend. In this instance it is not only acceptable, but almost makes brunch even more amazing and fabulous.
Because I'm more inclined to make my family a yummy Saturday or Sunday morning brunch at home, I've begun keeping all of the ingredients on hand to make these delicious Lemon Raspberry Mimosas. They're super-simple to make, and just need 4 ingredients, turning your Sunday morning breakfast into a posh brunch!
Wondering how to make Mimosas? I've got you!
I do love a fresh, citrus-y Mimosa but I wanted to change it up a bit to include berries and my favorite Italian lemon liqueur, lemoncello. I also wanted to re-create this brunch cocktail using Sparkling Rosé instead of the standard Champagne. Rosé is making an amazing resurgence, as many wineries are creating some incredible blends with this wine. The beautiful pink color also goes perfectly in this amazing brunch drink!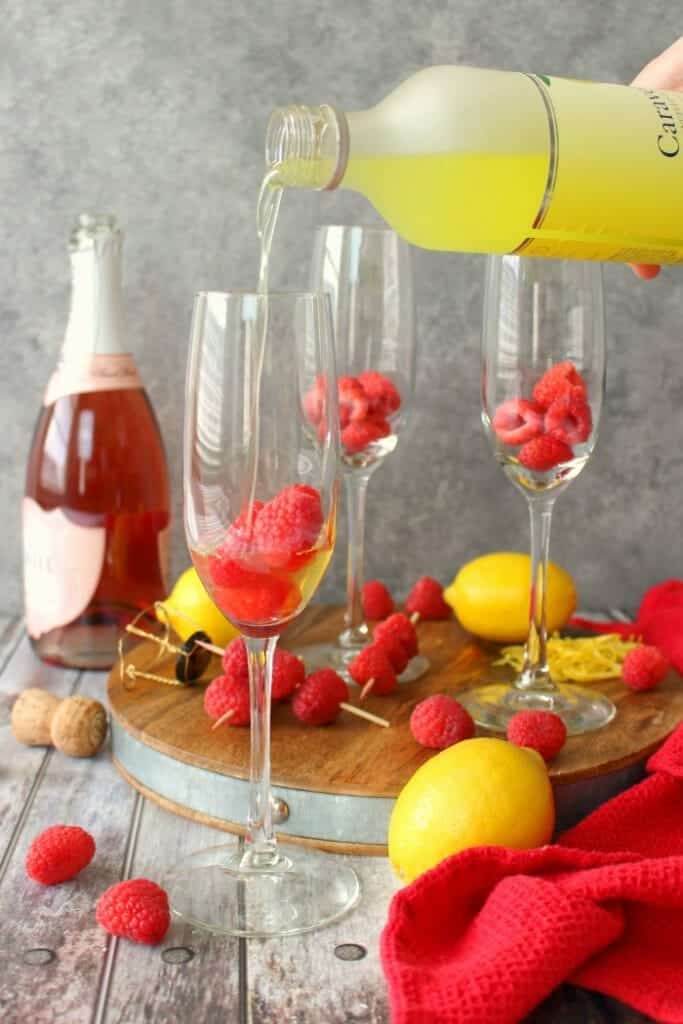 Step 1: Add Lemoncello Liqueur to Fresh Raspberries
Start by adding some fresh raspberries to Champagne flutes. If you don't have access to fresh raspberries you can always use frozen, however fresh look especially amazing in this drink. Strawberries would also be a wonderful substitution in this drink. Much like my Strawberry Tequila Sunrise, these fresh berries make for a fantastic brunch cocktail.
Over the top of the raspberries, add approximately a 1/2 oz. (half shot) of lemoncello liqueur. I first tried lemoncello when I was in Italy, where it is a very common spirit, especially enjoyed as an aperitif. It adds amazing fresh, lemon essence to this champagne cocktail, and a bit of a kick as well. Paired with the fresh raspberries, and the sweet Rosé, it takes this cocktail from good to amazing!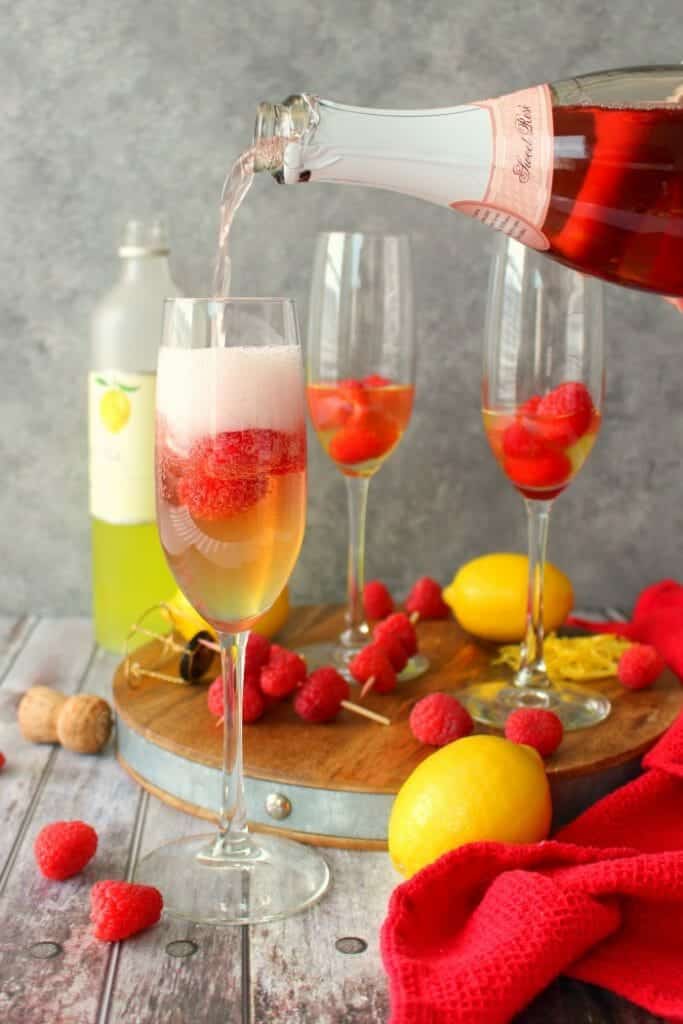 Step 2: Fill the glass with Sparkling Rosé
Over the top of the raspberries and lemoncello, you'll then fill the champagne flutes with a sparkling Rosé champagne. I used Korbel Sweet Rosé, which is blended from both red and white grapes. If you would prefer a standard Champagne or sparkling wine, feel free to use that instead. I do love the beautiful pink color of this Rosé, as it pairs wonderfully with the sweet, tart raspberries.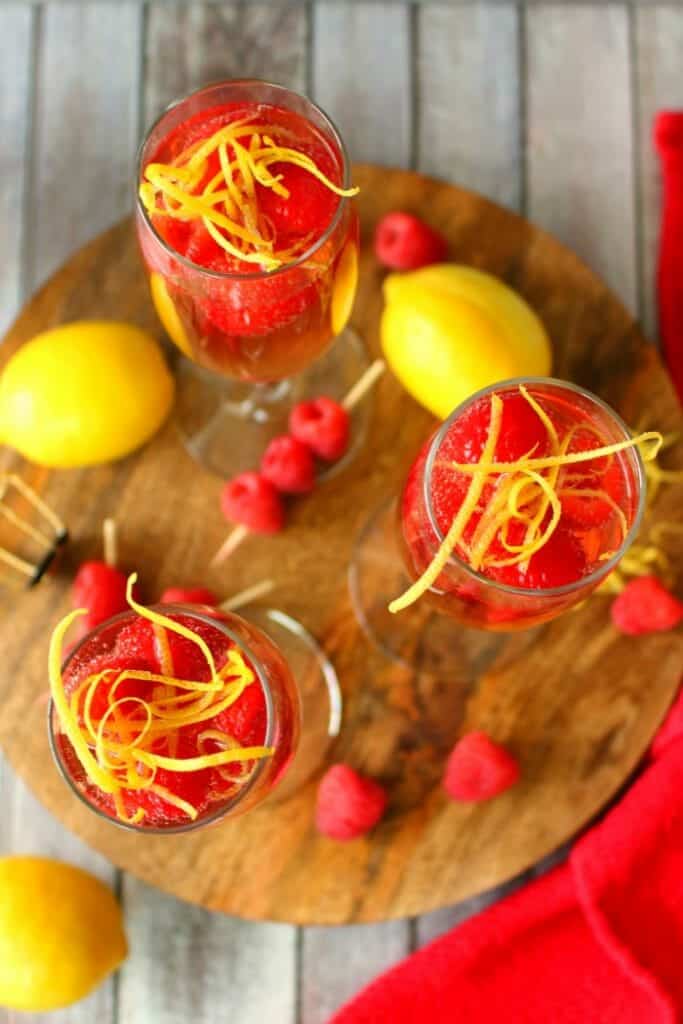 Step 3: Garnish Glasses with Fresh Lemon Zest
Adding strips of fresh, lemony lemon zest to the tops of these cocktails is a gorgeous way to top off this Champagne cocktail. The bright yellow over the top of the red raspberries is a gorgeous pairing for this drink. It also compliments the lemoncello flavors in the drink.
Enjoy this cocktail right away while cold. I keep my lemoncello in the freezer to keep it chilled until ready to pour. Also be sure to chill your Rosé and raspberries in the refrigerator right up until you are ready to make the drinks. This will help ensure the drinks are icy cold and perfect for sipping right away for brunch.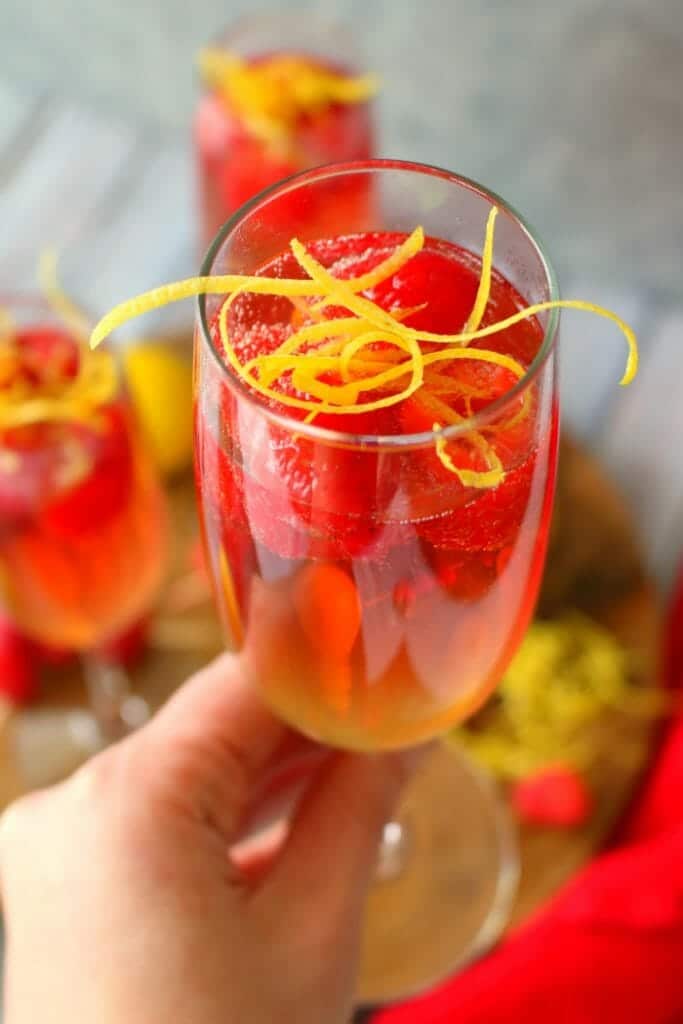 These delicious Lemon Raspberry Mimosas are the perfect brunch cocktail. The fantastic lemon and raspberry flavors make it perfect as a spring Easter or Mother's Day brunch drink. It would also be wonderful as a bridal shower cocktail or enjoying with your girlfriends for cocktail time. Whatever occasion you choose, this drink just might become your new favorite go-to cocktail! Cheers!!
Would you rather have a skinny drink at brunch? No problem! Check out my post for How to Make a Skinny Margarita!
If you loved these delicious lemon raspberry mimosas, check out some of my other drinks: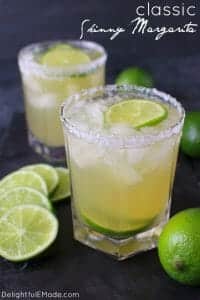 How to Make A Skinny Margarita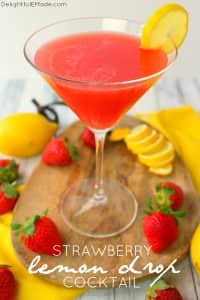 Strawberry Lemon Drop Cocktail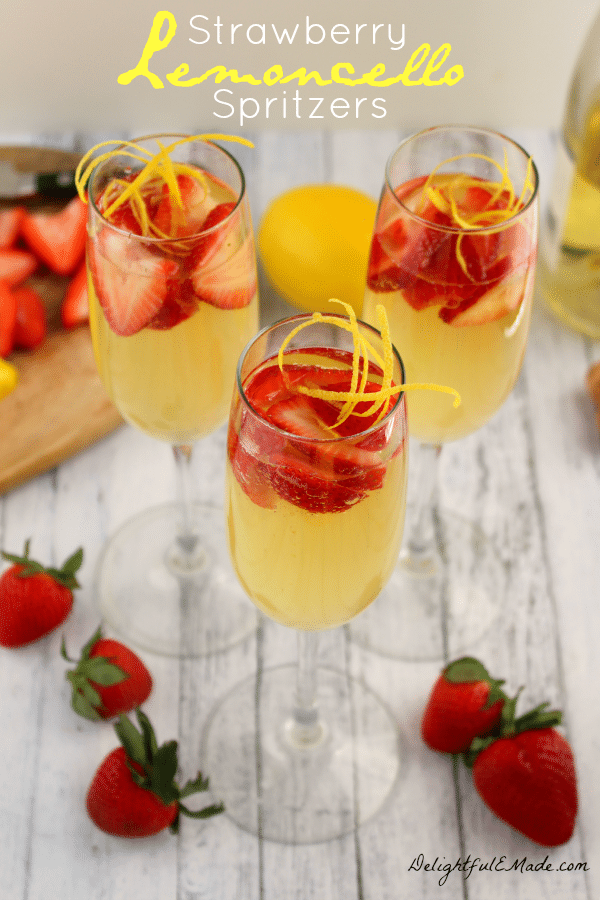 Strawberry Lemoncello Spritzers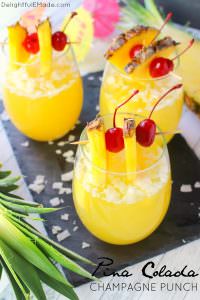 Pomegranate Citrus Champagne Cocktail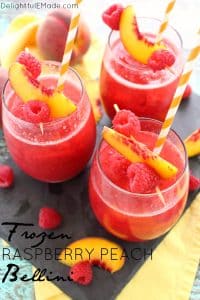 Frozen Raspberry Peach Bellini
Get the easy, delicious recipe for my Lemon Raspberry Mimosas here:
Erin @ Delightful E Made
Yields 1 drink
Lemon Raspberry Mimosas
Mimosas brought to a whole new, glorious level! These Lemon Raspberry Mimosas are made with fresh raspberries, lemoncello liqueur, and topped off with a Champagne Rosé. Your brunch just got even more fabulous!
5 minPrep Time
5 minTotal Time
Ingredients
1/2 oz. lemoncello liqueur
fresh raspberries
1 1/2 oz. Rosé Champagne
lemon zest
Instructions
In a champagne flute, add 4-5 fresh raspberries. Add the lemoncello liqueur over the top of the raspberries. Pour the Rose Champagne over the top of the raspberries and lemoncello. Top with lemon zest strands for garnish. Enjoy right away while cold.
7.8.1.2
347
https://delightfulemade.com/2018/03/19/lemon-raspberry-mimosas/
Copyright by DelightfulEMade.com