The BEST Raspberry Margarita Recipe!
Love an amazing Raspberry Margarita? This amazing Raspberry Margarita recipe is fantastic. Made either on-the-rocks or blended, you'll need just 4 simple ingredients to make at home!
This post may contain affiliate links. Delightful E Made is a participant in the Amazon Services LLC Associates Program, an affiliate advertising program designed to provide a means for us to earn fees by linking to Amazon.com and affiliated sites.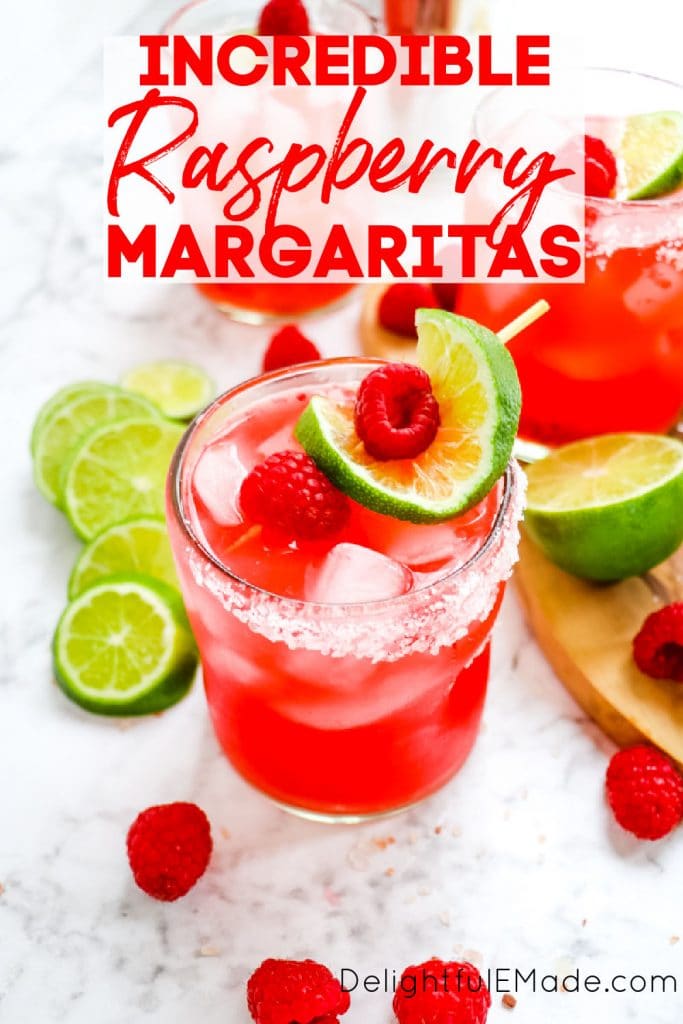 Easy, 4-Ingredient Raspberry Margarita on the rocks or blended!
This raspberry margarita on the rocks is the perfect cocktail to sip in your favorite lawn chair! Perfectly fresh, this raspberry margarita recipe is made with just tequila, Cointreau, lime juice and muddled fresh raspberries.
Love your raspberry margarita blended? No problem! I've included instructions in the recipe for making this raspberry margarita recipe either way!
Here's all the tips, FAQ's and instructions you'll need to make this amazing Raspberry Margarita!
Like this recipe? Be sure to pin it to your COCKTAILS board!
Follow DelightfulEMade on Pinterest!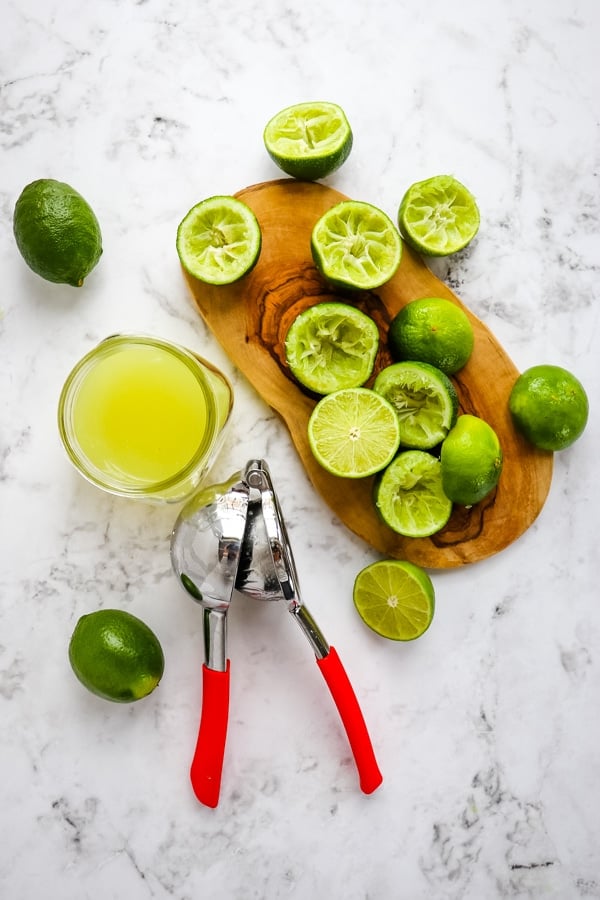 What is the easiest way to juice limes?
Using a hand-held citrus juicer is the easiest way to juice limes. Place a 1/2 lime into the juicer and squeeze over a receptacle.
This hand-held citrus juicer has proven to be durable and reliable. It's fantastic for limes, lemons and even small oranges. I also use this juicer for fresh lime juice for my blueberry coconut mojitos and my Blackberry Margaritas.
How much lime juice do you need for margaritas?
You'll need 1 oz. (2 tablespoons) of juice for a margarita. When buying limes, budget at least 1 lime per drink, plus any slices you'll want for garnishes and rimming glasses.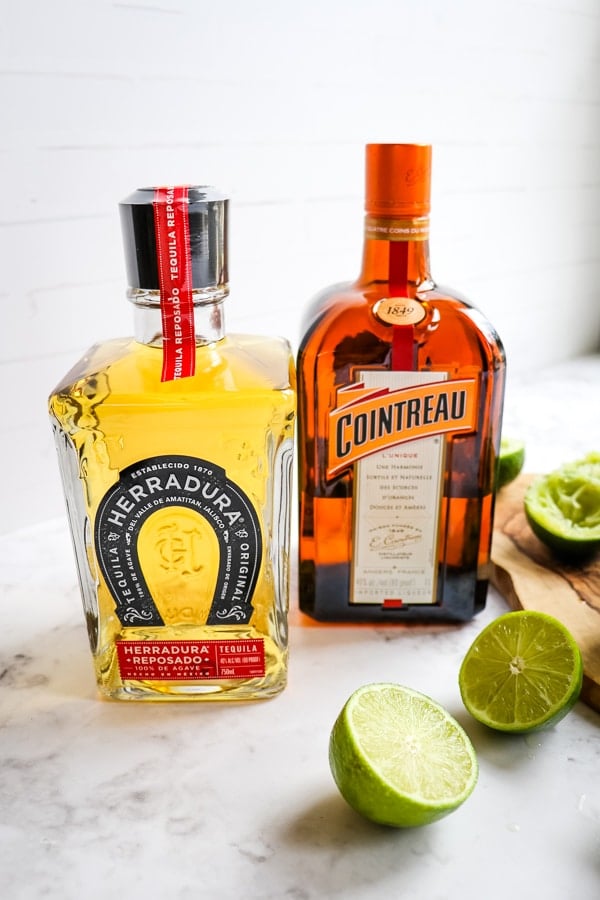 What kind of alcohol is a margarita?
Margaritas are a tequila based cocktail.
We like and prefer Herradura Reposado Tequila for our margaritas. There are many other brands out there – choose the best quality tequila you can afford.
What is better in a margarita Cointreau or Triple Sec?
I prefer Cointreau in a margarita. Cointreau is a orange citrus liqueur, made with sweet and bitter orange citrus rinds. It adds some great richness and mild citrus flavor that pairs perfectly with the lime juice in a margarita.
Triple Sec is also appropriate for a margarita. It is not as strong – Cointreau is approximately 40% stronger than Triple Sec.
Do you need simple syrup to make a margarita?
No. You do not need simple syrup to make a margarita.
What ingredients do you need to make a margarita?
The base ingredients for a margarita are Tequila, Cointreau (or Triple Sec), and fresh lime juice. The ratio for these is 2:1:1, 2 parts tequila, 1 part Cointreau, and 1 part lime juice.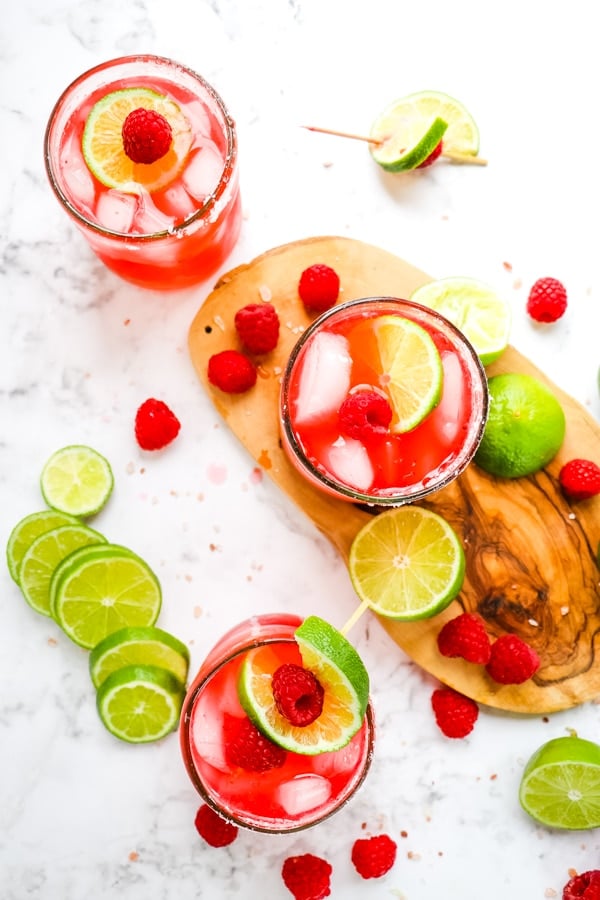 How many calories does a raspberry margarita have?
This raspberry margarita has 240 calories and 0 g of added sugar.
Restaurant margaritas are typically are very calorie and sugar heavy. For example, the Texas Roadhouse Raspberry Margarita has a whopping 470 calories and 76 grams of sugar. That is the equivalent of 19 teaspoons of sugar!
When it comes to cocktails (and most other foods) making it at home, will not only save you calories, you'll likely get a better tasting, fresher drink.
How do you salt a rim at home?
To salt the rim of your glasses for margaritas, run a lime wedge around the rims of the glasses. Dip the glasses into kosher or margarita salt. Lastly, fill the glasses with crushed or cubed ice. Add some lime slices to the glasses, if you prefer.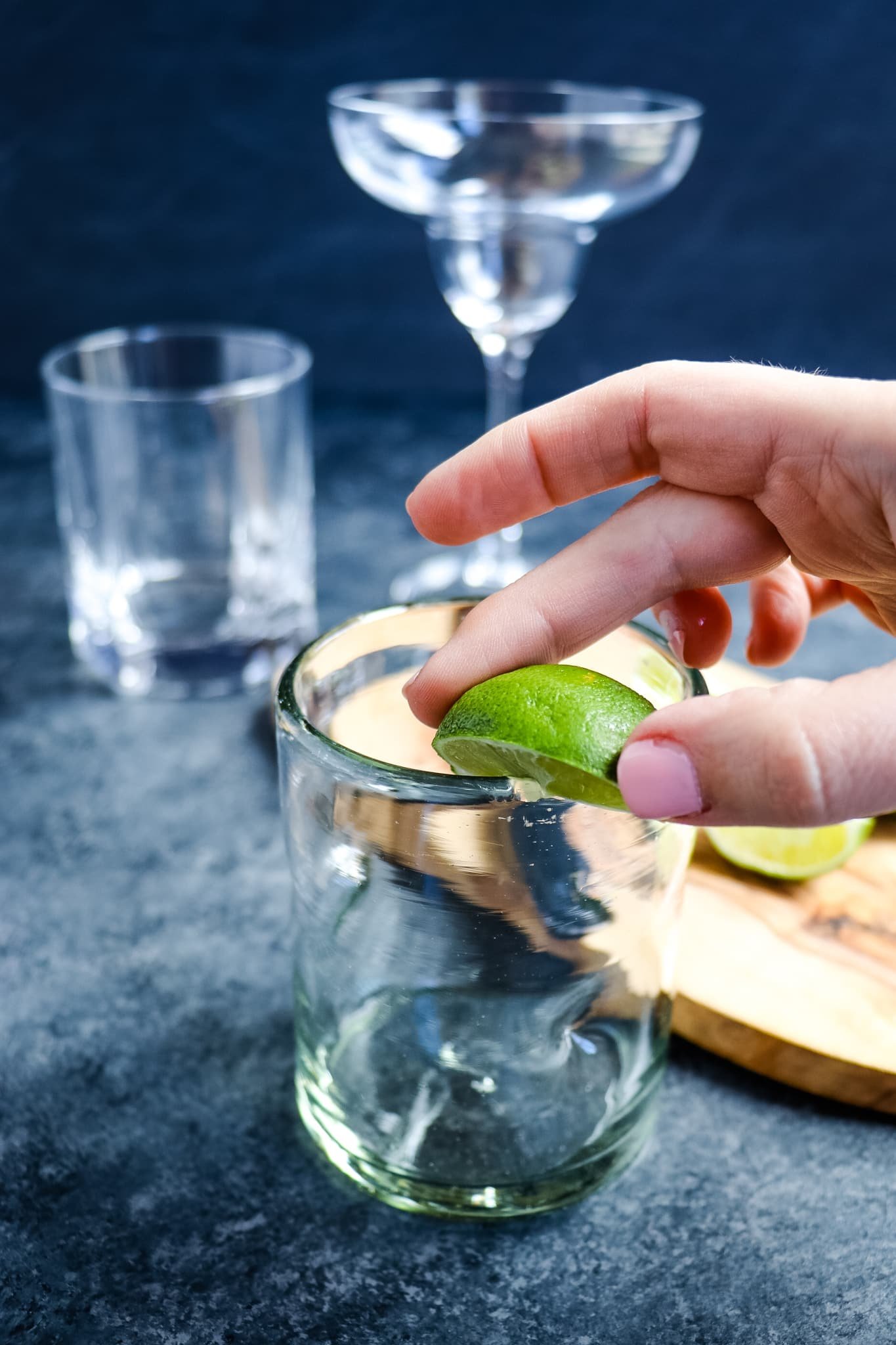 I'm using Jose Cuervo Margarita Salt for these margaritas. It comes in a convenient round, flat container that makes it useful for rimming the edges of your margarita glasses.
What is the best glass for a margarita?
There are two different options for serving a margarita. The standard glass for a margarita is a curved, up-style glass like what I used for my Pineapple Margaritas. This is a more traditional glass for a blended drink.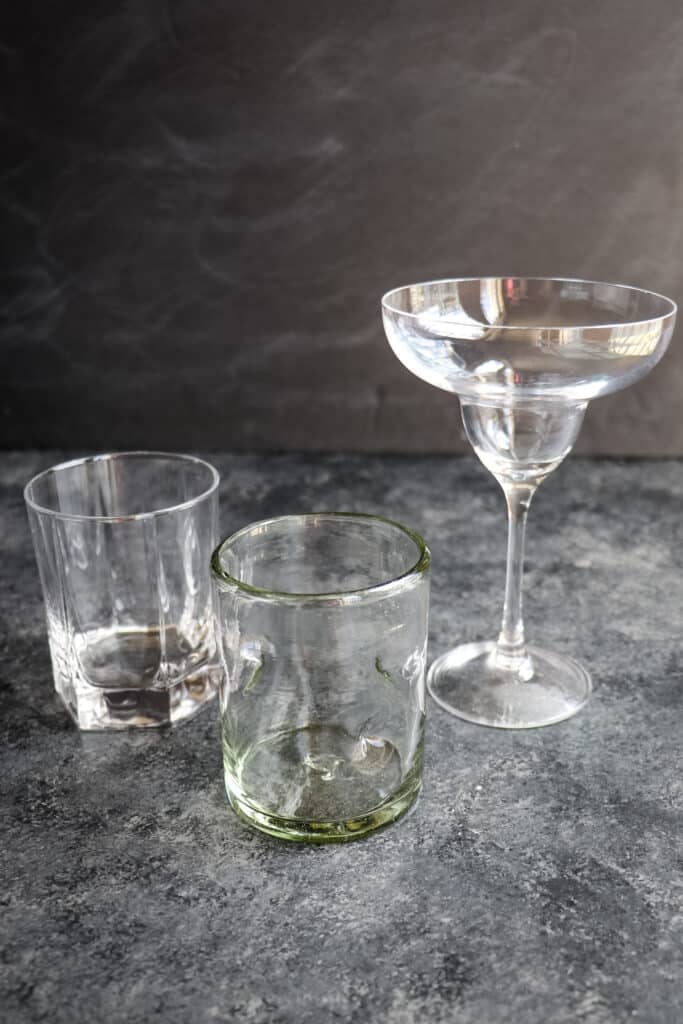 The second option for serving a margarita is a rocks glass. This is a more traditional vessel when enjoying a margarita on the rocks.
Love raspberries? Check out our other raspberry recipes:
If you loved this delicious raspberry cocktail, check out some of my other cocktail recipes:
Here's the recipe (instructions for both blended or On-The-Rocks)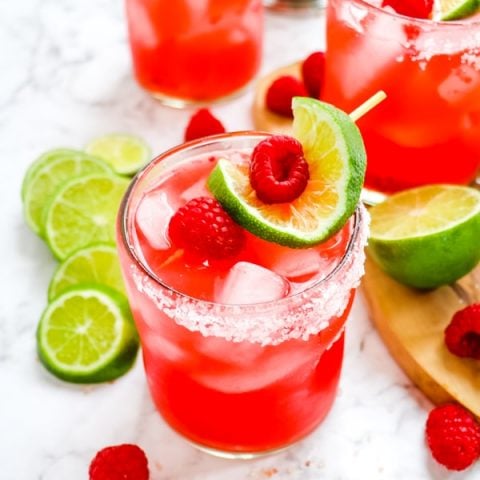 Raspberry Margarita
Looking for an amazing raspberry margarita recipe? This raspberry margarita can be made either on the rocks or frozen. Just 5 minutes and a few ingredients are all you need!
Ingredients
2 oz. (2 shots) tequila, good quality
1 oz. (1 shot) Cointreau citrus liqueur
1 oz. fresh squeezed lime juice
1/4 c. muddled, fresh raspberries (about 12 raspberries)
For Garnish:
Fresh lime slices
Fresh raspberries
Instructions
To a cocktail shaker, add the fresh raspberries and muddle (mash). Then, fill the cocktail shaker 3/4 full with ice.
Add the shots of tequila, Cointreau and lime juice. Shake well.
Prepare glasses by salting (if desired) and adding ice cubes. Pour cocktail into glass and enjoy right away while cold.
For Blended: To a blender, add 1 1/2 c. ice, tequila, Cointreau, lime juice and fresh raspberries. Blend until smooth. Pour into salted (if desired) margarita glasses and enjoy right away while cold.
Recommended Products
As an Amazon Associate and member of other affiliate programs, I earn from qualifying purchases.
Nutrition Information:
Yield:

1
Serving Size:

1 drink
Amount Per Serving:
Calories:

164
Total Fat:

0g
Saturated Fat:

0g
Trans Fat:

0g
Unsaturated Fat:

0g
Cholesterol:

0mg
Sodium:

5mg
Carbohydrates:

30g
Fiber:

4g
Sugar:

17g
Protein:

1g