I was compensated for this post by the good people at Food Should Taste Good. All photos, opinions and recipe are 100% my own. #foodshouldtastegood
This hot, cheesy dip is perfect for game day! Loaded with two types of cheese, along with fresh tomatoes, jalapenos, and onions, this restaurant-style queso is the perfect appetizer anytime you want a great snack!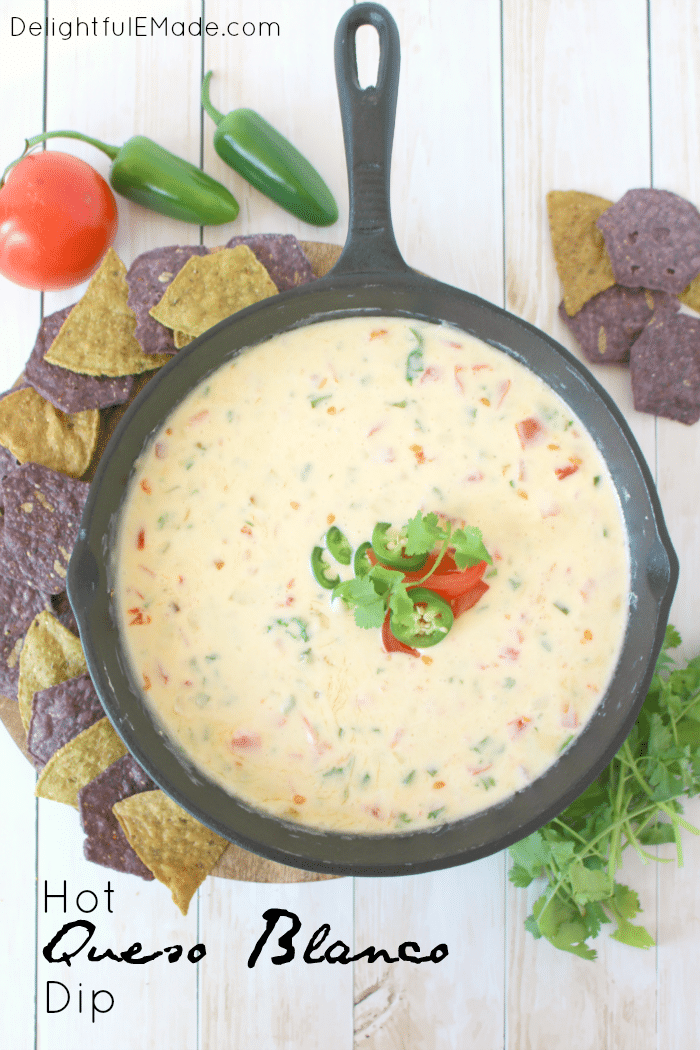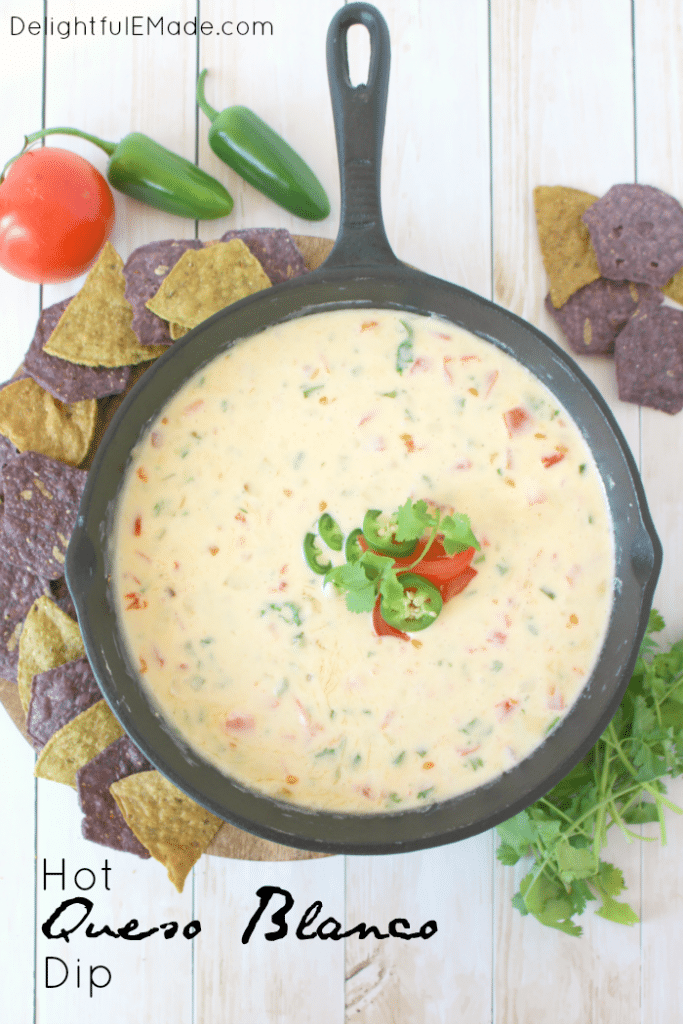 Raise your hand if you love cheese? Yep, I'm right there with ya! I especially love a really great queso dip to go along with chips. Warm, creamy with just the right amount of tomatoes and peppers, this queso blanco is the perfect cheesy appetizer for watching the big game! From the beginning of football season in September, all the way into basketball season and March Madness, this dip is one of our go-to appetizers, perfect for feeding a crowd.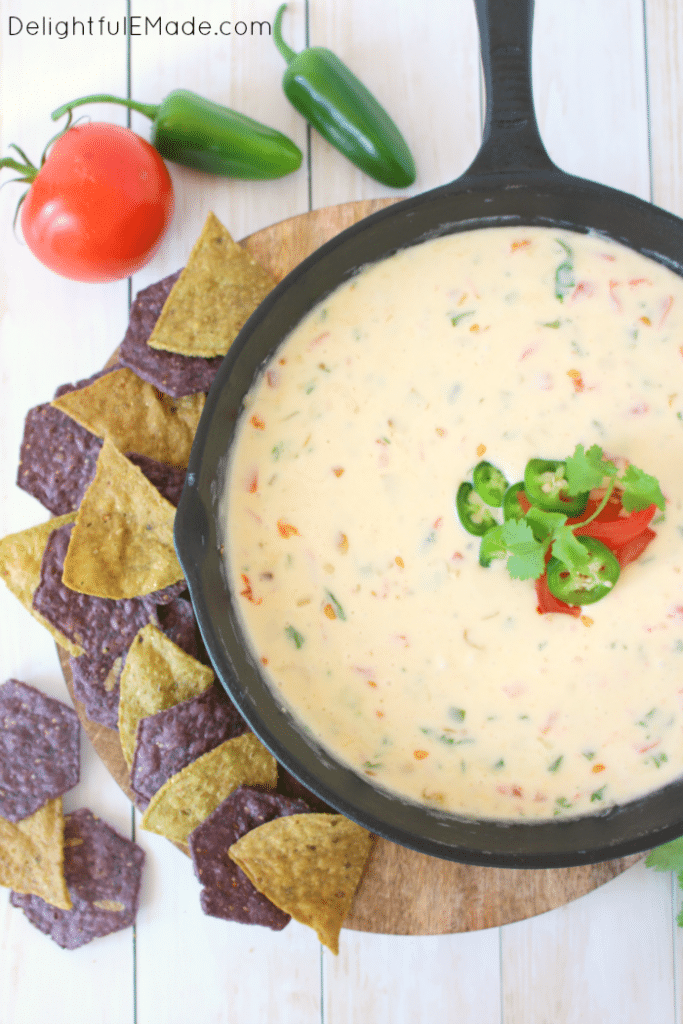 This queso blanco is super simple to make. You'll start with sauteing yellow onion, along with a couple diced jalepenos. I take out the seeds so it's not super hot, but it still brings just the right amount of heat. To the onions and peppers, you'll then add shredded American and Monterey Jack cheeses to the hot skillet, along with a some half and half to keep it nice and creamy. As soon as the cheese is melted, you'll then add fresh tomatoes and cilantro. I love the addition of these two ingredients – they add such a nice blend of flavor and freshness to the rich, creamy dip.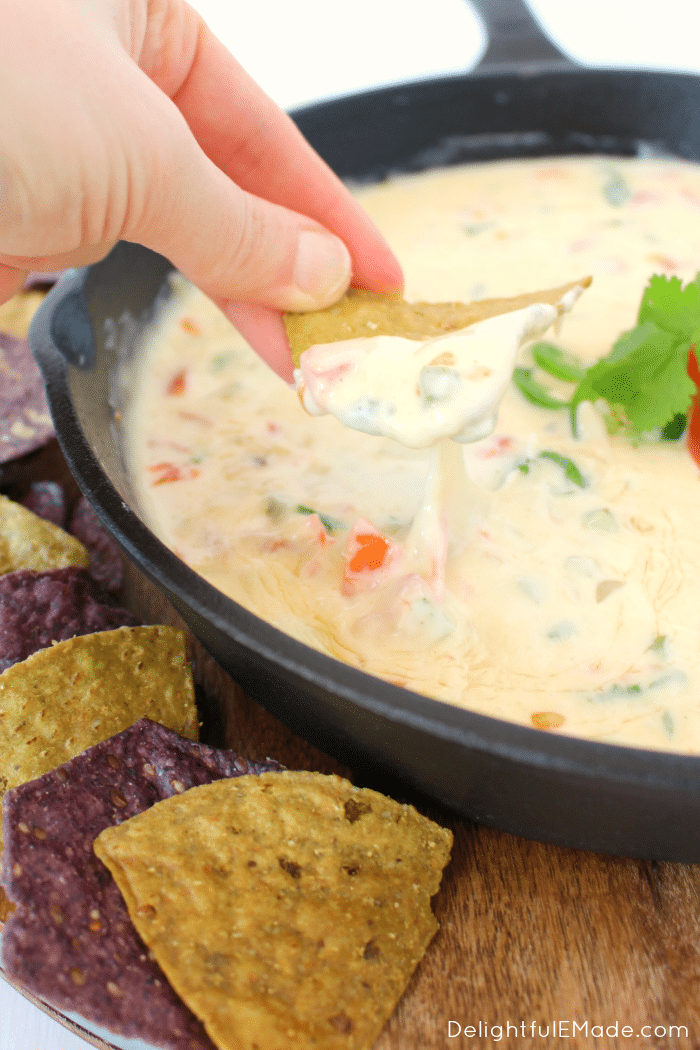 Anytime you have a great queso dip, you've got to have equally awesome chips to go with it! Some of my favorites are these amazing Guacamole and Blue Corn Tortilla Chips by Food Should Taste Good. These chips are perfect to go with a great dip, as they're thick and sturdy enough to hold the most generous amount of queso. The flavor and texture of these chips are also amazing! Made with the highest quality ingredients, these chips are also all natural, certified gluten free, certified vegan and kosher, and have no artificial preservatives, colors or flavors! These chips are also amazing with my Southwestern Corn Salsa and Loaded Guacamole.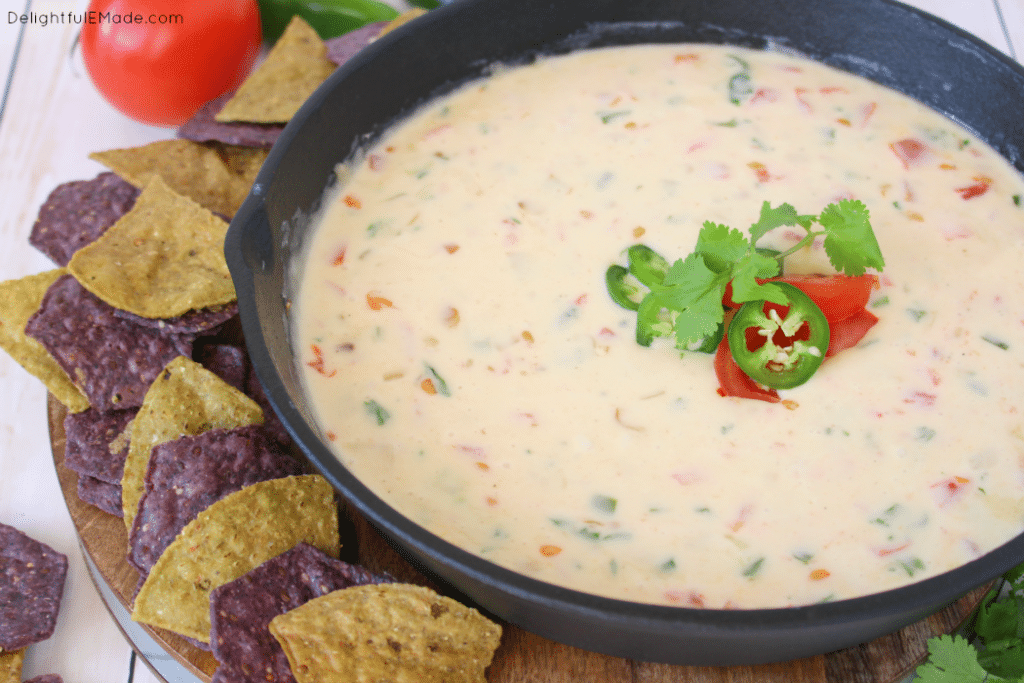 This easy Queso Blanco and chips are perfect for watching the big game. It's great to feed a crowd, and is also fantastic served with tacos, enchiladas, and burritos, too!
Looking for some other party appetizer recipes? Check out some of our other favorites:
Here's how this easy, delicious dip comes together:

Hot Queso Blanco Dip
Ingredients
2 Tbsp. vegetable oil
1 small yellow onion, diced (about 1/2 cup)
2 medium jalapeno peppers, with seeds removed, diced
8 oz. white American cheese, shredded
8 oz. Monterrey Jack cheese, shredded
1/2 - 3/4 c. half and half
2 medium tomatoes, diced
1/3 c. fresh cilantro, roughly chopped
Guacamole and Blue Corn Tortilla Chips, by Food Should Taste Good
Instructions
In a medium skillet, add the oil and heat over medium high heat. Add the onion and peppers, and saute for about 5-10 minutes or until onions look translucent.
Reduce the heat to low. Add the cheeses to the skillet, and gradually add the half and half stirring often. Add more half and half until the cheeses and smooth and completely melted. Add the diced tomatoes and cilantro, and stir together until incorporated.
Serve the hot dip right away with the Guacamole and Blue Corn Tortilla Chips. Enjoy!
When watching the big game, be sure to have plenty of ingredients on hand to make this dip. You may need to make a second batch for your hungry crowd! Enjoy! ~Erin