Pina Colada Cupcakes
The classic Pina Colada cocktail turned into a cupcake! These Pina Colada Cupcakes included a moist, delicious cake and topped with an amazing coconut cream cheese frosting. These pineapple coconut cupcakes are perfect to celebrate any occasion!
This post may contain affiliate links. Delightful E Made is a participant in the Amazon Services LLC Associates Program, an affiliate advertising program designed to provide a means for us to earn fees by linking to Amazon.com and affiliated sites.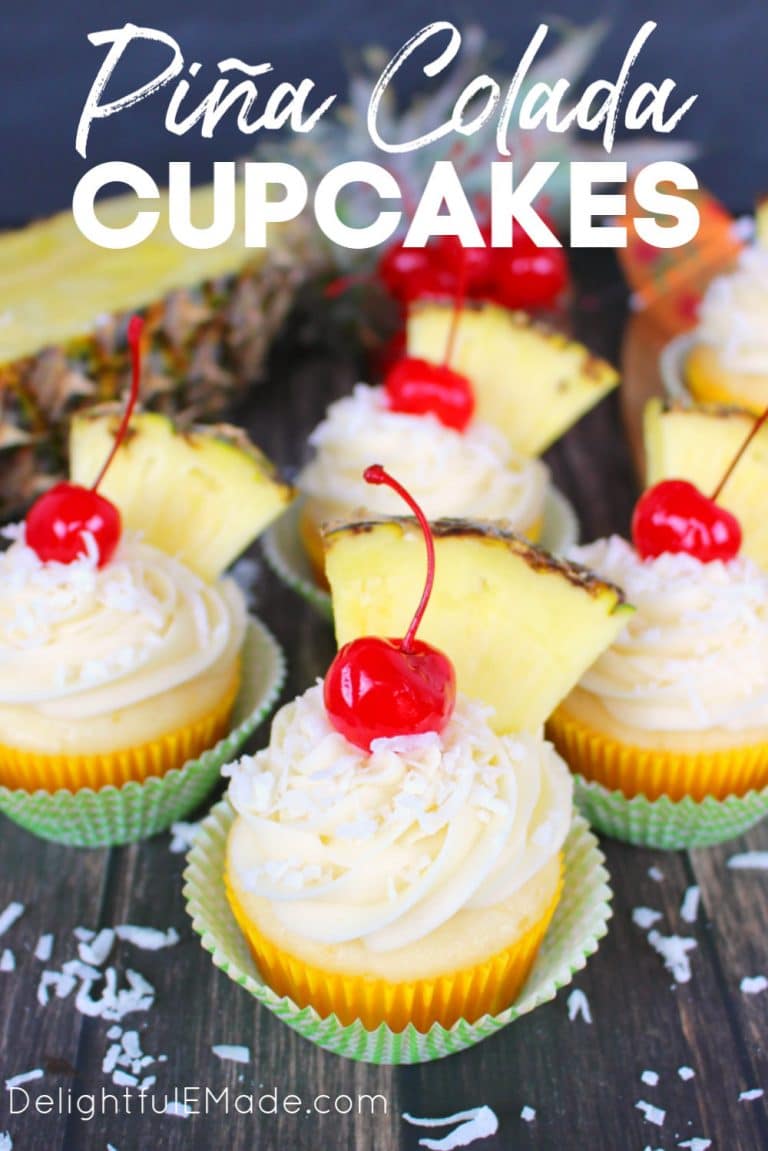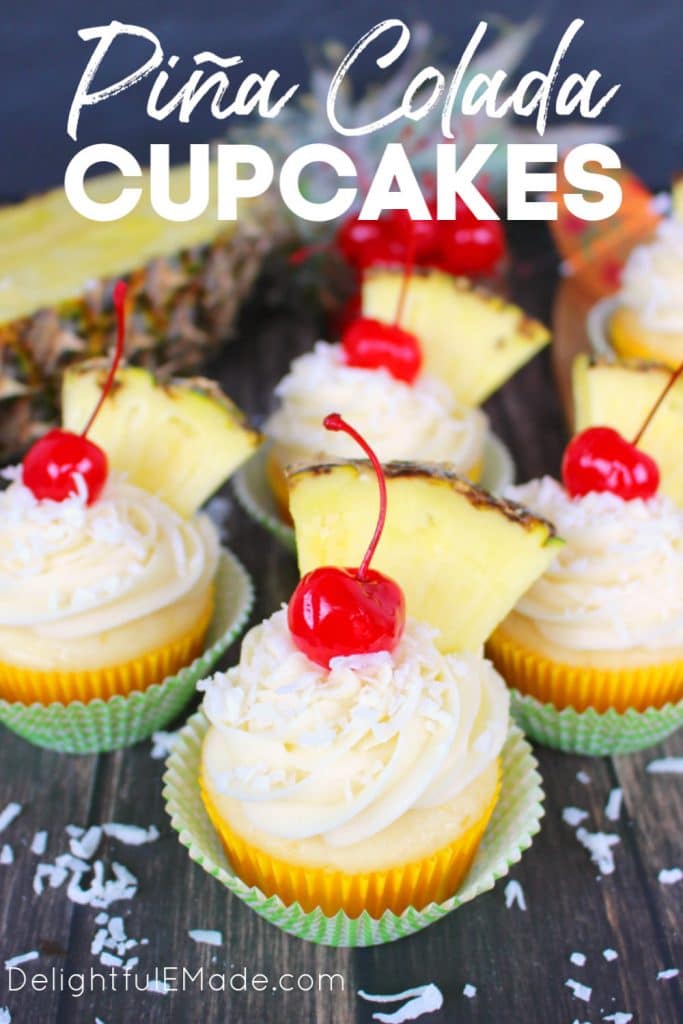 Pina Colada Cupcakes – flavors of the beach!
One of my all-time favorite cocktails is the Pina Colada. Delicious coconut and pineapple blended together, have the most wonderful tropical flavors – even the aroma takes me right to the beach. These Pina Colada cupcakes take all those fabulous cocktail flavors and combines them into one glorious treat!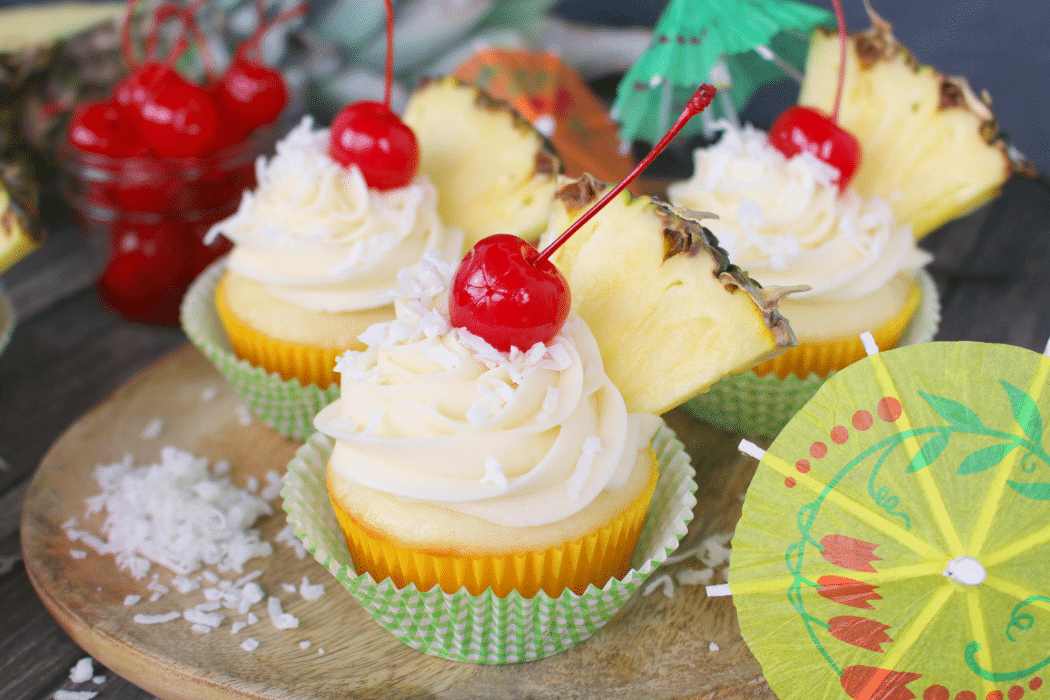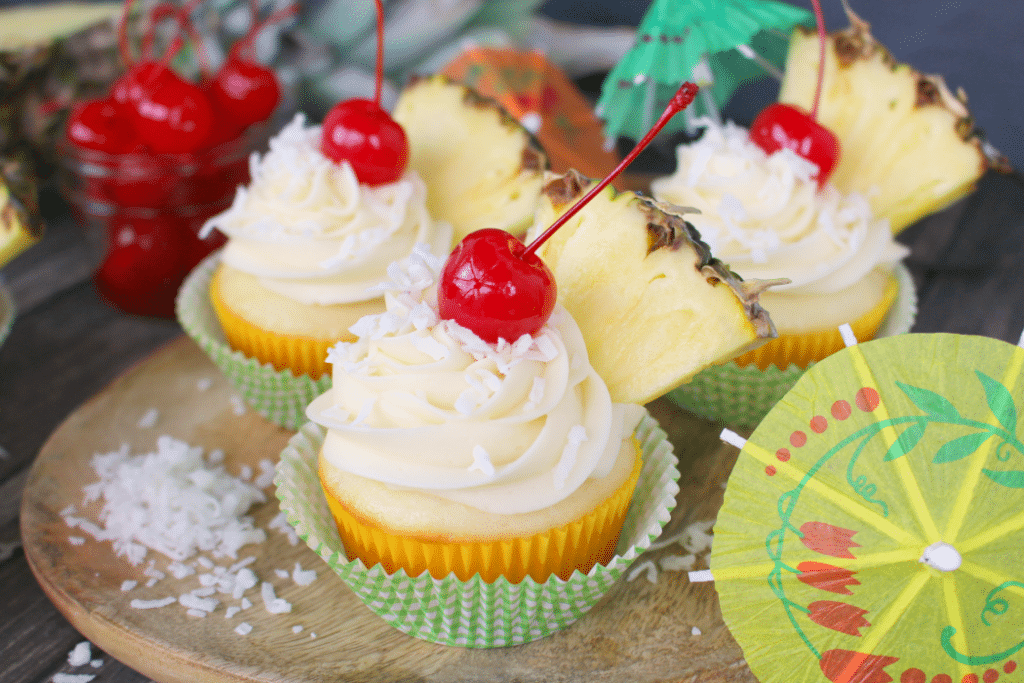 What should I top these pineapple coconut cupcakes with?
To make these cupcakes even more like the classic tropical cocktail, I topped each one with sweetened flake coconut, a slice of fresh pineapple, and a maraschino cherry!
These pretty garnishes make for an amazing presentation. Feel free to add pretty cocktail umbrellas to each cupcake as well. These would be fabulous for a fun Cinco de Mayo party, or any kind of fiesta!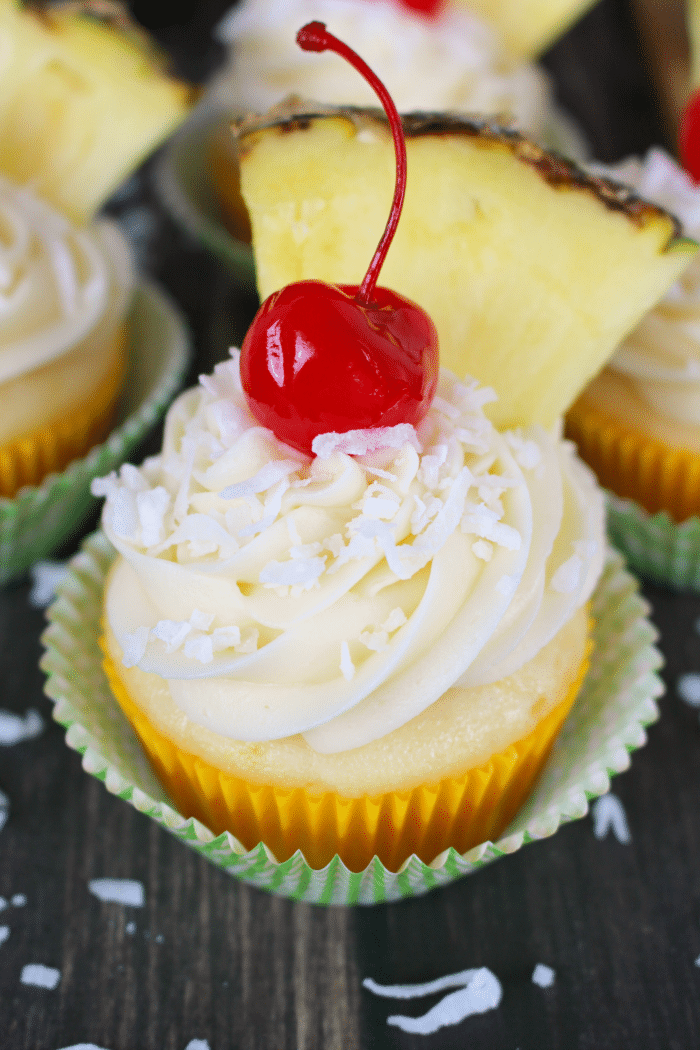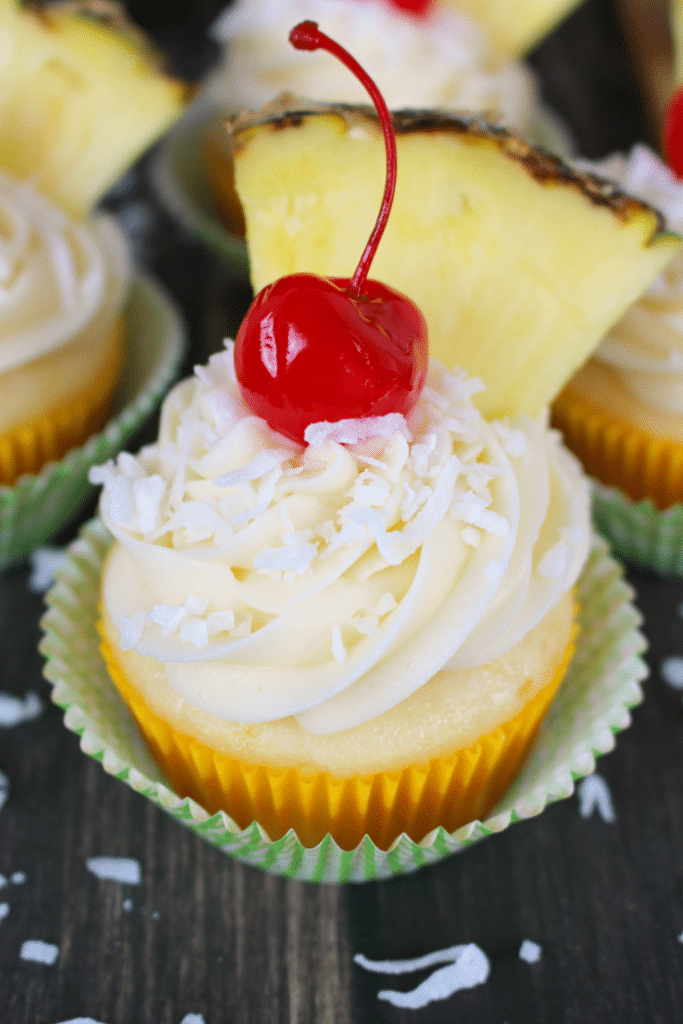 What is best: paper cupcake liners, silicone baking cups or non-stick baking spray?
If I'm taking these cupcakes to an event, I always find it very helpful to use paper cupcake liners. It makes for easy clean up, simple removal of the cupcakes from the pan, and some additional color to the cupcake as well.
Silicone baking cups are VERY helpful and I've discovered are the best for cupcakes and muffins when I don't want to use a paper liner. Cupcakes and muffins slide right out with ease and absolutely no sticking whatsoever!
A third option is non-stick baking spray. While silicone baking cups are my first choice, I do like Spectrum Coconut Oil non-stick spray.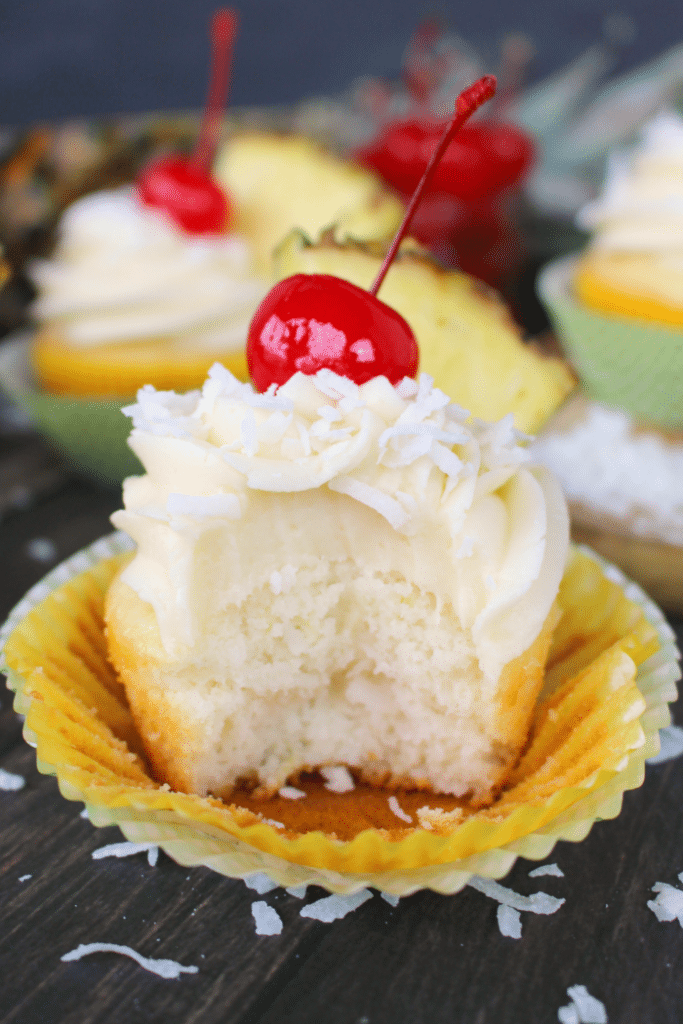 Why use a boxed cake mix for these cupcakes?
Mostly for flavor, quickness and ease. You'll see in the recipe below, that these cupcakes start with a simple white cake mix. It really makes these cupcakes fool-proof, and with the addition of the pineapple and coconut, the flavor of the cake is remarkably similar to a Pina Colada cocktail!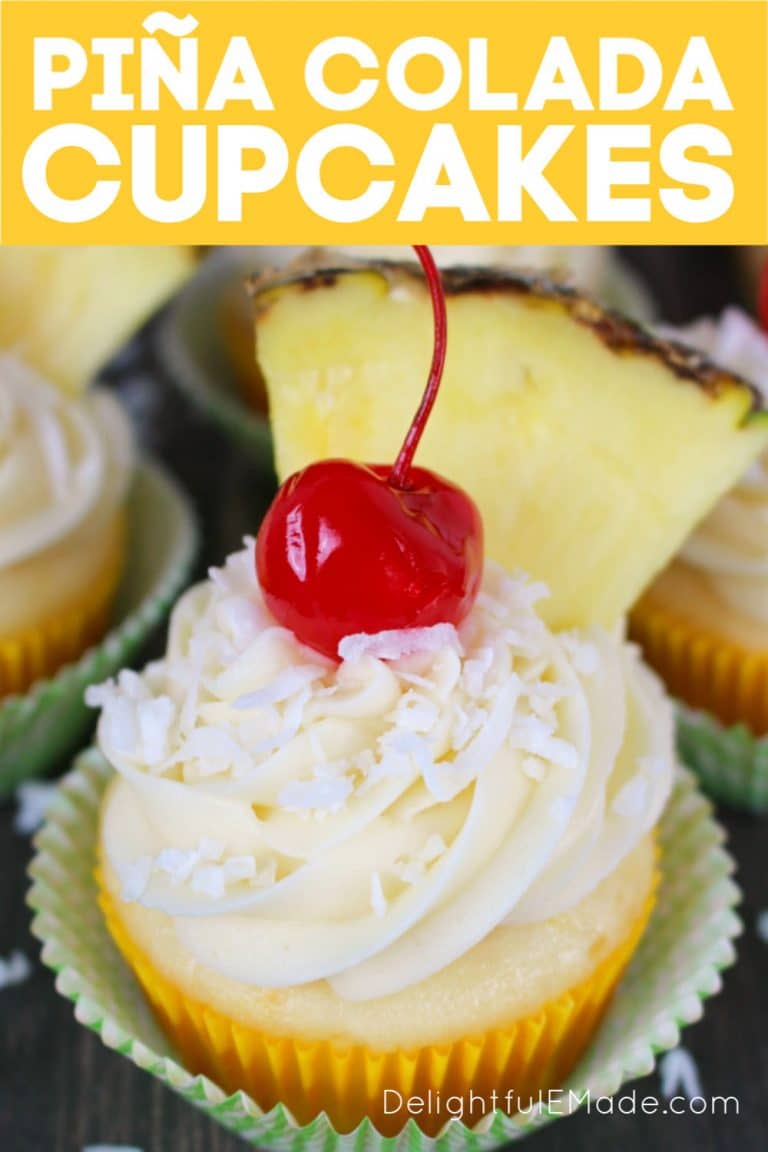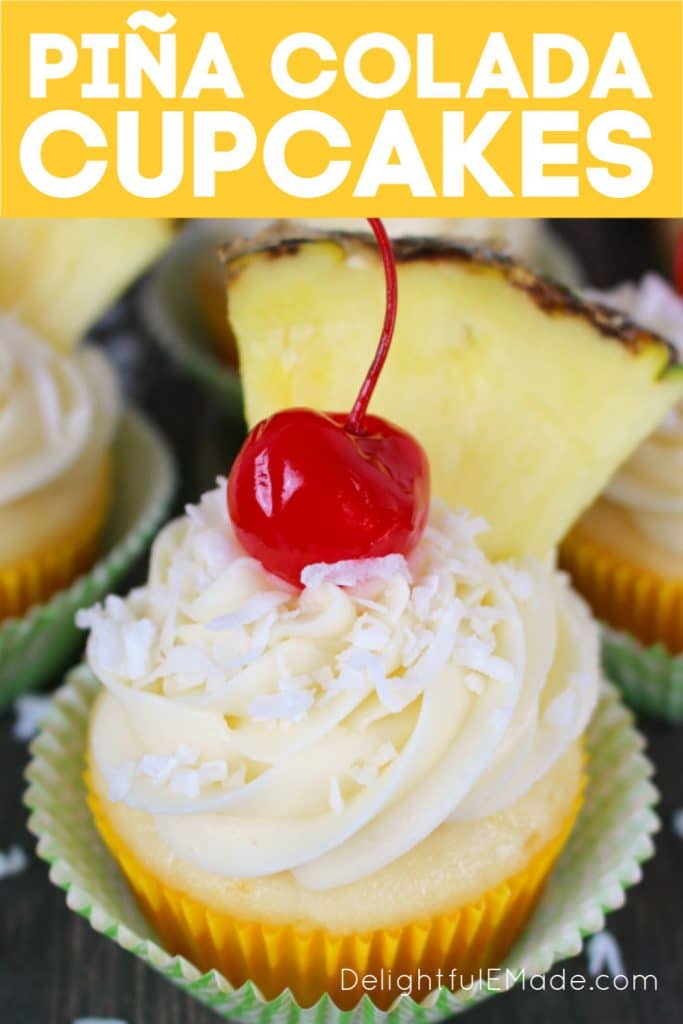 When should I serve these pina colada cupcakes?
These would be ideal for a Cinco de Mayo celebration or luau-themed party. These pineapple coconut cupcakes would also be great for a summer cookout or pot-luck as well.
Are you a cupcake lover? Check out some of my other cake-tastic recipes:
Caramel Pumpkin Spice Cupcakes
Double Chocolate Strawberry Cupcakes
Check out some of my other cake recipes that you'll be sure to love:
Pumpkin Caramel Cream Cheese Poke Cake
Buttermilk Sheet Cake with Chocolate Frosting
Here's the recipe for my Pina Colada Cupcakes
Pina Colada Cupcakes

The classic Pina Colada cocktail turned into a cupcake! Pineapple and coconut baked into a moist, delicious cake and then topped with an amazing coconut cream cheese frosting. The perfect to celebrate any occasion!

Ingredients

1 (16.25 oz.) white cake mix
1 1/4 c. pineapple juice
1/3 c. unflavored coconut oil (vegetable oil can also be used)
3 egg whites
2/3 c. crushed pineapple
1 c. sweetened coconut flakes
1 tsp. coconut extract

Frosting:

1 (8 oz.) pkg. cream cheese
1 stick (1/2 c.) butter
1 tsp. coconut extract
1 tsp. vanilla extract
4 c. powdered sugar

Toppings:

additional sweetened coconut flakes
pineapple wedges
maraschino cherries

Instructions

Preheat oven to 350 degrees. Line cupcake pans with cupcake liners - you'll make approximately 24 cupcakes.
With a hand or stand mixer, combine the cake mix, pineapple juice, oil, and egg whites. Mix until just combined. Add the pineapple, coconut flakes and coconut extract, and mix thoroughly into the batter until fully combined. Ladle the batter into the cupcake liners to approximately 3/4 full. Bake at 350 degrees for 18-21 minutes.
Remove from oven and let cupcakes cool completely.
For Frosting: With hand or stand mixer cream together the cream cheese and butter. Add the extracts and combine. Gradually add the powdered sugar one cup at a time, stopping to scrape down the sides of the bowl.
Pipe frosting on to cupcakes (I used tip 1D) and top with additional sweetened coconut flakes, pineapple wedges and maraschino cherries.

Nutrition Information:

Serving Size:

1 Amount Per Serving:

Calories:

5857

Total Fat:

145g

Saturated Fat:

62g

Cholesterol:

29mg

Sodium:

4781mg

Carbohydrates:

1076g

Sugar:

838g

Protein:

110g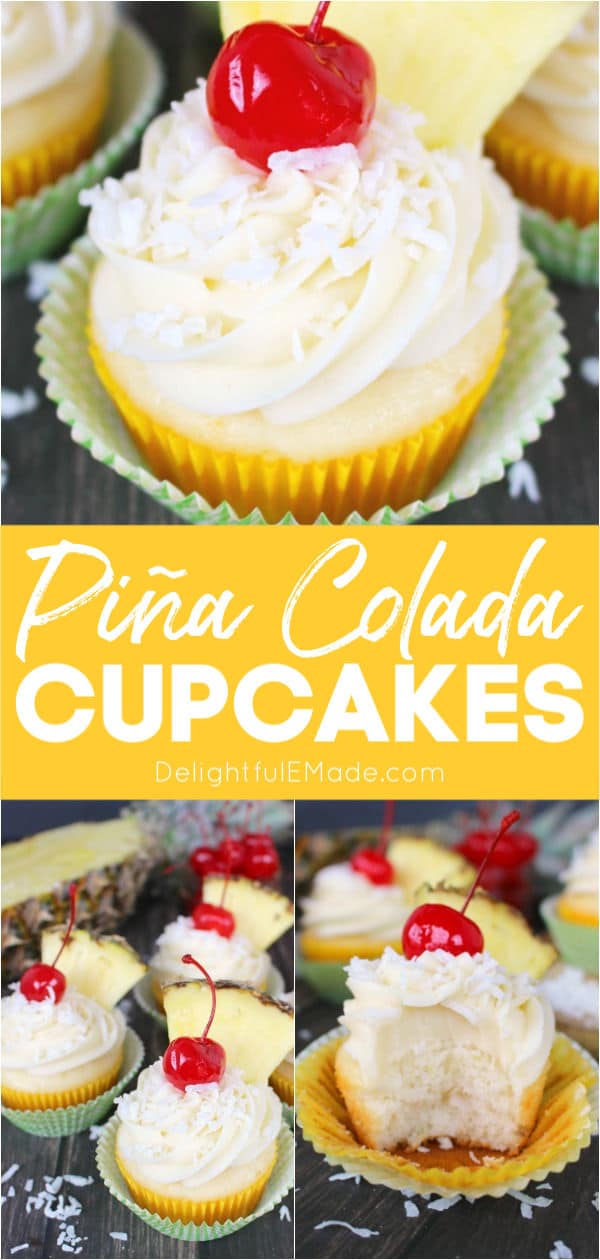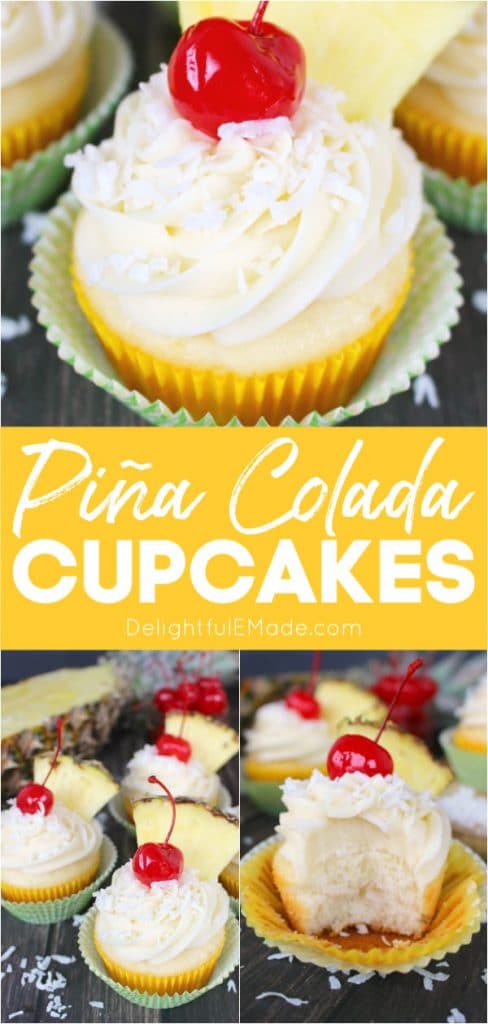 You Might Also Like These Recipes