Incredible BLT Pasta Salad Recipe!
The perfect ranch pasta salad recipe for any potluck, cookout, or back yard BBQ! This amazing BLT pasta salad recipe is loaded with bacon, tomatoes, crisp green leaf lettuce, and topped with a fantastic creamy ranch dressing. Make extra – this disappears FAST!
Disclosure: This post may contain affiliate links. Delightful E Made is a participant in the Amazon Services LLC Associates Program, an affiliate advertising program designed to provide a means for us to earn fees by linking to Amazon.com and affiliated sites.
Ranch Pasta Salad Recipe – Perfect for Summer!
Does your summer consist of getting together with neighbors, family and friends for cookouts, barbecues, and potlucks? Much like many of you, our neighbors have become our second family.
We love getting together all through the spring and summer months for fun potluck dinners, where everyone brings a dish or two to share. We always end up with lots of fantastic food, and this pasta salad recipe is the perfect side dish that everyone loves!
Here's all of my tips and tricks to making this delicious BLT Pasta Salad recipe:
Loaded with tender, delicious pasta, and all of your classic BLT favorites and a creamy (and EASY!) ranch dressing that is sure to please. The flavors are just like a BLT sandwich! It goes wonderfully with burgers, chicken, hot dogs, ribs, pork chops and more!
What goes well with pasta salad?
Pasta salad is a great side dish for burgers, grilled chicken, salmon, pork, ribs and steak. It's a great summertime cookout side dish. Here are a few of my recipes that go great with pasta salad:
Grilled BBQ Chicken Legs at Real Housemoms
This salad comes together quickly and easily, and can be made ahead and refrigerated for picnics and cookouts. The beauty of this simple pasta salad recipe is that you can sub-in any type of pasta that you might already have in your pantry.
I've made this with rigatoni, penne, fusilli (bow-tie pasta), and even little wagon-wheel pasta. Another great sub is to make the dressing with plain Greek yogurt instead of sour cream. It will still be creamy and delicious, but with a little less fat.
If you're looking for a delicious, healthy ranch option, my Greek Yogurt Ranch Dressing. At just 44 calories a serving, it's the only way I do ranch. Soooo good! I also have a container of my Greek Yogurt Veggie Dip on hand at all times.
Here is a quick shopping list of the ingredients you'll need for this great pasta salad recipe:
Small to Medium pasta (your choice) – I used Radiatori, which works well!
Bacon
Grape or Cherry Tomatoes
Green leaf or romaine lettuce
Sour Cream or Plain Greek yogurt
White vinegar
1 packet of Ranch salad dressing mix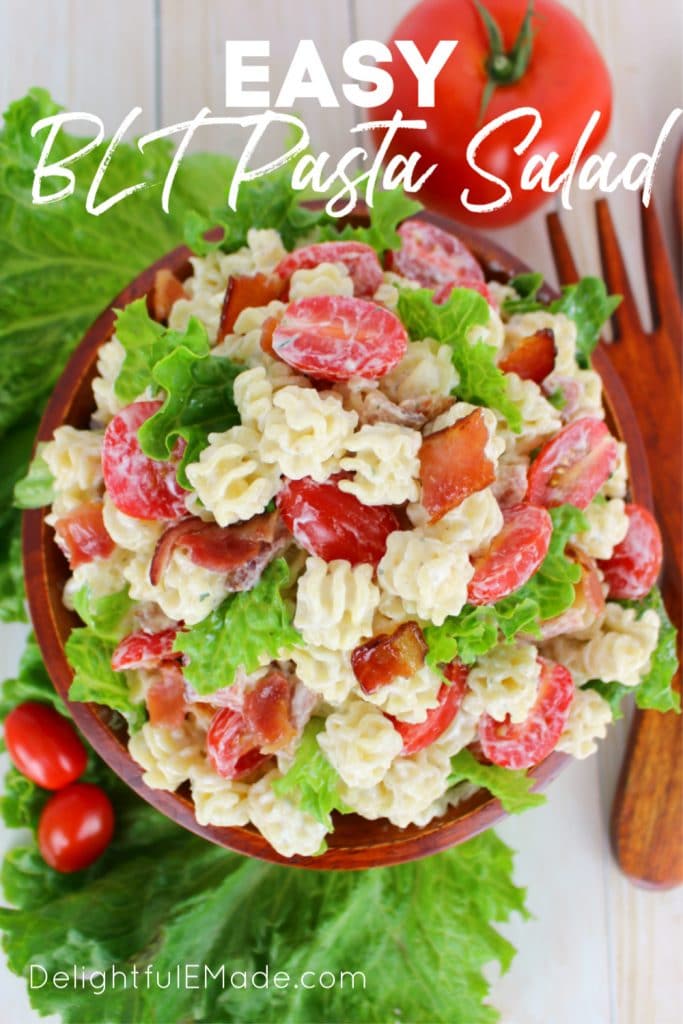 Ranch BLT Pasta Salad FAQ's:
What type of pasta is best for a pasta salad?
Small to medium sized pasta is best for a pasta salad. Penne, rigatoni, bow-tie, rotini, fusilli, gemelli, or radiatori are all great options for a pasta salad. I would not recommend long pasta, like spaghetti, fettuccini, linguini, angel hair, or lasagna unless they are broken into short pieces.
How long should I refrigerate a pasta salad before serving?
Before serving, it is best to chill a pasta salad 1-2 hours. This gives the dressing a chance to integrate with the rest of the ingredients and for the pasta to become cold.
What other ingredients can I add to this BLT pasta salad recipe?
Along with the bacon, lettuce and tomatoes, other ingredient options would be sliced olives, shredded cheese, avocado slices or pickled red onions.
How long can a pasta salad sit out?
A pasta salad can sit out at room temperature for 1-2 hours at most. If the salad is outdoors where temps are warm (like a cookout, picnic, or pot-luck), it is usually best to discard any leftover salad after the event.
How long will a pasta salad last?
If kept in an airtight container, refrigerated, a pasta salad can last for up to 5 days. After the second day, you may need to add extra dressing, as the pasta will likely absorb what was initially put on the salad.
If you loved this delicious Ranch Pasta Salad recipe, check out some of my other salads and sides:
Here's the easy, delicious recipe for my Cream Ranch BLT Pasta Salad:
Creamy Ranch BLT Pasta Salad
The perfect side dish for any potluck, cookout, picnic or back yard BBQ! This Creamy Ranch BLT Pasta Salad is loaded with bacon, tomatoes, crisp green leaf lettuce, and topped with an amazing creamy ranch dressing! Make extra - this disappears FAST!!
Ingredients
10 oz. small pasta, cooked to al dente
1 c. sour cream or plain Greek yogurt
2 Tbsp. white vinegar
1 (1 oz.) packet, Ranch seasoning/dressing mix
1 pint, grape tomatoes, halved
6-7 slices bacon, cooked crisply, cut into pieces
4 large, green leaf lettuce leaves, torn into pieces
Fresh ground pepper, if desired
Instructions
Cook pasta according to package directions. Drain pasta, and rinse under cold water to stop cooking. Let sit in sink to drain and cool.
In a large bowl, add the sour cream, vinegar, and ranch seasoning. Whisk together to combine. Toss in cooled pasta. Add tomatoes, bacon pieces, and lettuce pieces. Toss together to coat with the dressing.
Serve right away or refrigerate until ready to serve. Top with fresh ground pepper, if desired.
Notes
To make this recipe healthier, substitute the sour cream for plain Greek yogurt.
Nutrition Information:
Serving Size:

8 servings
Amount Per Serving:
Calories:

229
Total Fat:

11g
Saturated Fat:

4g
Cholesterol:

17mg
Sodium:

165mg
Carbohydrates:

26g
Sugar:

1g
Protein:

8g
I hope you get the chance to get together with family, friends and neighbors and share a fantastic meal or two. Bring this fantastic pasta salad, and while you're at it, make extra – it will disappear quickly!! Enjoy! ~Erin