Strawberry Shortcake Martini – an Amazing Strawberry Cocktail
Made with strawberry puree, cake flavored vodka and cream liquor, this easy strawberry cocktail packs a punch, but is sure to please.  Tastes just like the classic strawberry shortcake dessert!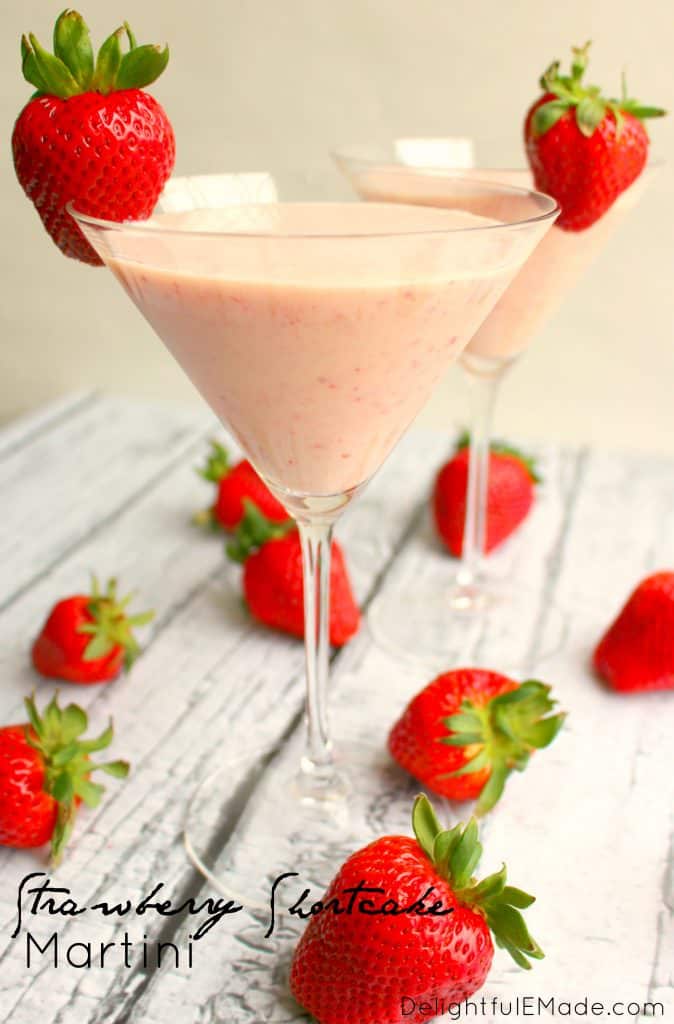 I've totally had one of those days!  A day where a huge, costco-sized jug of laundry detergent falls of the shelf and proceeds to spill every where kinda day.  A day where I do my best to get some things done around the house and one hurdle after another continues to present itself.  Today, is definitely a day for a cocktail!!  This fantastic strawberry cocktail is the PERFECT remedy on a day like today!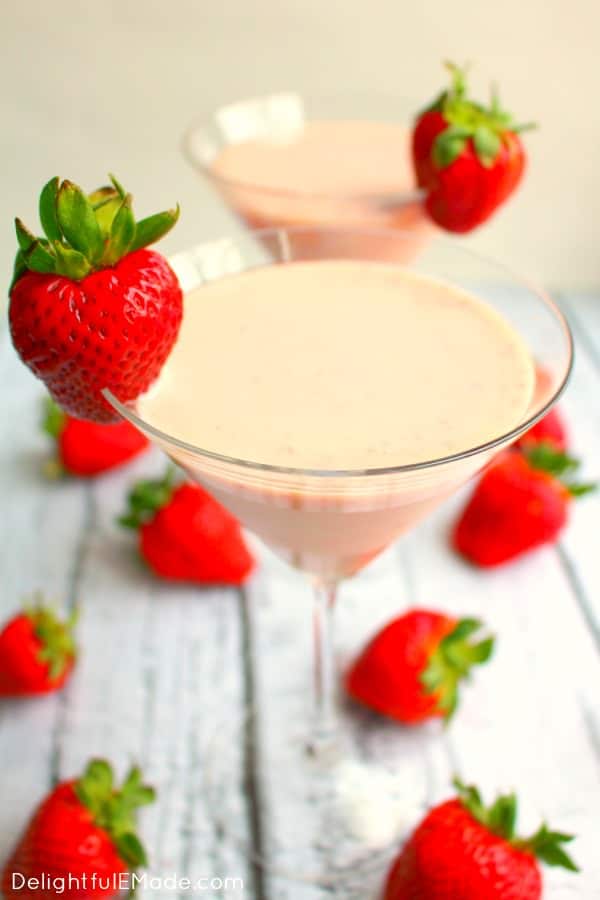 When I first came across "cake" vodka I though, "what an odd flavor for vodka!" Then I started to really think about the possibilities of cocktails – Chocolate Cake cocktail, perhaps a pineapple upside down cake cocktail – pretty much any flavor of cake, can be turned into a glorious drink.  I then grabbed a big bottle, and from then on this vodka is a constant staple in my freezer.
This cocktail is the perfect drink for spring and could be excellent at Easter brunch or even viewing the Kentucky Derby, should you have something other than a mint julep.  Made with strawberry puree, cake flavored vodka and cream liquor, it packs a punch but also has a creamy, sweet texture that is sure to please.
Here's a quick shopping list of ingredients you'll need for this amazing strawberry cocktail:
Cake flavored Vodka
Creme liqueur
Fresh or frozen strawberries (for strawberry puree)
Half and half
Here's the recipe for this fantastic strawberry cocktail:
Erin Indahl-Fink
Yields 2
Strawberry Shortcake Martini
Perfect for when you're in the mood for a sweet, creamy cocktail! Made with strawberry puree, and cake vodka, its a dessert and drink in one!
10 minPrep Time
10 minTotal Time
Ingredients
4 oz. cake flavored vodka
4 oz. cream liquor
1/2 c. fresh or frozen strawberries
1/2 c. half & half
ice
Instructions
In a blender, add the fresh or frozen strawberries. Puree until near liquid form. Set aside.
In a cocktail shaker, add the ice, vodka, cream liquor, and half & half along with the strawberry puree. Shake vigorously. Pour into two chilled martini glasses. Enjoy!
7.8.1.2
59
https://delightfulemade.com/2014/04/04/strawberry-shortcake-martini/
Copyright by DelightfulEMade.com
This recipe can also be made in the blender.  Try substituting the half & half with ice cream and have a spiked milkshake instead of the cocktail!
I hope the remainder of my day has less challenges that what its had so far.  I will take refuge in the fact that there's a sweet, creamy Strawberry Shortcake Martini waiting for me at the end of the day!  Cheers!!
Erin
Here are a few of my other fantastic strawberry cocktails and drinks that you're sure to enjoy: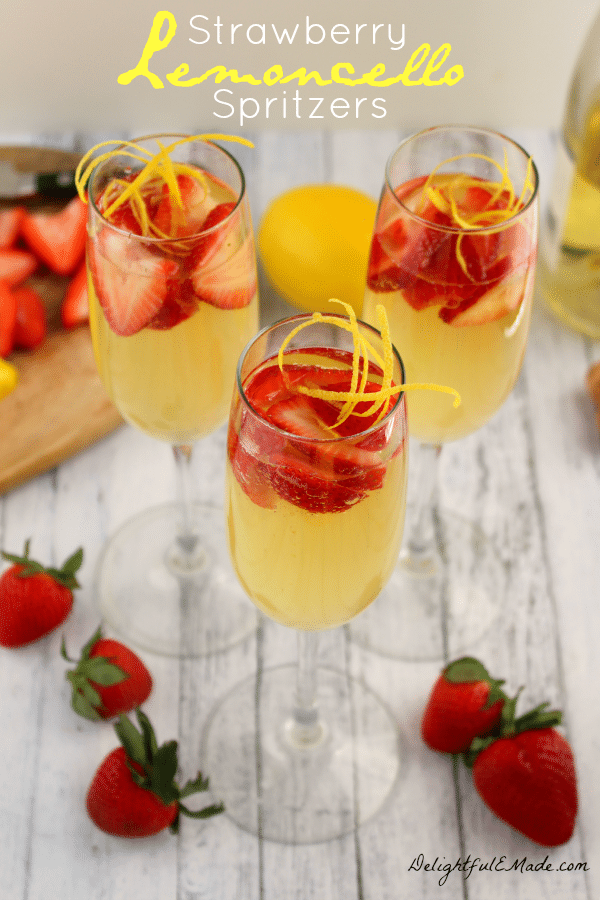 Strawberry Lemoncello Spritzers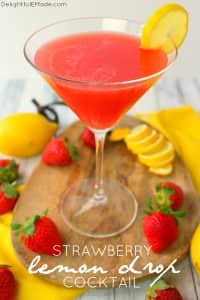 Strawberry Lemon Drop Cocktail