Cake Mix Peach Cobbler recipe – the easiest Peach Dessert!
Just 4 ingredients are all you need to make this fantastic Cake Mix Peach Cobbler! Made in less time it takes to preheat the oven, this fantastic peach dessert is perfect anytime you're in the mood for old fashioned cobbler!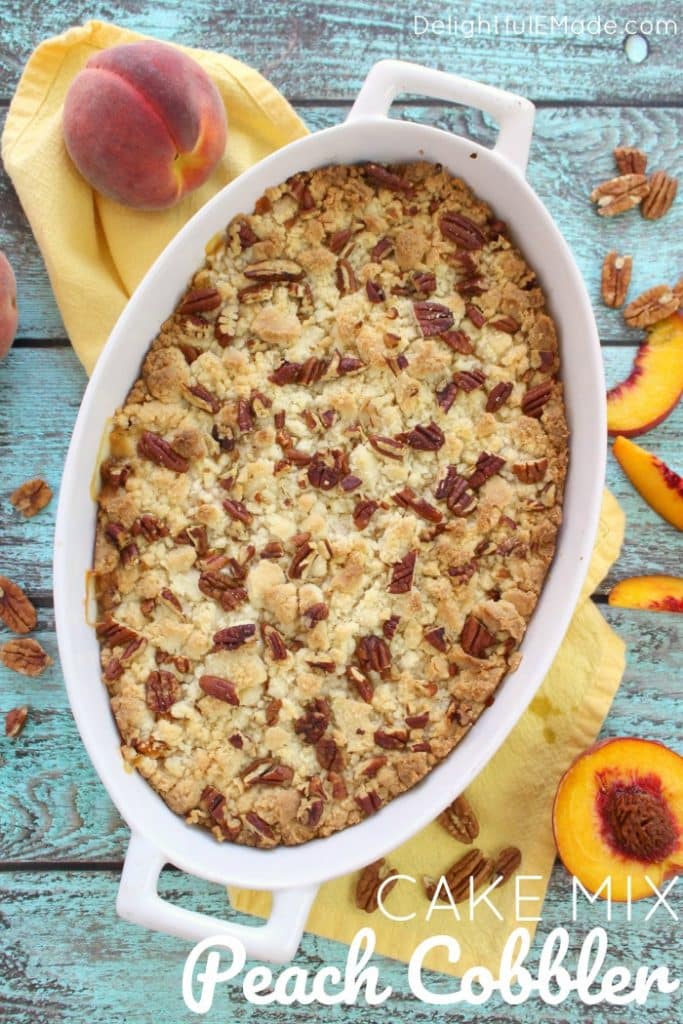 Every summer around July we travel back to South Dakota to visit family and friends.  Both my husband and I were born and raised there in the Great Plains and we try to get back at least once a year to see my parents, siblings, grandparents, and also so my son can see his cousins which he desperately misses the rest of the year. While there, we always enjoy great food along with the great company.  One of the recipes that we really enjoyed was also one of the simplest – this incredible Cake Mix Peach Cobbler.
My mom and I quickly whipped this together as a simple dessert to enjoy with vanilla ice cream.  Not only was it amazing, but when I say simple…I mean seriously easy.  It's made with just 4 ingredients, and that includes the optional pecans. I personally think peaches and pecans are a match made in heaven, so naturally I added them to this cobbler. The other ingredients include the peaches (fresh, frozen or canned), melted butter, and a cake mix.
Let me show you just how SIMPLE and EASY this Cake Mix Peach Cobbler is to make.  Here's exactly how this wonderful peach dessert comes together:
Step 1: Add Peaches to Bottom of Baking Dish or 9×13″ Pan
When mom and I made this dessert we used a 9×13″ pan, but feel free to use a baking dish of similar size like this oval baker. If fresh peaches are in season, I would definitely recommend fresh. However, if fresh peaches are out of season or not available, feel free to use frozen or canned. When using frozen, let the peaches thaw and come to room temperature before baking. Should you be using canned peaches, drain off the majority of the juice.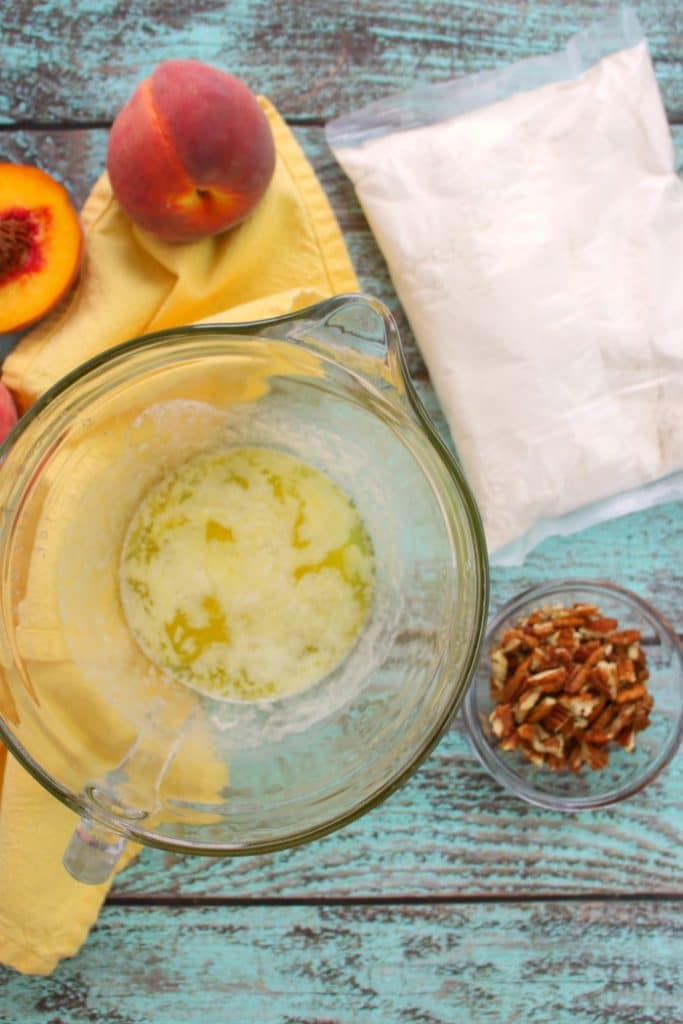 Step 2: Melt Butter and add Cake Mix
In a medium microwave-safe bowl, melt the butter and then add the cake mix. I used a white cake mix, however, a yellow cake mix works just as well.  Stir the butter and mix together to combine.
FYI – there are several other recipes out there that have you dump the cake mix directly over the top of the peaches, and then pour the melted butter over that. I don't recommend this method. Not only does the mix not bake evenly, but you also tend to have dry, powdery clumps of mix in the cobbler, which isn't ideal.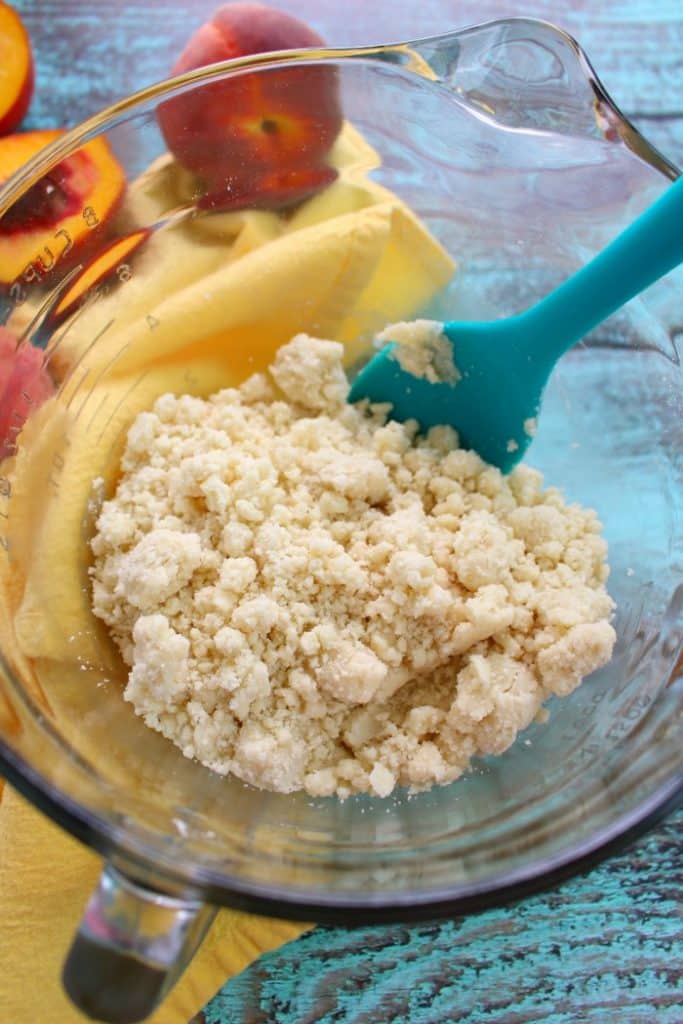 As you stir the butter and cake mix together it will take on a crumbly, gravel-like consistency. This really makes the perfect cobbler for your peaches and will absorb the juices of the peaches as it bakes.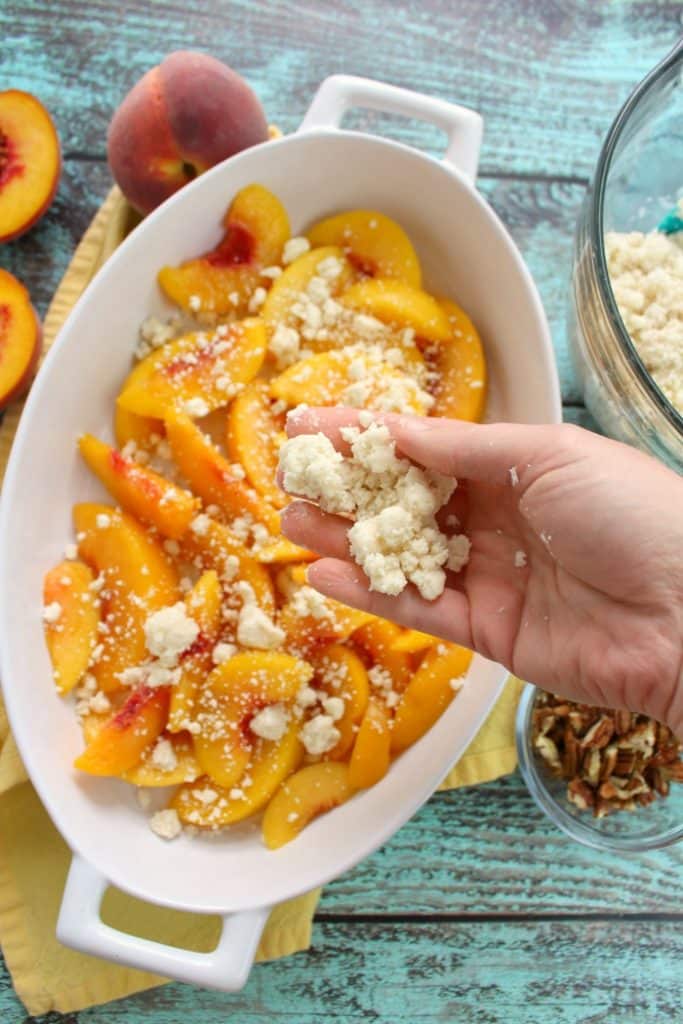 Step 3: Add the Cake Mix Crumble to the Top of the Peaches
Evenly sprinkle the cake mix crumble on top of the peaches. If you get big chunks, or mix that isn't quite incorporated, simply pinch it together with your hands, and crumble apart.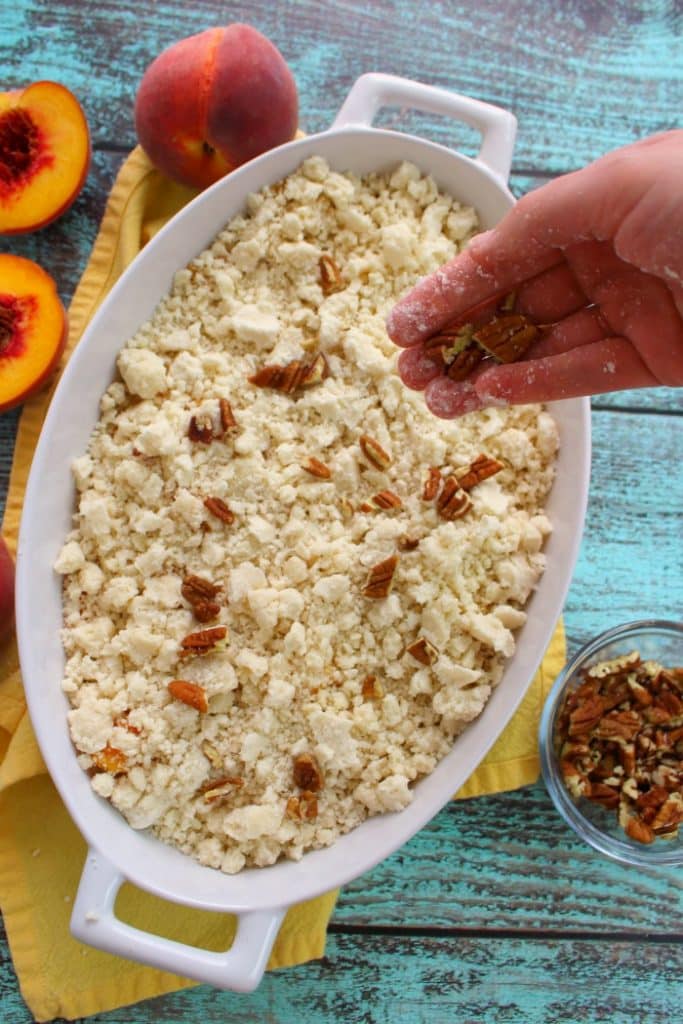 Step 4: Add Chopped Pecans to the Cake Mix Peach Cobbler
The pecans are certainly optional, but like I mentioned earlier I absolutely LOVE pecans and peaches together.  As the cobbler bakes, the pecans toast beautifully.  They add a great crunch to every bite of this fantastic peach dessert!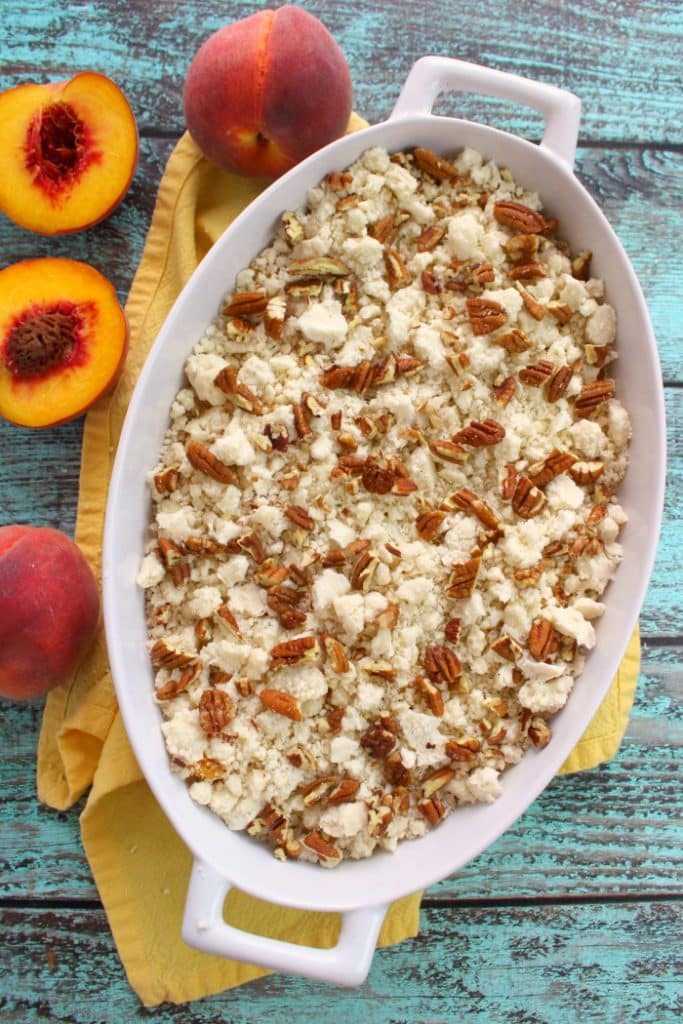 Step 5: Bake
Once the pecans have been added to the top of the cobbler, bake for 40-45 minutes at 350 degrees.  Keep watch of your cobbler as it bakes. When my mom and I used a 9×13″ pan, we needed a bit more baking time, around 50+ minutes. Using the oval baker, at around 40 minutes to cobbler was golden brown and ready to come out of the oven.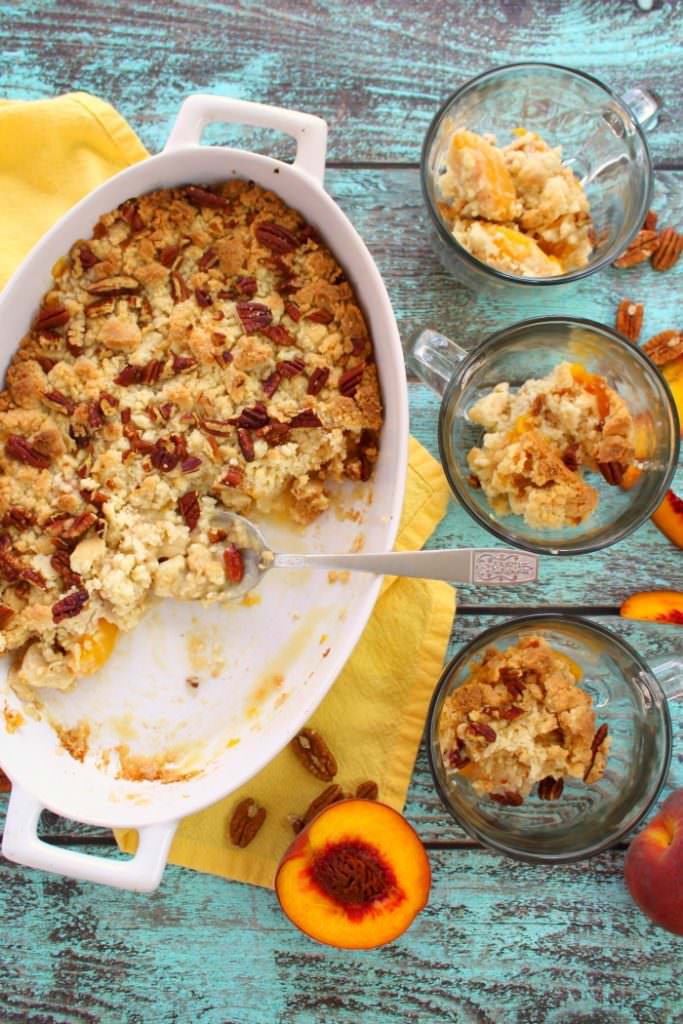 Step 6: Let Cool Slightly and Serve Warm
Once the cake mix peach cobbler comes out of the oven, let it cool for at least 10 minutes at room temperature. The fruit on the bottom will be bubbling and pipping hot, and the juices from the fruit will bake perfectly with the crumb topping.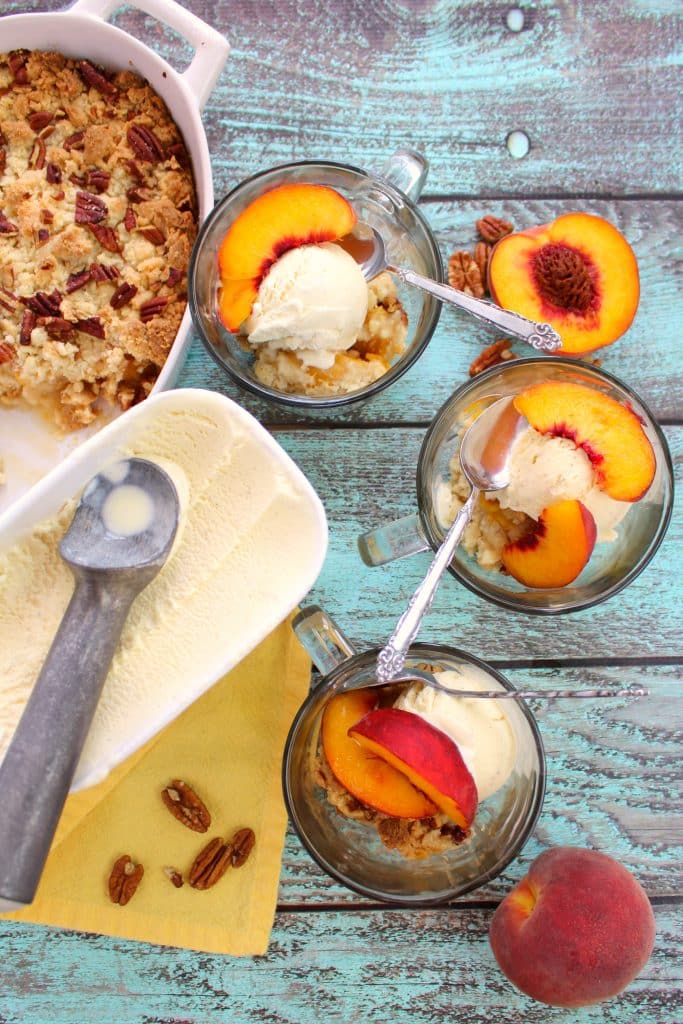 This cobbler is the perfect dessert served warm with a big scoop of delicious, vanilla ice cream! The ice cream cools the dessert a bit, and as it melts, becomes a wonderful peaches and cream dessert!  PS – if Peaches and Cream are your thing, you should totally check out my Peaches and Cream Dessert Bars!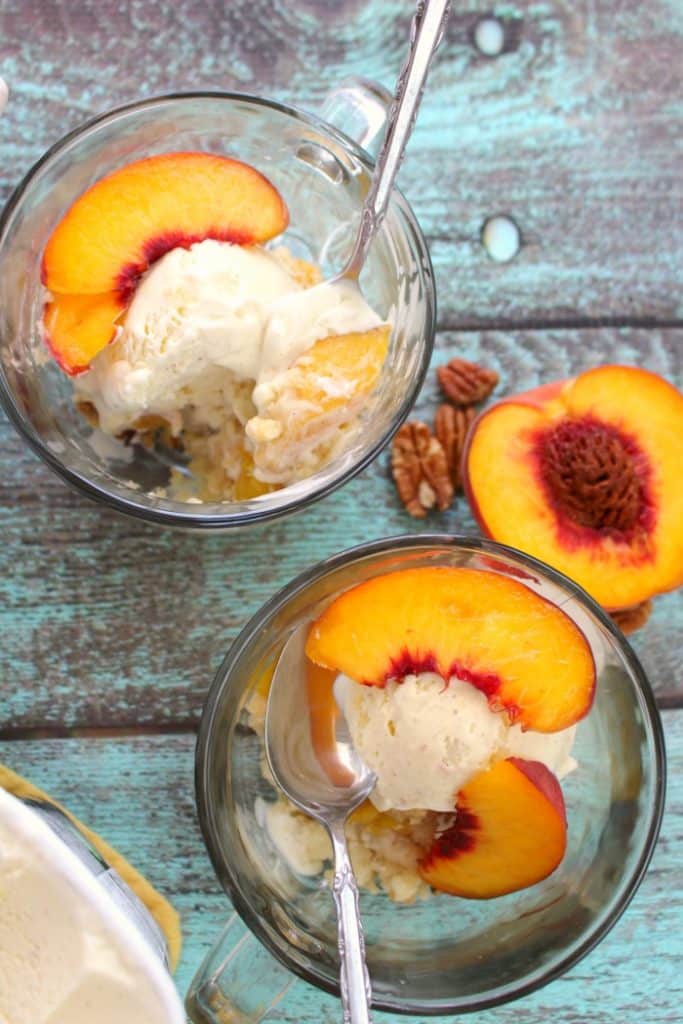 Top the bowls of cobbler with a few fresh peach slices if you like. It's such a wonderful way to enjoy the delicious flavors of summer, and will definitely take you back home. Enjoy! ~Erin
Here's a quick-reference grocery list of the ingredients you'll need to make this super simple Cake Mix Peach Cobbler:
Peaches – fresh, frozen or canned
Cake Mix – either White or Yellow
Butter
Pecans – halves or chopped pieces
If you loved this peach cobbler, be sure to check out some of my other peachy recipes: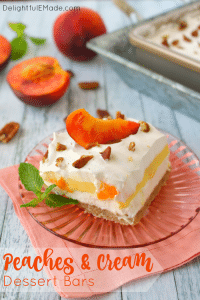 Peach Crisp with Cinnamon Pecan Crumble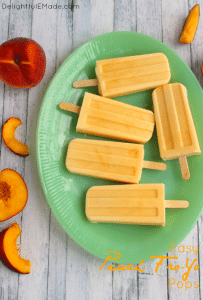 Easy Peach Fro-Yo Pops
Erin @ Delightful E Made
Yields 8 servings
Cake Mix Peach Cobbler
Just 4 ingredients is all you need to make this fantastic Cake Mix Peach Cobbler! Made in less time it takes to preheat the oven, this fantastic peach dessert is perfect anytime you're in the mood for old fashioned cobbler!
10 minPrep Time
45 minCook Time
55 minTotal Time
Ingredients
2 lbs. peaches (fresh, frozen or canned), peeled and sliced
1 (16.25 oz.) cake mix, white or yellow
1/2 cup (1 stick) butter, melted
1/2 cup pecans, roughly chopped (optional)
Instructions
Preheat oven to 350 degrees.
In a 9x13" pan or oval baking dish, add the peaches to the bottom of the pan or dish. (If using frozen, make sure they're completely thawed. If using canned, drain off the juice.)
In a microwave-safe bowl, melt the butter. Add the cake mix to the melted butter and stir until crumbly. Evenly crumble the mixture over the top of the peaches.
Top the cake mix crumble with the chopped pecans. Bake the cobbler for 40-45 minutes or until golden brown.
Let cobbler cool slightly for 10-15 minutes before serving. Serve warm, and top with vanilla ice cream, if desired.
7.8.1.2
319
https://delightfulemade.com/2017/08/03/cake-mix-peach-cobbler/
Copyright by DelightfulEMade.com