When its cold outside, make yourself this warm, comforting Hearty Chicken Double Noodle Soup.  Loaded with both wide and narrow egg noodles, along with carrots, celery and thick chunks of chicken, this soup will warm the body and soul!
This post may contain affiliate links. Delightful E Made is a participant in the Amazon Services LLC Associates Program, an affiliate advertising program designed to provide a means for us to earn fees by linking to Amazon.com and affiliated sites.
Have you ever noticed that, among other things, the weather triggers our food cravings?  I can't get enough soft-serve ice cream in the spring and summer, but when fall rolls around I don't even think about it.  
When September arrives, I bust out the pumpkin, the slow cooker, and the stock pot for soups and stews. It's like our brain is telling us, "you need to eat soup for survival today."  Its like its ingrained into our human nature, specifically for the purpose survival.
The temperature here in Northern Virginia is to dip into freezing tonight.  I really kinda love it!  My old friend and co-worker Jeannie Y and I use to talk about how we loved the smell made by the furnace when you turn it on for the first time of the season.  
We deduced that the smell was to the liking of "burnt dust".  Oh, the things we talked about to get out of actually working!! 🙂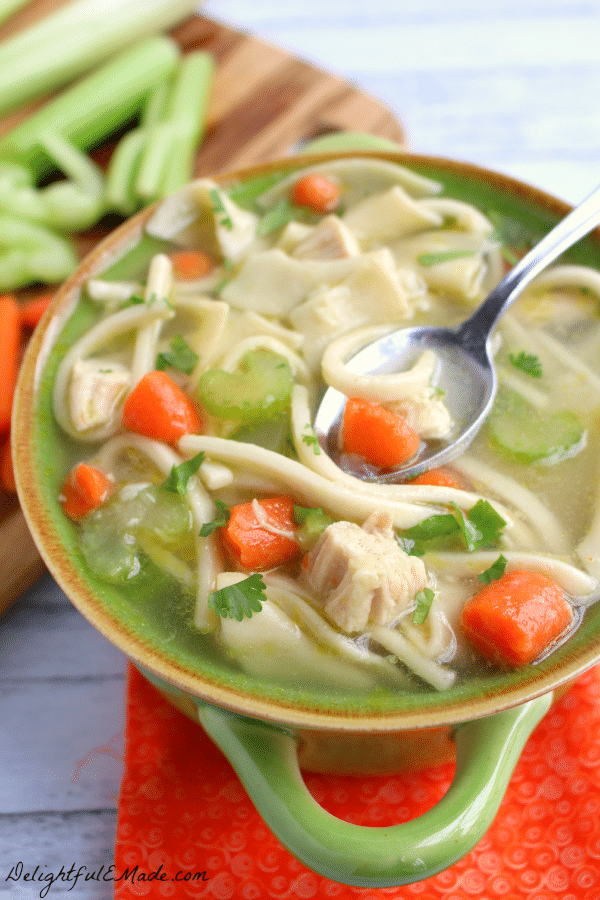 Another smell I absolutely relish is the smell of a brothy soup cooking on the stove – specifically Chicken Noodle Soup. Its hearty smells and flavors, to me, are the epitome of comfort food. Its something I love when I'm sick, or just on a night when the temperature dips into winter-like conditions.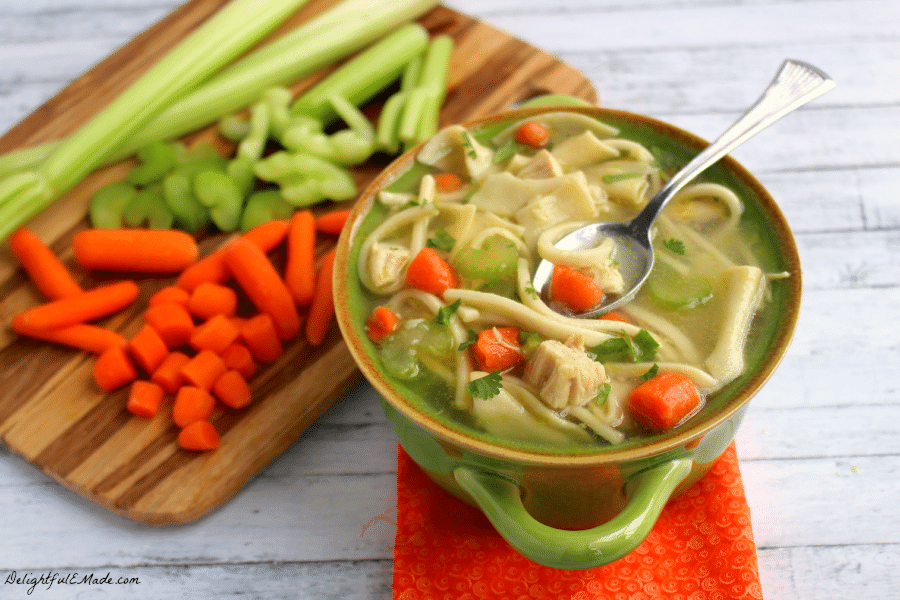 This Hearty Chicken Double-Noodle Soup recipe makes a big enough batch to serve for a meal, and then freeze for later or for left overs for lunch or dinner the next day. Its pretty easy to make. Its one of these recipes that I don't really have written down – just something where I throw specific ingredients into a pot, bring to a boil, and then its done.
Check out some of my other soup recipes:
Hearty Chicken Double Noodle Soup
This hearty soup is perfect on a cold fall or winter day. Double the noodles, lots of chicken, and vegetables make this soup good for the soul!
Ingredients
2 Tbsp. Olive Oil
1 c. chopped carrots, (approximately 3 large)
1 c. chopped celery, (approximately 3 large stocks)
1 medium yellow onion, chopped
2 c. cooked rotisserie chicken, cut into pieces
12 c. water
3 Tbsp. granulated chicken bouillon
1/2 tsp. ground pepper
1/2 pkg. (8 oz.) thin egg noodles (like New Mill Kluski)
1/2 pkg. (8 oz.) extra wide egg noodles (like No-Yolk)
Instructions
In a large stock pot or dutch oven, heat the olive oil. Add the chopped carrot, celery and onion and saute for 5-7 minutes. Add the water, chicken, bouillon, and pepper and bring to a low boil. Boil for 10-12 minutes until the vegetables are no longer hard.
Add the noodles and simmer (low boil) according to the noodle directions, about 10 minutes.
Serve hot with crackers, biscuits, or a fresh piece of baguette. Refrigerate or freeze any leftovers.
I hope this soup brings warmth and comfort to you and your family on a cold day.
Enjoy!
Erin