Italian Tortellini Salad – the BEST Italian Pasta Salad Recipe
This EASY tortellini salad recipe is perfect for any pot-luck, picnic, cookout or backyard barbecue! This delicious tortellini pasta salad is loaded with all of your Italian favorites, like salami, tomatoes, olives, banana peppers and more! Topped with Italian dressing and shredded Parmesan cheese, this Italian pasta salad is amazing!
This post may contain affiliate links. Delightful E Made is a participant in the Amazon Services LLC Associates Program, an affiliate advertising program designed to provide a means for us to earn fees by linking to Amazon.com and affiliated sites.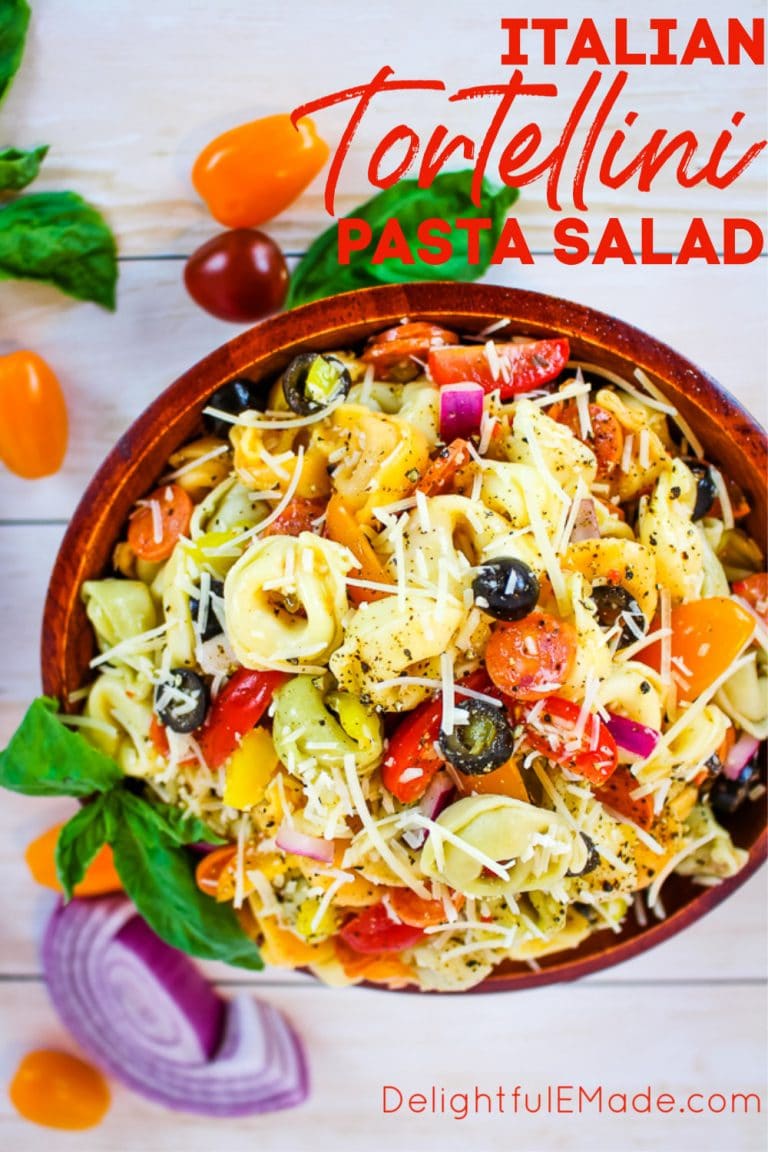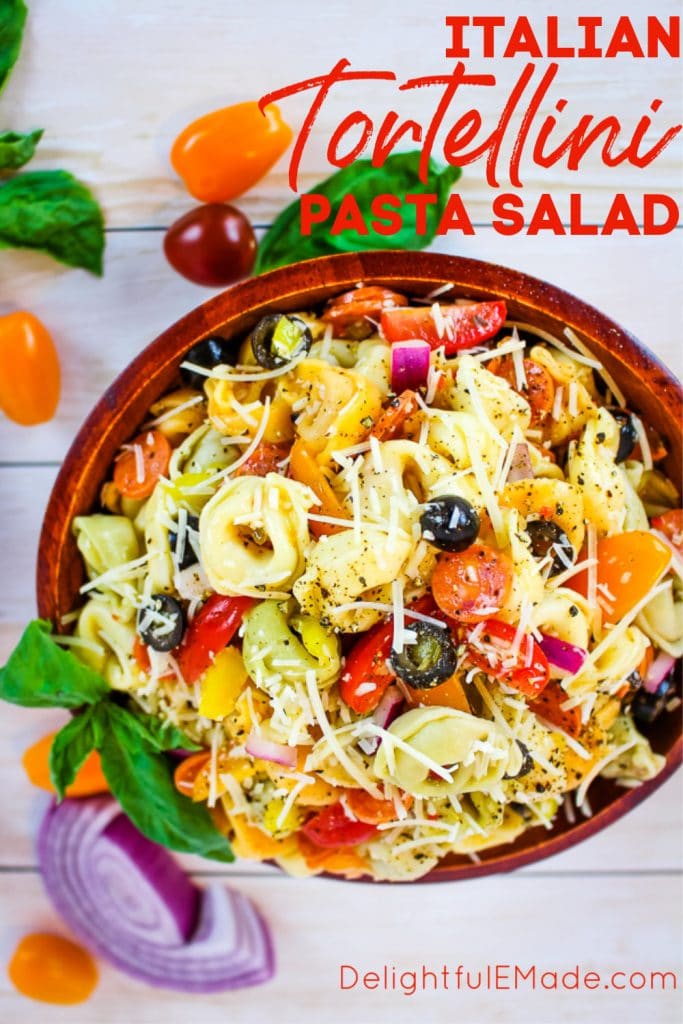 If you love cold tortellini salad, this Italian Tortellini Salad is a winner! It's absolutely perfect as a side dish for your next cookout or barbecue, and fantastic with your grilled chicken or burgers as a weeknight meal.
Growing up in the mid-west, pot luck dinners were always a community-wide event! Every home cook brought their best dishes, including salads, fried chicken, sandwiches and decadent desserts to share with everyone!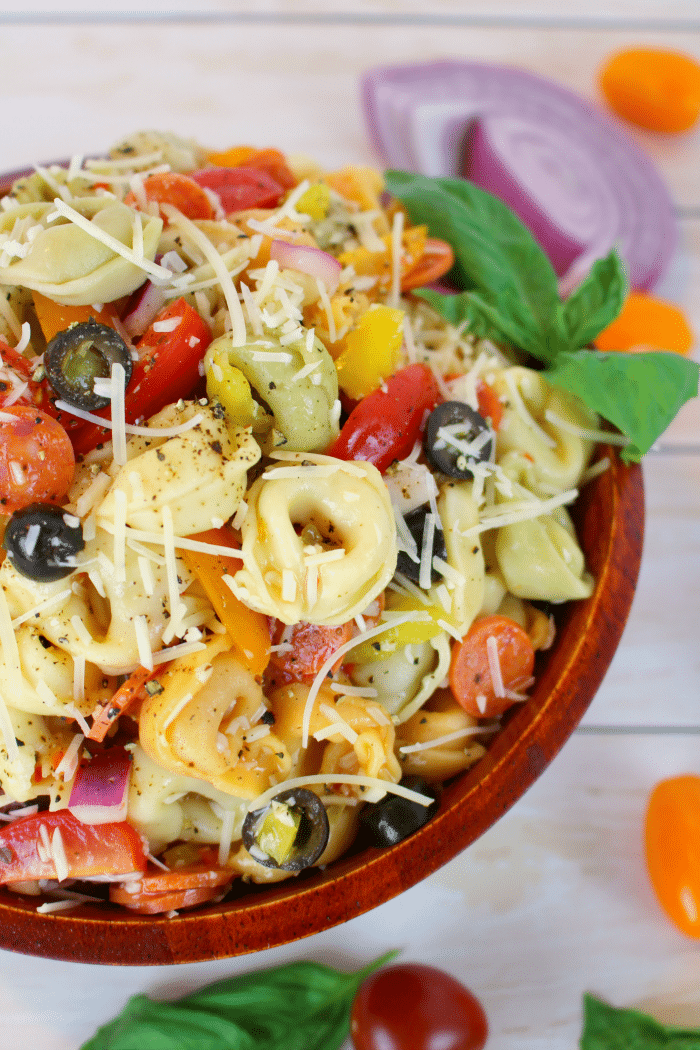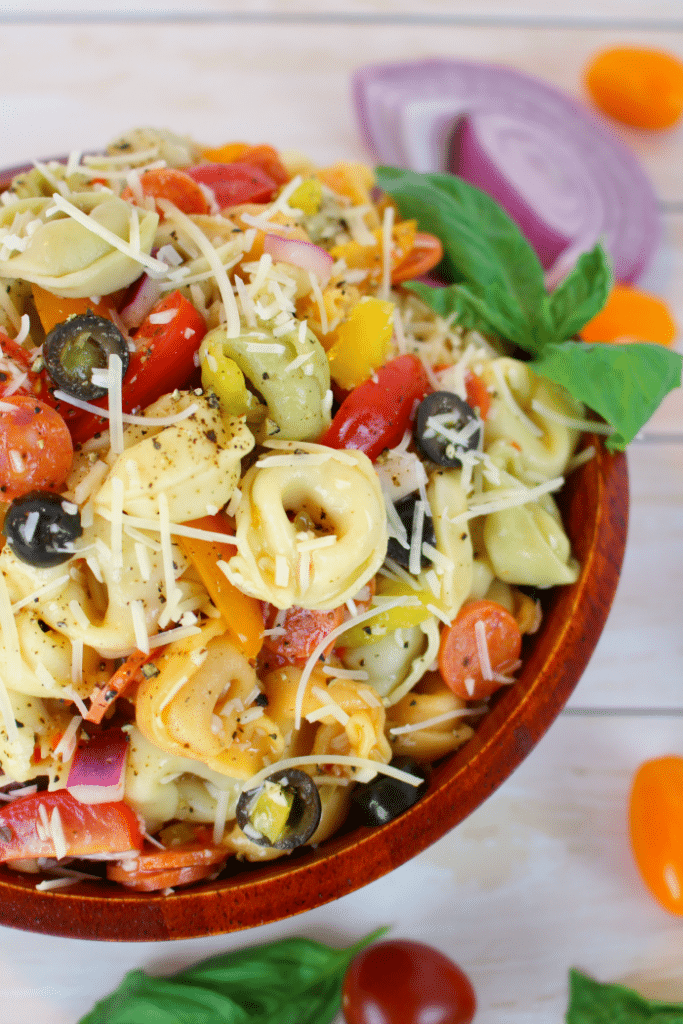 What does this easy tortellini salad recipe include?
Loaded with fresh, delicious tomatoes, onions, peppers, olives, and mini-pepperoni, this salad could easily be a meal in itself.
The tri-color tortellini pasta comes together wonderfully with the rest of the ingredients making an amazingly colorful dish. The shredded Parmesan cheese really brings the salad together and is complimentary to the cheese tortellini.
If you absolutely love veggies in your pasta salad you should check out this gorgeous Spring Orzo Salad Recipe by Yummy Healthy Easy. That asparagus looks amazing!
What type of tortellini should I buy for this tortellini pasta salad recipe?
I tend to use frozen tortellini pasta for this tortellini salad. You can also buy refrigerated tortellini from the refrigerator section of the grocery store. This is very easy to make, but a bit more expensive than the frozen.
Occasionally, you can find (dry/boxed) tortellini in the pasta section of the grocery store, however, this can sometimes be hard to come by.
Check out some of my other tortellini recipes like my Chicken Tortellini Alfredo, Skillet Tortellini and Meatballs Marinara and my Creamy Tomato Tortellini Soup.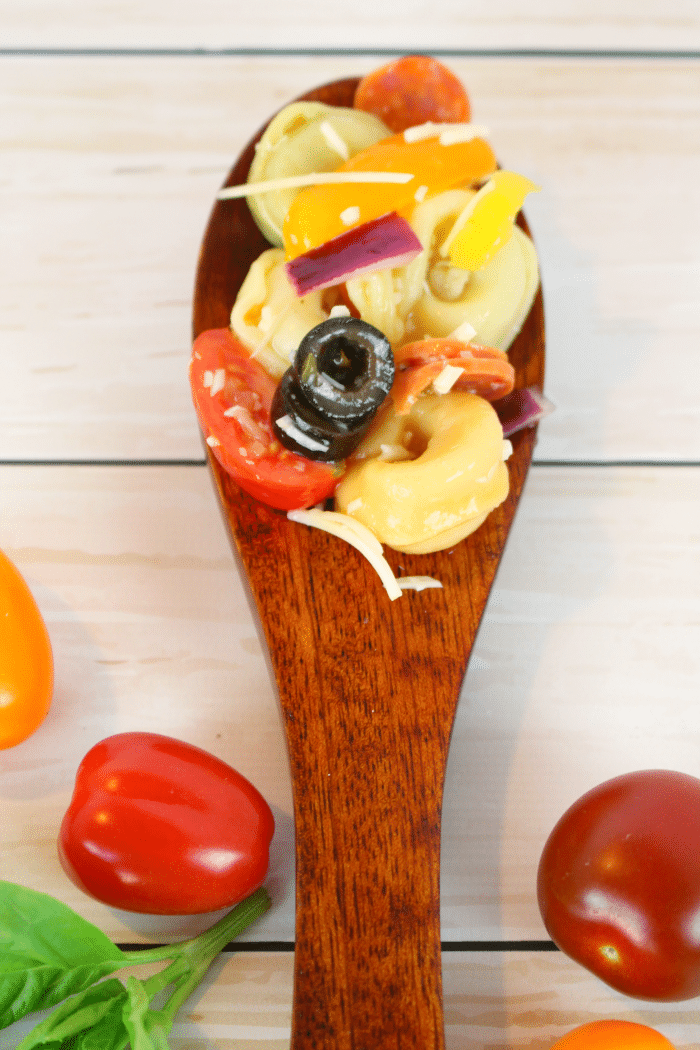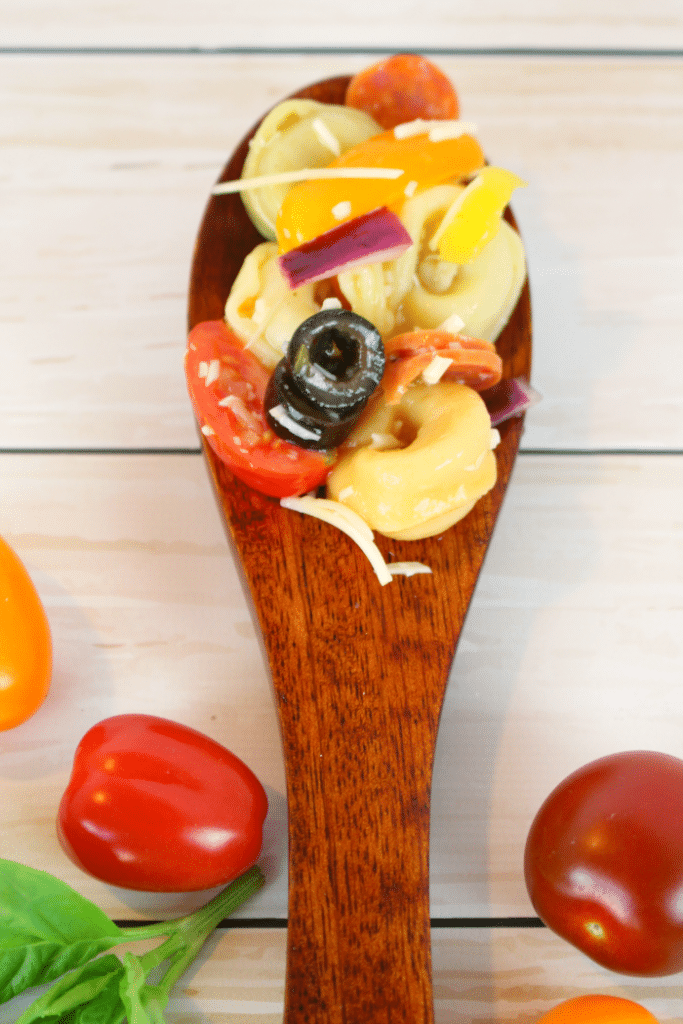 What makes this Italian pasta salad recipe so easy to make?
This tortellini salad is very simple to make, and comes together quickly and easily. Feel free to use a store-bought Italian dressing, as is coats the pasta and veggies well and adds a nice, complimentary flavor.
It also brings all of the ingredients together, including the fresh vegetables, cheeses and pepperoni.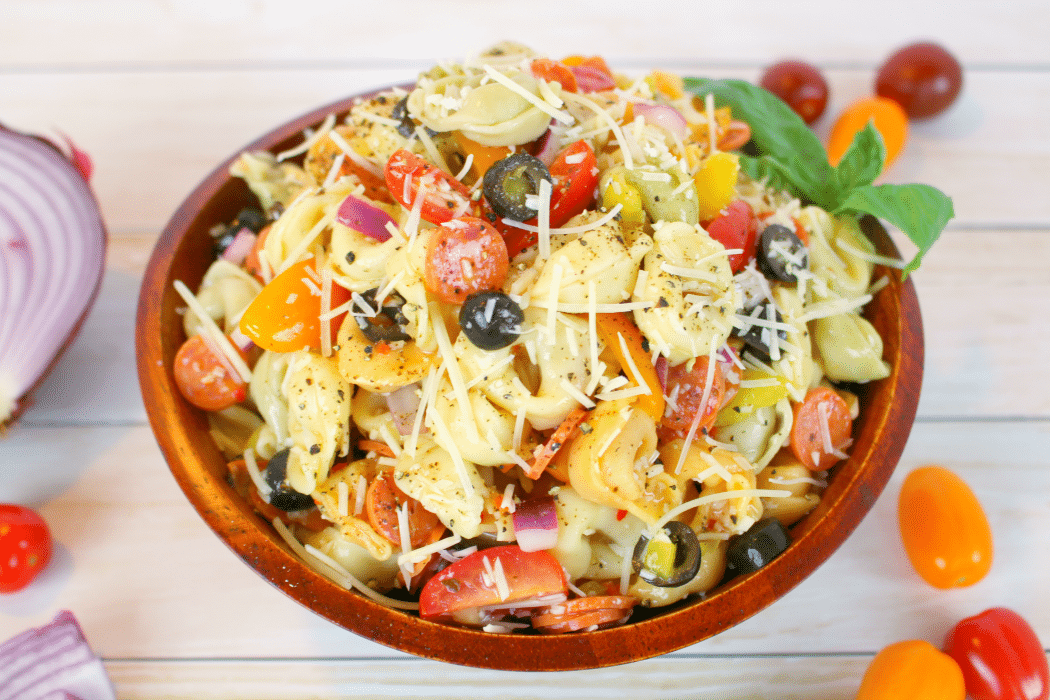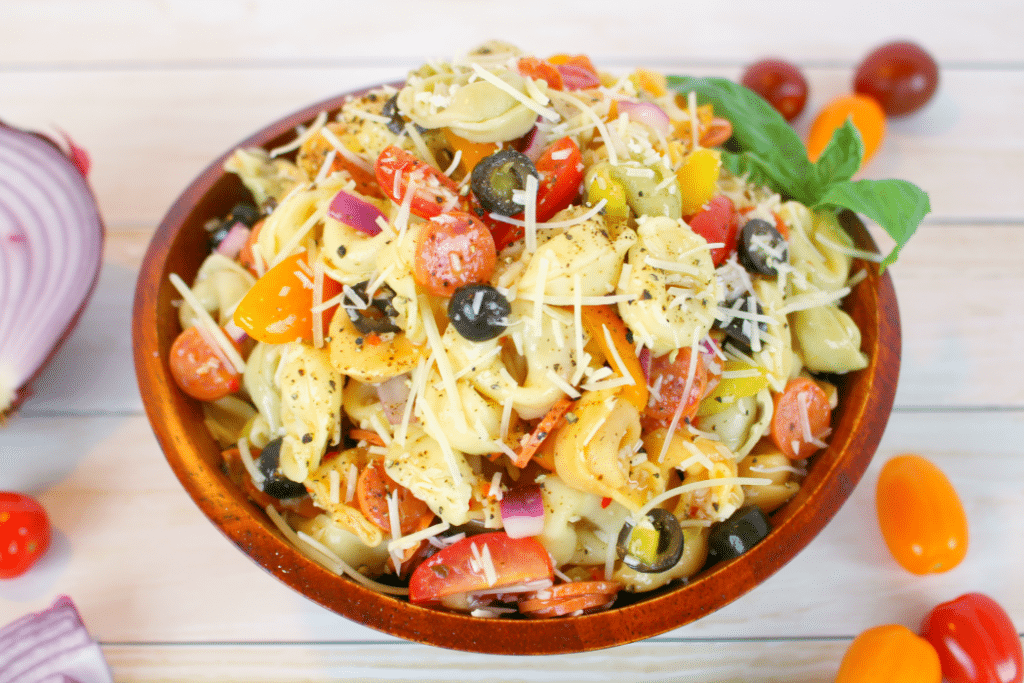 Here's a shopping list of ingredients you'll need for this fantastic tortellini salad:
Frozen or Dry Tortellini
Mini Pepperoni
Sliced Black Olives
Red Onion
Cherry or Grape Tomatoes
Yellow Banana Peppers (can be found in a jar, near the olives and pickles at the supermarket)
Shredded Parmesan cheese
Ground Pepper
Tortellini Pasta Salad Q&A:
Can you make tortellini pasta salad the day before?
Yes, definitely! It's a great side dish to make the day before a party or pot-luck. Because the tortellini soaks up the dressing, I would recommend reserving the dressing or making an extra batch of dressing and keeping it in a separate container. Just before serving, add the addition dressing and toss together.
Check out my Healthy Homemade Italian Dressing recipe! It tastes amazing and much better than store-bought! You might also like my Lemon Olive Oil Dressing and my Honey Balsamic Dressing as well.
How long will tortellini salad keep in the refrigerator?
I wouldn't keep any leftovers for more than 5 days. Because of the Parmesan cheese and the cheese inside the tortellini, the freshness of the pasta salad isn't as good as when it's first made.
Can you freeze Italian pasta salad?
No, I wouldn't recommend it.
What goes with Italian Pasta Salad?
Here are a few of my grilling recipes that go wonderfully with this Italian Pasta Salad:
If you loved this delicious tortellini pasta salad, be sure to check out these other salad recipes:
Here's the easy, delicious recipe for my Italian Tortellini Salad: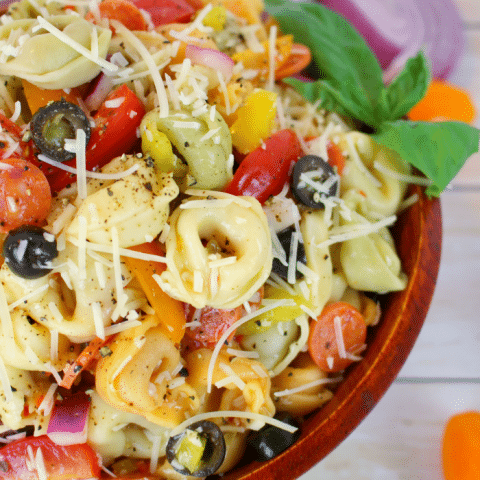 Italian Tortellini Salad
The perfect pasta salad for any pot-luck, picnic, cookout or backyard barbecue! This delicious tortellini salad is loaded with all of your Italian favorites, like salami, tomatoes, olives, banana peppers, red onion, and topped with Italian dressing and shredded Parmesan cheese! The ultimate side dish for any meal!
Ingredients
10 oz. small or medium cheese tortellini pasta (tri-color or regular)
1 (5 oz.) pkg, mini pepperoni's
1 c. cherry tomatoes (red and/or yellow), quartered
1 (3.8 oz.) can, black olives, drained
1/2 c. red onion, diced
1/2 c. jarred mild yellow banana peppers, chopped
1 c. Italian salad dressing
1 c. shredded Parmesan cheese
pepper to taste
Instructions
Cook pasta according to package directions. Drain and rinse with cold water. Let set to cool.
In a large mixing bowl, add the mini pepperoni, tomatoes, olives, red onion, and banana peppers. Toss with the cooled tortellini pasta. Add the dressing and cheese and toss all ingredients to coat. Refrigerate for at least 1 hour before serving. Serve chilled.
Store in an air-tight container for up to 1 week.
Notes
Keep refrigerated in an airtight container. Will keep for up to 5 days refrigerated.
My homemade Italian Dressing is a better-tasting option to store-bought, bottled dressing. It takes just a few minutes to whisk together and the flavor is superior!
Ingredients I recommend:
Recommended Products
As an Amazon Associate and member of other affiliate programs, I earn from qualifying purchases.
Nutrition Information:
Yield:

8
Serving Size:

1
Amount Per Serving:
Calories:

184
Total Fat:

10g
Saturated Fat:

3g
Trans Fat:

0g
Unsaturated Fat:

6g
Cholesterol:

12mg
Sodium:

514mg
Carbohydrates:

17g
Fiber:

2g
Sugar:

5g
Protein:

7g