An amazing slow cooker meal, this Barbecue Beef recipe is the perfect dinner solution! Just a few minutes of prep, and your slow cooker does the rest. A fantastic way to prepare brisket, roast or flank, this BBQ beef is great for sandwiches and a delicious topping for nachos, pizza and more!
Without a doubt, my family and I are 100% meat-lovers! My husband and I grew up in rural American, where there is just as much livestock as there are people. I love nothing more than to take out the slow cooker, and let a roast simmer away, creating an amazing aroma in the house, and better yet, an amazing meal on the table! This recipe for Slow Cooker Barbecue Beef is fantastic for brisket, roast, and flank steak, and makes a great meal for busy nights.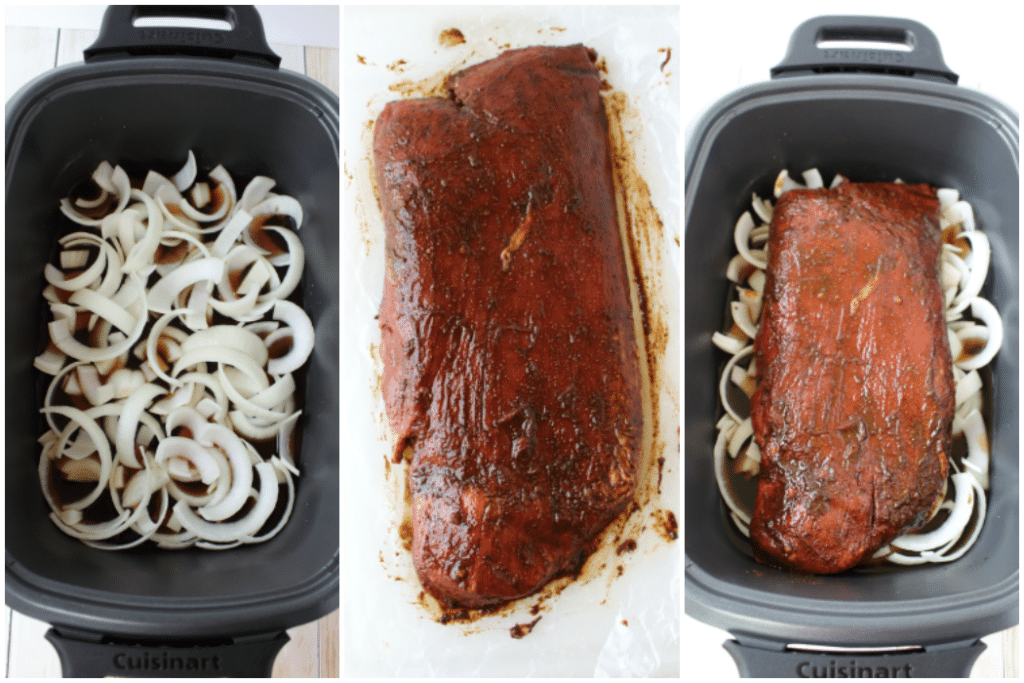 Slow cooking this barbecue beef is very simple. I start with a large onion, along with a can of beef consume in the bottom of the slow cooker. I then create a simple rub for the beef, that goes over the entire surface (top, bottom and sides of the beef.) The rub consists of chili powder, cumin, brown sugar, salt, pepper, Worcestershire and liquid smoke. This rub is very similar to the rub I use for my Grilled Pork Loin with Sugar and Spice Rub.
I then place the beef on top of the onions in the slow cooker, and let the machine do the rest! Typically this will cook for 4-6 hours on high, or 6-8 hours on low.
FYI – The slow cooker that I use is the Cuisinart MSC-600 3-In-1 Cook Central 6-Quart Multi-Cooker: Slow Cooker, Brown/Saute, Steamer
(affiliate link) which is absolutely incredible!! Not only is it big enough to cook large roasts like this, but it's perfect for big pots of chili and soup. I love the browning option, which allows you to cook your meat right in the pot, without having to dirty another skillet. I've also steamed corn-on-the-cob in it as well. I use this slow cooker ALL year round, and I can't recommend it enough!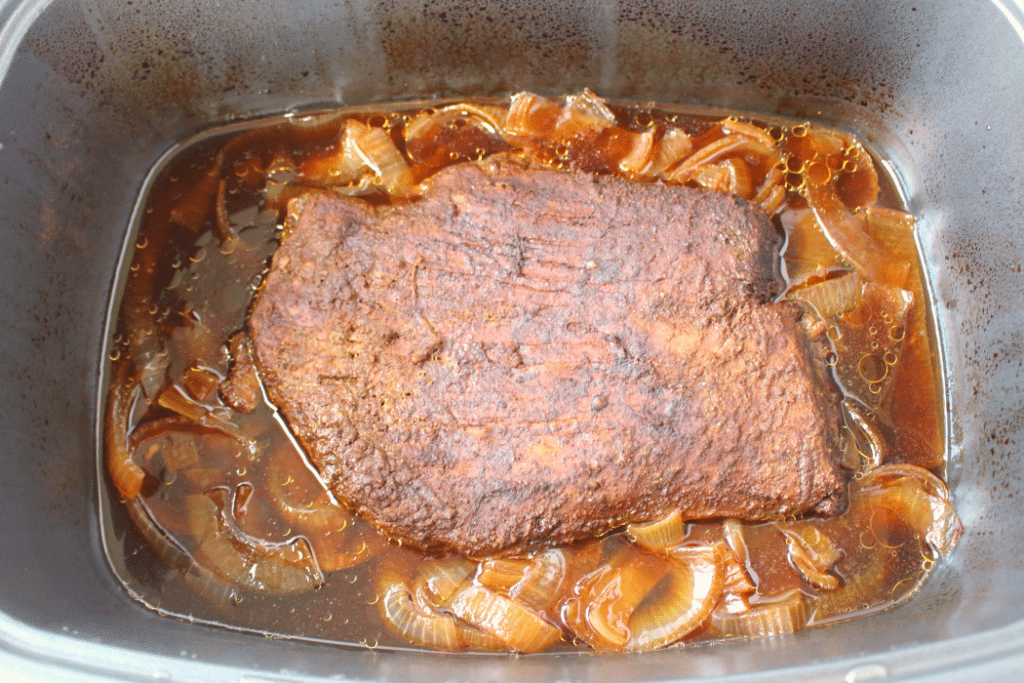 Once the beef is done cooking, you'll have the most amazing, tender, juicy meat! Feel free to keep the onions along side the meat, as the will be just as tender, and wonderfully flavorful. We will make simple BBQ Beef sandwiches and add the onions on top of the sandwich.
This beef is also fantastic for topping nachos, like my Loaded Steak Nachos, or adding to pizza or pasta. Enjoying it with mashed potatoes, and gravy is pretty awesome as well! Need a great barbecue sauce to go with this barbecue beef? Try my Smokey Chipotle Barbecue Sauce – it's the perfect combination of smokey, spicy and sweet!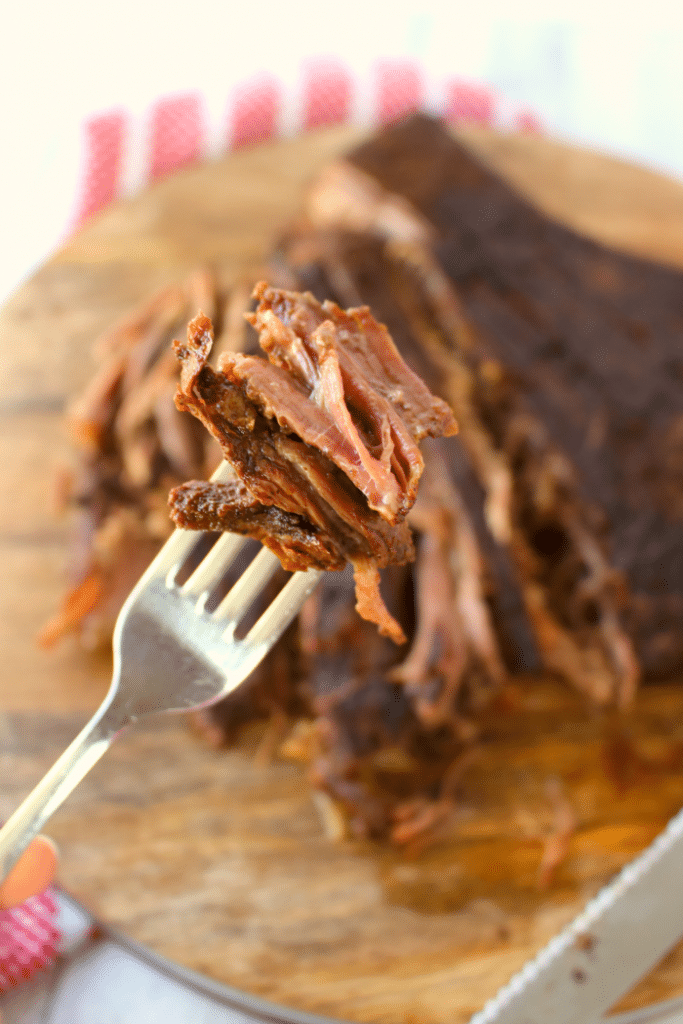 Here's the easy, delicious recipe for my Slow Cooker Barbecue Beef:

Slow Cooker Barbecue Beef
Total Time:
5 hours
15 minutes
Ingredients
1 (2-3 lb.) beef brisket, roast or flank steak, trimmed of excess fat
1 large yellow onion, sliced into large slices
1 (10.5 oz.) can, Beef Consomme
1/2 c. water
Rub:
1 Tbsp. brown sugar
1 Tbsp. chili powder
1 Tbsp. Worcestershire sauce
1 1/2 tsp. liquid smoke
1 tsp. cumin
1/2 tsp. salt
1/2 tsp. pepper
Instructions
In the bottom of the slow cooker, add the Beef Consomme, water and onion slices.
In a small bowl, add the brown sugar, chili powder, Worcestershire, liquid smoke, cumin, salt and pepper. Stir together until combined. Rub the spice mixture completely over the beef, covering all sides. Place the beef on top of the onions.
Cook the beef on high for 4-5 hours or on low for 7-8 hours.
Enjoy! ~Erin