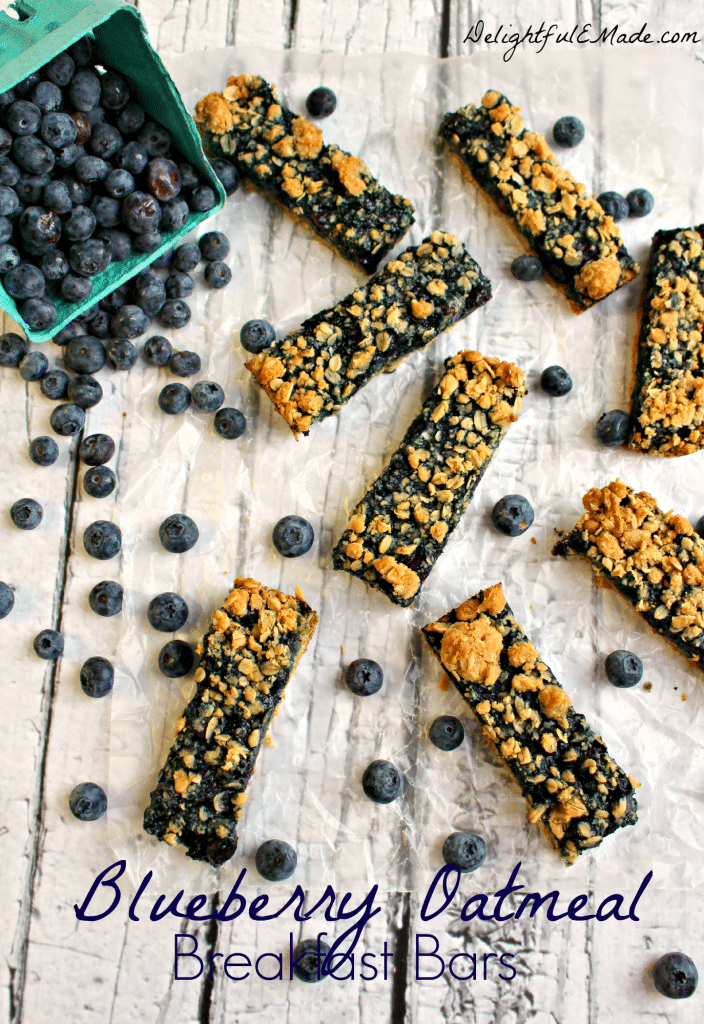 In the very near future, we will be back in the swing of things with the start of a new school year.  My son will be starting the first grade, and I'm really looking forward to it…him not so much.  If it were up to Harrison he would have summer all year round, filled with unlimited scooter time, and playing outside with his friends.  But, soon enough we will be getting up earlier, and getting out the door for school in an effort to re-establish our school routine.  This involves having something ready to go for breakfast, which is where these Blueberry Oatmeal Breakfast Bars come into play.
These Blueberry Oatmeal Breakfast Bars are not only delicious, they are waaaaayyyy better than any store-bought breakfast bar that comes in a cardboard box.  Loaded with juicy, ripe blueberries and topped with a brown sugar-oatmeal crumble these bars are a delicious way to have breakfast on the run.
These bars are great to wrap up, put in the freezer, and take out when you need a quick snack or breakfast on the run.  They're also great to put in a lunchbox or eat it the car or on the bus when your crunched for time.
These breakfast bars are not only delicious, they're also super-easy to make.  The blueberry filling can be made with either fresh or frozen blueberries, great for any time of the year.  The oatmeal crust is amazing, as the brown sugar and oatmeal keep all the juices in the bar perfectly.
Here's how these delicious breakfast bars come together:

Blueberry Oatmeal Breakfast Bars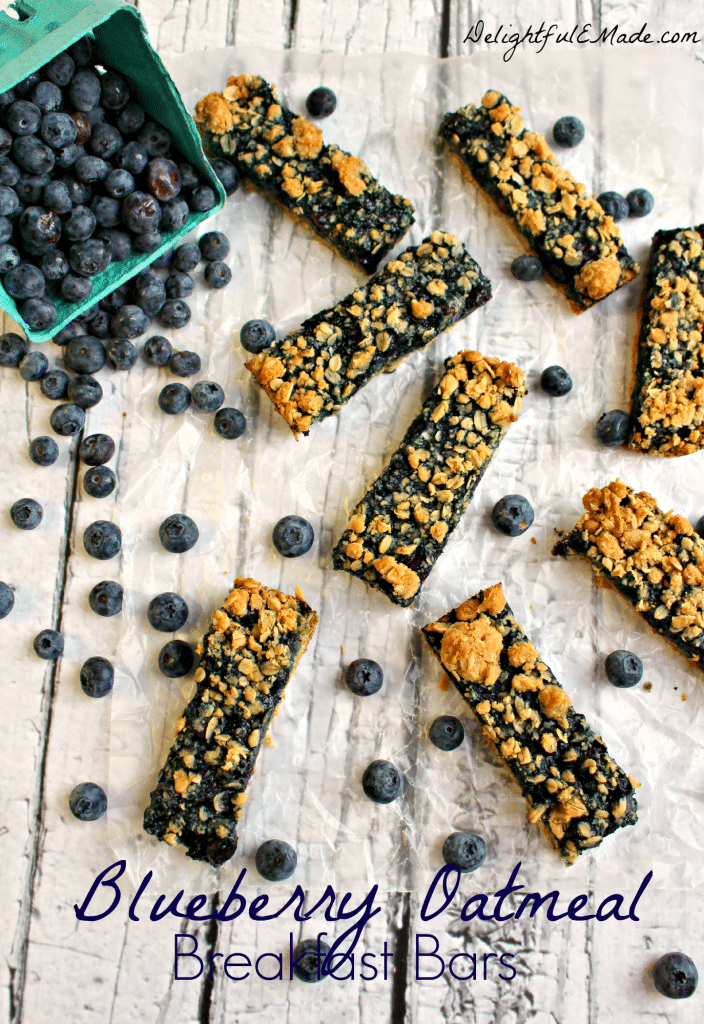 Loaded with fresh blueberries baked between a sweet brown sugar, oatmeal crust these breakfast bars are perfect for any morning!
Ingredients
2¼ c. oatmeal
2¼ c. flour
1½ c. brown sugar
1 c. butter (2 sticks)
1½ tsp. baking soda
½ tsp. salt
3 c. fresh or frozen blueberries
¼ c. sugar
1 Tbsp. corn starch
Instructions
Preheat oven to 350 degrees.
In a mixing bowl combine the oatmeal, flour, brown sugar, soda and salt. Melt the butter, and pour over the oatmeal mixture. Mix until incorporated and crumbly. Press ⅔ of the oatmeal mixture into a 9x13 pan, saving the other ⅓ for the topping.
In a seperate bowl, combine the blueberries, sugar and corn starch. Mix until the blueberries are evenly coated with the sugar and corn starch. Pour over the bottom crust. Crumble the remaining oatmeal mixture over the blueberries. Bake at 350 for 20-25 minutes or until golden brown.
Remove from the oven and let cool completely before cutting.
Even though Harrison may not want to start the school year just yet, I know we will be ready to go with some great breakfast options like these Blueberry Oatmeal Breakfast Bars.  Sweet, juicy and easy to eat, they're perfect for those mornings that may not be as perfect we want them to be.  ;)
Enjoy!
Erin

I am completely thrilled to announce that I've joined a few other fantastic bloggers to host the Create & Share DIY and Recipe Party!  The perfect place to come, share what you've been working on over the week, and get it promoted by four amazing bloggers.  Awesome, right?!  Here are my fellow co-hosts and their amazing blogs:
Come visit us on social media, and say hi!  We would love it if you would follow us:
Karly at Three in Three | Pinterest | Facebook |  Instagram | Google + | Twitter
Paige at A Dose of Paige | Pinterest | Facebook | Google + | Instagram | Twitter
Erin (that's me!) at Delightful E Made | Pinterest | Facebook | Google + | Instagram | Twitter
Mandee at Designs by Miss Mandee | Pinterest | Facebook | Google + | Twitter
Here's what we've been working on:
Lime Macaroons by Karly
DIY Pencil Pouch by Paige
Back to School Printable Lunch Notes by Mandee
German Chocolate Brownie Bites by Erin
Lets get to some features from last weeks party:
This Best Chocolate Chip Zucchini Bread by Family Food and Travel looks amazing!  I totally want to bake up a loaf just to snack on!
Here is one of my favorites from last weeks C&S party:
Don't these Blueberry Marshmallows by Amy Lee at Club Narwhal look dreamy?  Wow!!
Are you ready to get cooking and crafting? Show us your best stuff and let's get ready to party!
★ Link up anything you've created and blogged, be it recipes, crafts, printables, tutorials, so long as they are appropriate.
★ Please link to your specific post, and not your entire blog.
★ Link up to three posts, but no more.
★ Try not to link up the same post more than once in a six-month period.
★ Do not linkup Etsy shops, giveaways, or other linkups; your entry will be deleted.
★ Add my button to your blog, or a text link pointing back to my blog.
★ Follow my blog, so you never miss a thing!
★ Visit some fellow linkers, share the love.
★ And most of all, have some FUN!
Get ready, get set, PARTY!
Create & Share DIY and Recipe Party
By linking up with Delightful E Made and the Create & Share DIY and Recipe Party, you are giving us permission to feature your projects and recipes on any of our social media platforms with a link back to you, as well as receiving a weekly notification of the start of the party via email.
Today is my husband's birthday.  Pretty much every year he requests German Chocolate for his birthday cake.  Last year was a big milestone birthday for him, and I had a big German Chocolate Cake made for a get-together we had here at our place to celebrate.  Since we did the big cake last year, I decided to still do German Chocolate, but with brownies.  Meet the cute and delicious German Chocolate Brownie Bite!
These brownie bites are certainly cute, but every little morsel is packed with some serious flavor.  These moist brownies are topped with a delicious, home made coconut-pecan frosting that is traditional with most German Chocolate cakes.  I added some mini-chocolate chips, to amp up the chocolate, which compliments the brownie perfectly!
To create the brownie bites, I simply adapted a standard box brownie mix, and baked in a mini muffin tin.  You can utilize mini muffin liners, or simply bake in the pan without.  If baking without liners (like I did), be sure to let the brownies cool for about 10-15 minutes before removing from the pan.  This ensures they come out of the pan in one nice piece.  Simply run a knife around the edges and they should pop right out.
The Coconut-Pecan frosting is pretty simple to make as well.  It does require a bit of patience, as you'll need to continually whisk the frosting base while it cooks, however its completely worth it!!  You end up with the most dreamy, decadent frosting loaded with coconut and pecans!  The frosting keeps the brownies moist, and is the perfect complement to the chocolate brownie below it.
Here's how easy these delicious little German Chocolate Brownie Bites come together:

German Chocolate Brownie Bites
A rich, decadent Coconut-Pecan frosting tops these moist brownie bites to make a seriously delicious bite-sized dessert!
Ingredients
Brownies:
1 (15.25 oz.) Supreme Brownie Mix
¼ c. water
⅓ c. vegetable oil
1 egg
Frosting:
1 egg
⅔ c. half and half
⅔ c. sugar
¼ c. butter
1⅓ c. sweetened flake coconut
⅔ c. chopped pecans
½ c. mini chocolate chips (optional)
Instructions
For frosting: In a medium saucepan, beat egg, and add half and half, sugar and butter. Whisk all ingredients together. Over medium-low heat, continually whisk as the butter begins to melt. Cook for 10-12 minutes, whisking continually until thickened and bubbly. Remove from heat and add the coconut and pecans. Stir to incorporate. Set frosting aside to cool completely.
In a mixing bowl, stir the brownie mix (including syrup packet if included), water, egg and oil. Stir just until all ingredients are incorporated. Using teaspoons, fill mini muffin tin with the batter. Will fill each cup approximately ¾ full. Bake for 19-21 minutes. Remove from oven and let brownie bites cool for 10-15 minutes before removing from pan. Top each brownie with a spoonful of cooled frosting, and top with mini chocolate chips if preferred. Enjoy right away, and store any leftovers in an airtight container.
I took this batch of brownie bites into my husbands workplace, however, I think I may need to make another batch, as these were SOOOOO good!  They would be great for any pot-luck, get together or party, as they're great to share with a crowd.
I know Jason will enjoy celebrating his birthday with these German Chocolate Brownie Bites.  I hope you enjoy them as much as we have!
Erin
I can hardly believe that the summer is coming to a close.  Like every summer, it has flown by in a wink.  However, its not to late to enjoy a nice, refreshing cocktail.  In fact, I love to enjoy a good cocktail any month of the year, however, a mojito seems more "summery."  To enjoy the flavors of the summer even more, I've made a fantastic Melon & Mint Mojito.
Now that cantaloupes and honeydews melons are in their peak, I love picking up a couple during these hot summer days.  Not only are these sweet melons great for snacking, they're fantastic when you add them to a drink or cocktail!  They've got such great flavor, and are wonderful when paired with the lime and mint.
Normally, when making a mojito, you would use a muddler to crush the mint and any other fruits that would go into the drink.  (A muddler is a tool that looks like a thick, rounded stick or dowel used to crush ingredients that would go into a cocktail.)  Well, I don't have a fancy cocktail muddler, so I used my trusty Ninja blender.  I simply made a puree of both cantaloupe and honeydew, added the mint leaves, pulsed it a couple more times, and ended up with the perfect mojito puree!
Here's how this ultra-refreshing, delicious cocktail comes together:

Melon and Mint Mojiots
Served icy cold, this refreshing cocktail is perfect for a hot day! Cantaloupe, honeydew, lime and mint make this drink amazing!!
Ingredients
½ c. honeydew melon
½ c. cantaloupe melon
4-6 fresh mint leaves, plus more for garnish
1½oz. rum (I used Bacardi)
2 Tbsp. simple syrup
juice of ½ lime
club soda
Instructions
In a blender, pulse the honeydew and cantaloupe until roughly pureed. Add the mint leaves and pulse just until the leaves are broken up.
In a cocktail shaker or mason jar, add some ice, melon puree, rum, simple syrup, and lime juice. Secure lid, and shake vigorously. In a glass, pour the mixture over ice and top with club soda. Add a few more mint leaves and a slice of lime for garnish if you prefer. Drink right away.
Note: Simple Syrup is made by dissolving equal parts water and sugar, and bringing to a simmer.
This is a fun drink to serve during a summer party, our outdoor cookout or BBQ.  You and your friends will enjoy this drink, as its so completely refreshing and delicious!
Cheers to making the last few weeks of summer memorable and enjoyable!
Erin
Is it me, or do I have the only kid in America that doesn't eat pizza?  Isn't pizza one of those foods that kids go crazy for?  My husband and I love it, but our 6-year-old son would rather go without eating than grabbing a slice.  Therefore, it has become a small mission of mine to create a pizza that my son will enjoy just as much as his parents.
I decided to make a pizza that uses an Alfredo sauce, instead of a red sauce (which is what he says he doesn't like.)  Topped with some seriously delicious toppings: cheese, bacon, red onion, grape tomatoes, and a bit of basil.  The end result: a pizza that is absolutely spectacular!
The smokey bacon goes so perfectly with the Alfredo sauce.  The onions and tomatoes also lend to the great flavors that come together on this pizza.  Just after the pizza came out of the oven, I topped it with some fresh basil right out of my garden.  This is optional, but it really adds some extra freshness and peppery flavor to this savory pizza.
This pizza uses a few pre-made ingredients, which helps make this meal extra-easy.  Perfect for a weeknight meal, or anytime you're in the mood for a savory, delicious pizza.  I utilized a store-bought pizza crust, and left-over bacon from breakfast.  Feel free to make your own, pizza crust – I know there are lots of recipes out there that are pretty simple and straightforward.
Here's how this delicious pizza comes together:

White Pizza with Bacon and Tomatoes
This white pizza is anything but ordinary! Topped with smokey bacon, tomatoes, and red onions, this pizza is savory and delicious!
Ingredients
1 pre-packaged thin-crust pizza crust (like Pillsbury)
1 c. shredded mozzarella cheese
4 slices of bacon, cooked crisp, crumbled
1 pint grape or cherry tomatoes, halved
¼ c. sliced red onion
basil (optional)
Alfredo Sauce:
1 tsp. flour
2 Tbsp. Butter
¼ c. half and half (or heavy cream)
¼ c. shredded Parmesan cheese
salt and pepper to taste
Instructions
Following the directions on the pre-packaged pizza crust, preheat oven to 400 degrees.
In a small saucepan, melt the butter. On medium-low heat, add the flour, and stir continuously with a whisk. Let the flour cook for a couple minutes. Gradually add the half and half, and continue whisking until it begins to thicken. Lastly, add the Parmesean cheese. Stir just until melted and promptly remove from heat. Season with a little salt and pepper to your preference. Set sauce aside, and let cool slightly.
Prepare the crust. Following the pre-packaged crust directions, pre-bake the crust for approximately 5 minutes. Remove from the oven, and top with the Alfredo sauce. (If using pre-made Alfredo sauce, utilize ½-2/3c. of sauce.) Add the cheese, bacon, onions and tomatoes. Bake for 10-12 minutes, or until cheese is completely melted and crust is golden brown.
Slice and serve promptly while hot.
The verdict is in; my son ate the pizza!!  He finished one piece with no complains to speak of.  That's saying something for a 6-year-old, lemme' tell ya!  I don't know if he will eat it again, but I know that my husband and I will definitely enjoy it again sometime soon.
I feel like sometimes, as a parent and a cook, we have to think outside the box every once in a while.  That means trying new things and going different directions with how we usually do things.  I'm not saying that I had any huge parenting breakthroughs with the pizza, but  we did reiterate that trying new things can be good.  Shocking, I know!  ;) Ahhhh, baby steps.  ;)
I hope you enjoy this pizza as much as I enjoyed making (and eating!!) it.
Erin
I would say that one of my most-used (and loved) cooking tools is my gas grill.  My husband bought it for me for my birthday a few years ago, and I've been consistently using it about 9-10 months out of the year.  My neighbors tend to see me wheeling out the grill a few nights a week, especially in the summer.  I love grilling up an easy dinner like these Grilled Chicken and Plum Skewers.
Perfectly seasoned, this chicken goes wonderfully with the sweet-tart plums.  Once on the grill, these skewers only take about 5-6 minutes per side, before going right to the table to your hungry crew.  The prep is simple, too.  Simply cubing and seasoning the chicken, quartering the plums, and skewering is all you have to do.  This is easily a meal that is on the table in less than 30 minutes.  Ahhhh, music to any home cooks' ears!
The seasoning for the chicken is fantastic.  Its basically a dry-rub that's mixed into the chicken chunks.  This is a step that you can actually do earlier in the day, should you need an extra-quick, ready to go meal.  Otherwise, simply cubing the chicken, adding the seasoning, and mixing is a bowl is all you have to do.  I've discovered this is the easiest way to adequately cover the chicken chunks.  You can also sprinkle it over the chicken, however, I've found that I tend to waste more seasoning this way, as more goes on the baking sheet than the skewers.
This is such a great way to include summer-fresh fruit with your meal.  Not only is it completely delicious, its very healthy.  This is also a fantastic way to get kids involved with dinner prep.  Assembling the skewers is a great way to engage the kids, and get them actively involved with making a healthy dinner.  They'll also be more excited to taste their creations come dinner-time!  ;)
Here's how quick and easy these Grilled Chicken and Plum Skewers come together:

Grilled Chicken and Plum Skewers
These quick, easy and delicious Grilled Chicken and Plum Skewers are perfect for dinner any night of the week. Summer-fresh plums and beautifully seasoned chicken are the perfect flavor combination!
Ingredients
1 lb. boneless, skinless chicken breasts or thighs, cut into 1" pieces
4-5 large plums, rinsed and quartered
1 tsp. garlic salt
1 tsp. dried oregano
½ tsp. paprika
½ tsp. garlic powder
½ tsp. onion powder
½ tsp. pepper
(Non-stick grilling spray) optional
Instructions
Preheat your outdoor gas or charcoal grill. (I own a gas grill, and preheat on high.)
In a small bowl, combine all the spices and seasonings: garlic salt, oregano, paprika, garlic powder, onion powder and pepper. Stir to combine. Set spices aside.
In a medium mixing bowl, add the chicken pieces. Evenly sprinkle half of the spice mixture over the chicken. Stir to coat. Evenly sprinkle the other half of the spice mixture and stir again to evenly coat all the chicken pieces. Rinse and quarter the plums.
Using metal grilling skewers, add a piece of plum for every three pieces of chicken. I ended up with four large skewers.
Turn your grill to medium heat. **(If you're using non-stick grilling spray, see my directions below.) Place the skewers evenly on the hot grill. Grill for 10-12 minutes, turning half-way. (Grilling 5-6 minutes per side.) Let cool for just a few minutes before serving. Enjoy!
**The safest way to use non-stick grilling spray is to preheat as usual. When you're ready to add the meat, turn the grill/flame completely off. Adequately spray the grates, and then turn the grill back on. You'll still have a hot grill, and you won't risk being burned when spraying the grates.
As you can see by the recipe, making skewers is a pretty easy, interesting way to spice up dinner.  Quick enough for a weeknight, and special enough for company, these Grilled Chicken and Plum Skewers are a fantastic solution any way you have it.
I hope you get to enjoy these last dog-days of summer!  Make it special by having some fun, easy dinners that everyone will enjoy.
Erin
What is it about sprinkles that just makes people happy?  The colorful confetti-like appearance that reminds you of a party?  Perhaps the candy-like sweetness and being pared with a delicious confection of some sort?  When I made these colorful Funfetti Frosted Fruity Pebble Treats, it brought an immediate smile to my little boys' face.
When I pulled the sprinkles out of the pantry to decorate the treats, my son was immediately by my side asking, "Can I help?"  Knowing to never say no to a child asking to help in the kitchen, I immediately reaffirmed his interest by saying, "Absolutely!"  I cut a few squares out of the pan, and let him go to work with creating some sprinkled fruity pebble treats of his own.  As you can see from the photo, he was very proud of his end product – Christmas sprinkles and all!  Harrison even wanted to have one of his toys get in on the action by posing him in one of the pictures.  Everyone, meet Lego Hero Factory character "Breez".  ;)
No matter what age, these treats will bring a smile to anyone's face.  These sprinkle studded treats, are not only super-colorful, they're also really easy to make, and absolutely delicious!  Made just like rice krispie treats, the melted marshmallows and cereal give the treats a gooey, crunchy texture that can't be beat.  I've then topped the treats with a yummy marshmallow-cream cheese frosting that is completely amazing just by itself.  (Don't ask me how I know.)  ;)
These smile inducing treats are fantastic, anytime you're looking for an easy snack.  They're also perfect for a classroom treat, after-school snack, or a special lunchbox surprise.  They would also make excellent bake-sale goodies, as no one can resist sprinkles!
As you can see, these Funfetti Frosted Fruity Pebble Treats, take breakfast cereal to a whole new level!  You simply can't beat how colorful and happy they look!
Here's how these easy, delicious cereal treats come together:

Funfetti Frosted Frutti Pebble Treats
These colorful Funfetti Frosted Fruity Pebble Treats are sure to bring a smile to anyone's face. This easy marshmallow cereal treat is topped with a delicious marshmallow-cream cheese frosting and topped with colorful sprinkles!
Ingredients
6 c. Post Fruity Pebbles cereal
3 Tbsp. butter, melted
1 (10 oz.) bag of mini marshmallows
Marshmallow-Cream Cheese Frosting:
½ c. butter, room temperature
1 block (8 oz.), cream cheese, room temperature
1 jar (7 oz.), marshmallow cream or marshmallow fluff
2½ c. powdered sugar
1 tsp. vanilla
Sprinkles (your preference of type and quantity) I used Wilton Rainbow sprinkles
Instructions
Spray a 9x13 pan with non-stick spray. Set aside.
In a microwave-safe bowl, melt the butter. When completely melted, add the marshmallows and stir until all the marshmallows are coated in butter. Microwave marshmallows for about a minute, and stir until completely melted. Add the cereal to the melted marshmallow mixture and stir until the cereal is completed coated with the marshmallows. Press the mixture into the 9x13 pan. Set aside to cool.
While cereal treats cool, mix the frosting. Using a stand or hand mixer, cream the butter and cream cheese together until smooth. Add the marshmallow cream, and continue to mix until smooth. Gradually add the powdered sugar a ½ cup at a time to the cream cheese mixture, stopping to scrape down sides of the bowl. Lastly, add the vanilla and mix until combined. Spread the frosting evenly over the top of the cooled cereal treats. Lastly add the sprinkles on top of the frosting. Refrigerate until ready to serve.
As you can see, these colorful, fun treats are easy to make.  You'll love the fact that as soon as anyone sets eyes on these beauties, a smile will immediately light up their face.  I hope you get the chance to bring some funfetti-fruity happiness to your day!
Speaking of bringing happiness to your day, how does $400 cash sound?!  I've teamed up with some other fantastic bloggers to bring you an amazing  cash giveaway, just in time for back-to-school!  Simply enter in the form below:
Enjoy!
Erin
I know I've said it before, but I simply loved the flavors of summer, and all the fresh fruits that come along with it.  Going to the farmers market, or even the grocery store, I can literally fill a basket with all the peaches, tomatoes, plums, melons, and cherries that it can possibly hold.  This week my local market had a huge amount of bing cherries on hand.  I grabbed a couple pounds and decided to make this delicious, easy Cherry Almond Crumble Tart.
I will be the first one to tell you that I'm not a very good crust-maker.  My mom, on the other hand, can roll out a home made pie crust in about 5 minutes and have it come out beautifully every time.  To save myself some mental anguish, and some time, I'll purchase some store-bought pie crusts and keep them in my freezer.  This recipe uses one pie crust, which fits perfectly in a tart pan.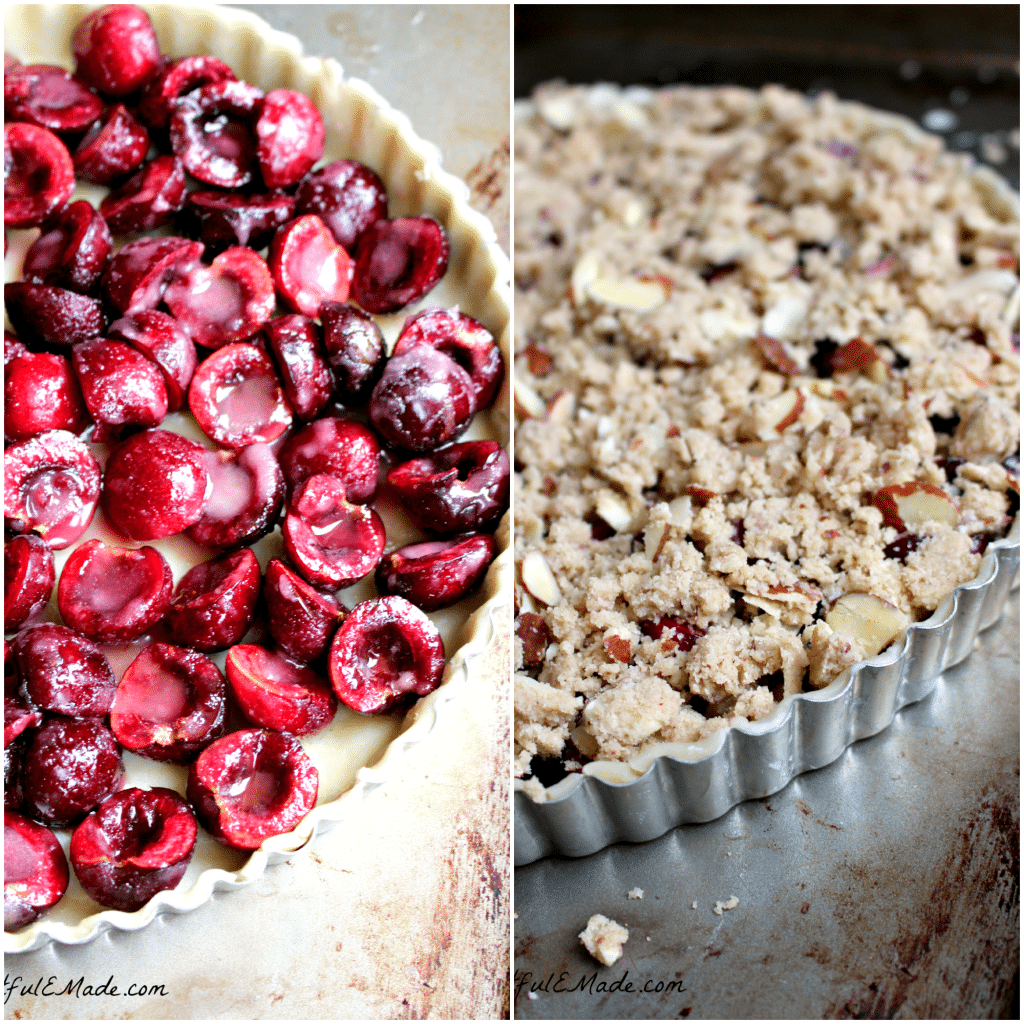 The tart comes together easily.  Once you have your crust pressed into the bottom of the pan, simply add your cherries, mix together the crumble topping, spread it over the cherries and pop it in the oven.  Once done baking the crumble & almonds are beautifully golden, and the cherries have cooked, bubbling into a glorious, delicious treat.
This tart is perfect for a holiday meal or when you're having company over for dinner.  However, its easy enough to make on a weeknight when you're craving a fresh, delicious pastry treat.
Once the tart comes out of the oven, let it cool for 10 minutes or so.  Then sliced it up while its still warm, and add a big scoop of ice cream.  The flavors are so wonderful together – the slightly tart cherries, and the sweet crumble topping are great together.  The crunch of the almonds give it a great texture to bring it all together.  In my opinion, desserts don't get much better than fresh cherries and a delicious, creamy scoop of vanilla ice cream!  Heavenly!!
Check out how easy this tart is to make:

Cherry Almond Crumble Tart
Easier than pie! This Cherry Almond Crumble Tart is a simple twist on a classic cherry pie. Slightly tart cherries along with a sweet almond crumble make this dessert great for a holiday meal or a weeknight at home.
Ingredients
1 pie crust (pre-bought or home made)
3 c. fresh cherries, pitted and halved (you can also use frozen cherries)
½ c. sugar
1 Tbsp. corn starch
½ tsp. almond extract
Crumble Topping:
⅔ c. flour
½ c. sliced almonds
⅓ c. light brown sugar
⅓ c. butter, soft/room temperature (NOT melted)
½ tsp. nutmeg
Instructions
Preheat oven to 375 degrees.
In a mixing bowl mix together the cherries, sugar, corn starch and extract, making sure the cherries are evenly coated.
In a 10" tart pan, lay out the pie crust, and press it into the bottom and sides, making sure to seal/press together any cracks or holes. Pour the cherry mixture into the crust and evenly disperse the cherries.
In another bowl mix together the crumble topping. Mix the flour, almonds brown sugar, and nutmeg. Cut in the softened butter until a crumbly mixture is formed. Evenly sprinkle the crumble over the top of the cherries. Loosely cover the tart with foil and bake at 375 for 35 minutes. Remove the foil and continue to bake for another 10 minutes to evenly brown the top. Remove from the oven and let cool for at least 10 minutes. Slice and serve warm. Cover any leftovers and store at room temperature.
As you can see, this is a pretty simple, straight-forward tart.  Its a wonderful dessert that captures the flavors of summer, but is great to enjoy all year round.
Enjoy!
Erin
I don't know about you, but I really can't get through the day without a good snack.  Especially mid-morning and mid-afternoon when its still a couple hours from the next meal.  I just want a little something to tide me over until lunch or dinner.  I also like a little something to give me a bit of energy when my butt is dragging! (Pardon my phrasing, but its the best way to describe it.)  :)  These Cranberry Almond Energy Bites are the perfect solution for the mid-day snack!
These snack bites are made with little morsels of goodness that create a rather healthy snack.  Pureed almonds, oatmeal, maple syrup and almond butter along with dried cranberries and white chocolate chips come together for an excellent bite-sized treat.  They have the taste and texture of oatmeal cookie dough, but without the loades of extra sugar and calories.  (Don't ask me how I know what oatmeal cookie dough tastes like.  I would argue its better than chocolate chip cookie dough.  I digress.)  ;)
I've also come to discover these are an excellent on-the-go snack.  I'll grab a little container of these and throw 'em in my purse, or in my son's lunch box.  Great for a little something to take in the car when running errands, or on a road-trip.  Because lets be honest, convenience store snacks are not only terrible for ya, but they don't taste that great either!
These are also a great pre or post workout snack, perfect for re-fueling after a run or your favorite gym class.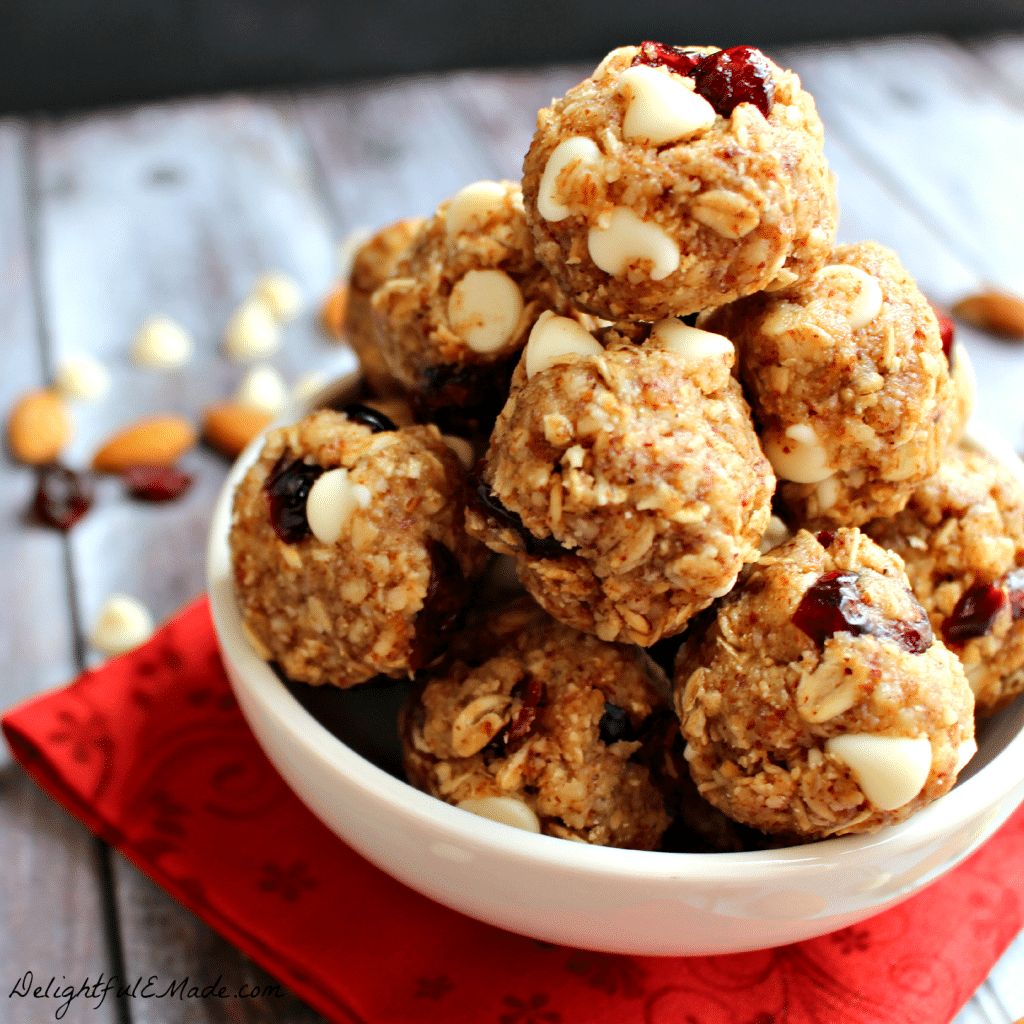 Here is how easy these snack bites come together:

Cranberry Almond Energy Bites
Snack smart! These Cranberry Almond Energy Bites are packed with protein, fiber and serious deliciousness!
Ingredients
1½ c. almonds, finely ground
1½ c. rolled oats (old fashioned)
⅔ c. almond butter (like Justin's All Natural)
⅔ c. maple syrup
½ c. dried cranberries
½ c. white chocolate chips
1 tsp. vanilla
Instructions
In a food processor or blender, blend/puree the almonds until the become finely ground - they will look like sand. In a mixing bowl, add the ground almonds, and remaining ingredients. Stir until all are thoroughly combined. Mixture will be sticky. Using a tablespoon or medium ice cream scoop, spoon out individual bites and roll with hands.
Ready to eat right away. Refrigerate and freeze well. Refrigerate for up to one week. Makes about three dozen bites.
As you can see by the recipe, these are super-easy to make and come together well.  This is an excellent snack to make with your kids – its okay if they sneak some of the batter.  Since its no-bake, its all good!  ;)  These would also be perfect after-school snacks, or something you can have ready to go for a play-date.
Enjoy!
Erin
Related articles across the web
It is now July here in Northern Virginia.  That means heat, humidity, and sweating before 9am.  Don't get me wrong, I've come to really love living in the South.  In fact, one of the major advantages to being a Southerner (even if just by geography) is getting early access to some of the finest, best tasting peaches this side of the Mason-Dixon line.  With this in mind I've come up with a sure-fire way to beat the heat and humidity – this amazingly delicious and refreshing Ginger Peach Iced Tea!
Drinking iced tea is a very Southern thing, right along with BBQ and college football.  (I love BBQ and College Football – maybe I'm more Southern than I thought!) Now, even though I'm a good mid-western girl, I've grown up loving iced tea.  I actually come from a long line of iced tea drinkers, including my Great-Grandma Elsie, who mostly drank her's hot, Grandpa Denny (he likes his tea sweet, just like many folks here in the south), my mom, (she drinks hers unsweetened), and now me.  I like my Iced Tea somewhere in the middle, with just a mild hint of sweetness.
This Ginger Peach Iced Tea can be made with all tastes in mind – sweet or not.  Adapting the amount of sugar you use lets you personalize it to your tastes.  Another great bonus to this tea is the fact that its flavored with sweet, juicy peaches and ginger zest.  The juicy peach slices and ginger zest give the tea an incredible flavor and freshness that you simply cannot get in a powdered or bottled ice tea!  As far as I'm concerned, if you like a great tasting, fresh tea, make it at home.  It takes just a few ingredients to capture this amazingly delicious, flavorful, fresh drink of the south!
See how easy this fantastic summer drink comes together:

Ginger Peach Iced Tea
Forget those powdered or bottled Ice Tea Drinks! This Ginger Peach Ice Tea is SOOO much better! Fresh, juicy peaches and ginger zest give amazing flavor to this cold, refreshing summer drink.
Ingredients
2½ c. water
4-6 tea bags (regular or decaf)
1 large, ripe fresh peach, sliced
2 tsp. fresh ginger root, peeled and zested
1 Tbsp. sugar (adapt to your taste)
Water
Ice
Mint leaves for garnish (optional)
Instructions
Wash and slice the peach. Add the peach slices to a small bowl along with the ginger zest, and sugar. Stir to fully coat the peaches with the sugar and zest. Let the peaches sit for at least 20-30 minutes to macerate. (Macerate = let the sugar pull the juice out of the peaches. This will provide a sweet, delicious juice that will give the tea its flavor.)
In a small saucepan, add the 2½ c. water and bring to a boil. Remove from heat. Add the tea bags, cover the saucepan, and let the tea steep. Let the tea come to room temperature. Remove the tea bags (don't squeeze the tea bags. This will release the tannin and make your tea bitter.)
In a 2-quart pitcher, fill the pitcher ⅓ full with ice. Add the peach mixture, along with any juices that were drawn out. Pour the tea concentrate over the ice and peaches and fill the pitcher with water. Chill at least 1 hour before serving.
I like to keep a fresh pitcher of this tea in my fridge all summer long.  I'll take a big glass to the pool, or with me in the car when running errands.  Its definitely a nice alternative to the powdered ice tea stuff, and much better for you than soda or any other pre-made canned or bottled beverage.
As we close in on the hottest months of the year, remember to keep yourself hydrated.  Better yet, pull up a deck chair or kick back in your hammock, and hydrate with a delicious, fresh glass of Ginger Peach Iced Tea.   Weather you live in the South or any other place on the planet, enjoy your summer one sip at a time, ya'll!
~Erin

Related articles across the web