The perfect side dish for your holiday dinner, this Fresh Cranberry Salad recipe is flavorful and delicious! Mandarin oranges, fresh cranberries, goat cheese crumbles and pecans make this Cranberry Citrus Salad incredible.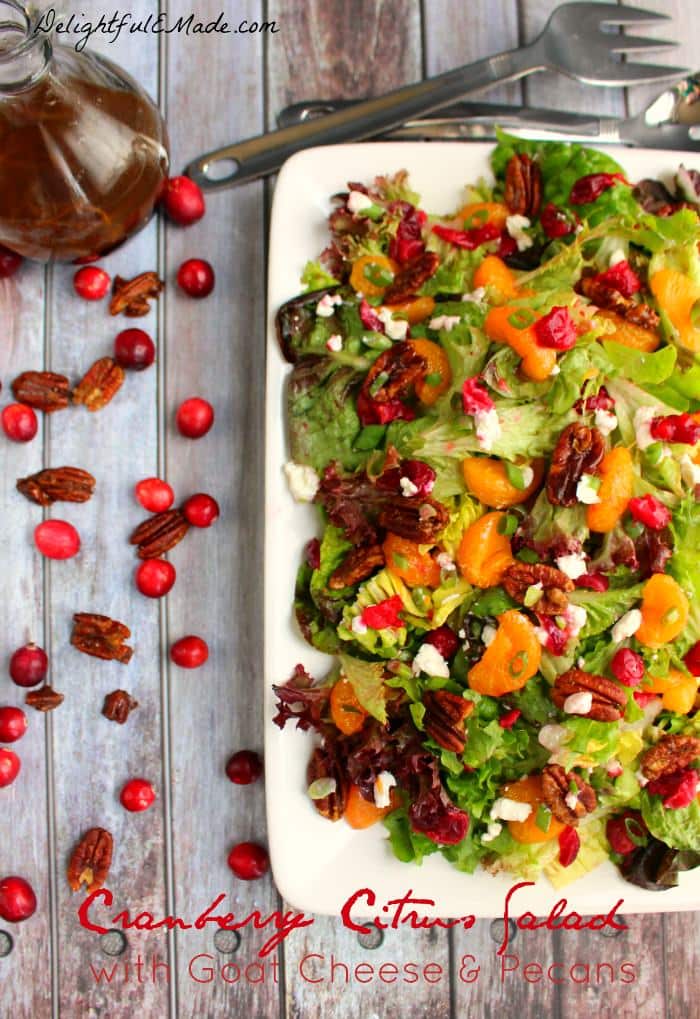 This Cranberry Salad recipe is the perfect way to do Fresh Cranberry Salad!
Thanksgiving often means lots of "beige" on your plate – turkey, stuffing & mashed potatoes and gravy to name a few. Adding a side dish with some color and crunch is a must. This fresh cranberry salad recipe is the perfect side dish for your Thanksgiving dinner. Loaded with lots of goodies like mandarin oranges, pecans and cranberries, it brings the perfect complimentary flavors to your turkey dinner!
Here's a quick-reference shopping list of the ingredients you'll need to make this Cranberry Salad recipe:
2 Small Heads of Lettuce (or 1 large): Red Leaf, Frisee, Bib or Butter Lettuce work well
Mandarin Oranges (1 can)
Fresh Cranberries
Green Onions
Candied or Brown Sugar Pecans
Goat Cheese
For the honey balsamic dressing, you'll need:
Olive Oil
Balsamic Vinegar
Garlic
Honey
Orange (for juice and zest)
(Please reference the recipe below for exact ingredient amounts and full directions.)
The perfect side for your holiday dinner, this cranberry salad recipe is flavorful and delicious! Mandarin oranges, cranberries, goat cheese crumbles and pecans make the flavor combination the perfect partner for just about any meal. The perfect Thanksgiving or Christmas dinner side dish!
What other nuts can I use instead of pecans for this fresh cranberry salad?
You can use a variety of nuts – walnuts, pistachios and almonds are all great options!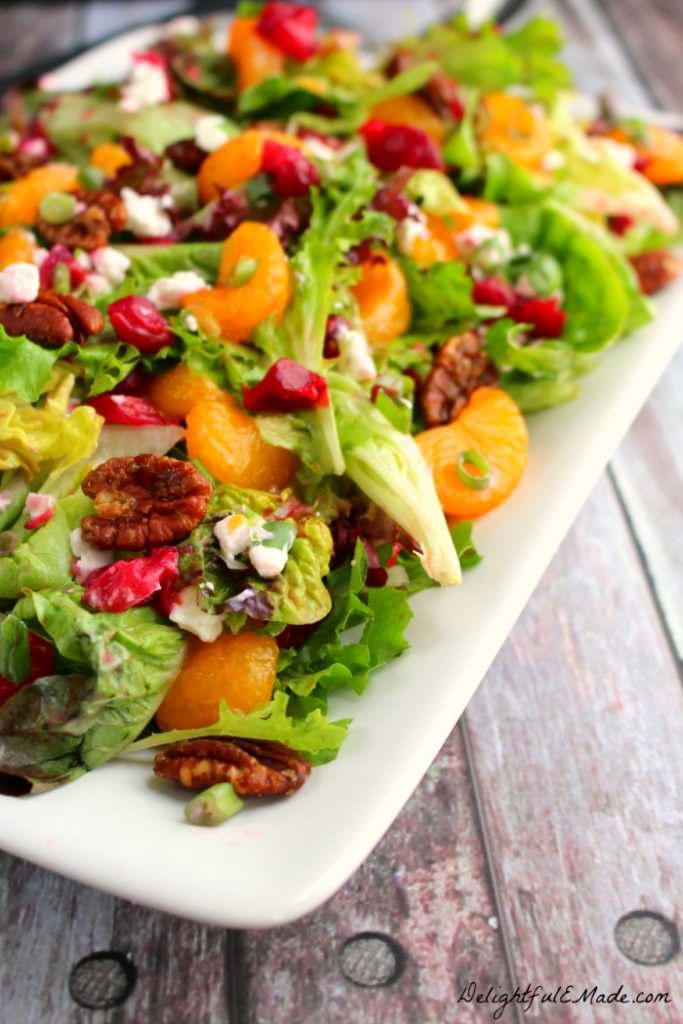 Cranberry Salad Recipe – Crisp Texture with Great Flavor Contrast
When it comes to planning side dishes for Thanksgiving, or any meal for that matter, I always find it complimentary to have a side dish like a fresh salad to accompany the other hot, albeit, mushy sides. I love mashed potatoes and stuffing just as much as the next person, and these will definitely be on my table for Thanksgiving. However, I also like a dish that has some fresh, crunchy textures and flavors to go along with the comfort foods.
This salad is really easy to pull together – in fact it can be done right before you serve dinner. It takes just minutes to toss your ingredients together and have it on the table. You can also prep this salad a few hours before and have it in the fridge, and once your ready for dinner, simply toss with the dressing.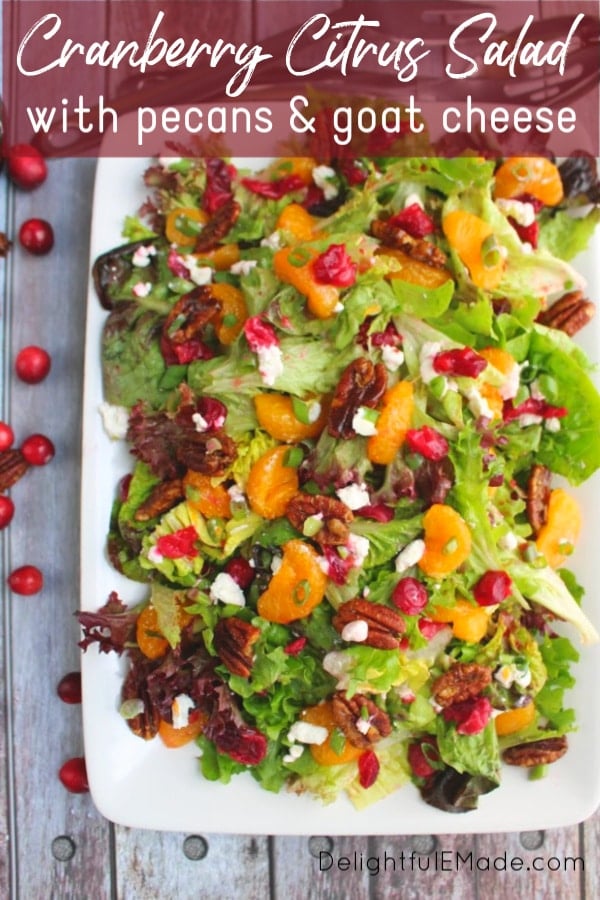 Can I make this salad ahead of time?
Yes, definitely! This salad can be made the day before. Assemble all of the ingredients, and place right in the serving dish. Cover with plastic wrap. Do NOT add the dressing. You can mix the dressing in advance, but keep it separate. Store in an airtight jar at room temperature. Dress the salad before serving, or serve the dressing on the side.
How do I make dressing for fresh cranberry salad recipe?
Simply whisk together the olive oil, balsamic vinegar, honey, orange juice & zest and garlic.
The dressing for this salad is delightful! Not overly heavy, the balsamic dressing is great to toss on the salad just before serving or serve on the side and have your guests dress themselves.
Should I dress the salad before serving for dinner?
Some people like to dress their own salad to control how much dressing they have. I would recommend serving the dressing on the side of the salad for your guests. Serve the dressing on the side, especially if you know there will be leftover salad.
You can also dress the entire salad just before dinner is served.
This Cranberry Salad recipe is a fantastic option to the overly sugary, traditional cranberry sauce. Another healthy side dish option is my Healthy Green Bean Casserole. These are great additions to any holiday table and a nice way to offer healthier sides to a calorie-heavy meal.
Need some other holiday recipe ideas? Check out some of my other recipes that are perfect for your Thanksgiving or Christmas: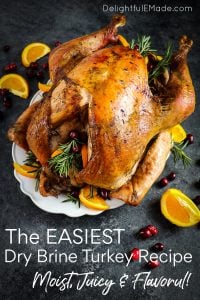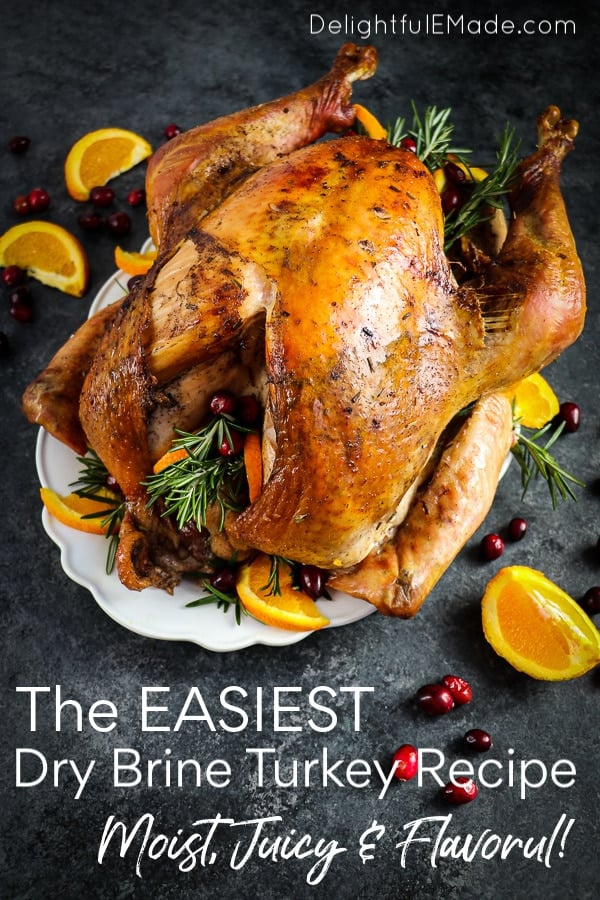 Apple Cider Turkey Brine and Directions on How to Brine a Turkey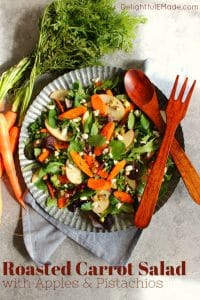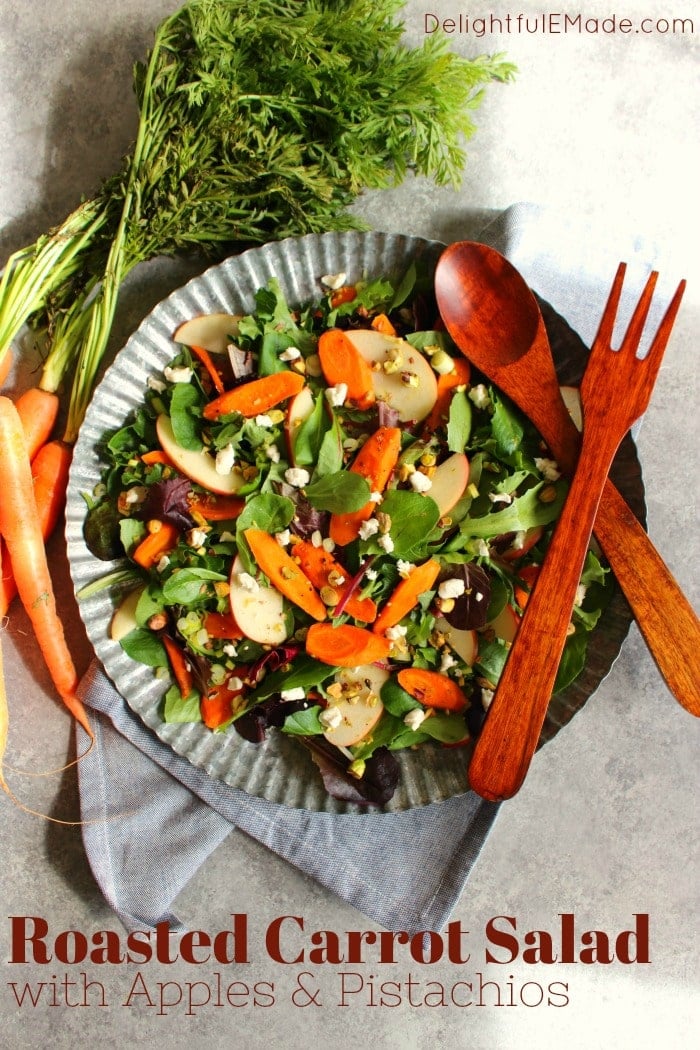 Roasted Carrot Salad with Apples & Pistachios
Everything Thanksgiving Stuffing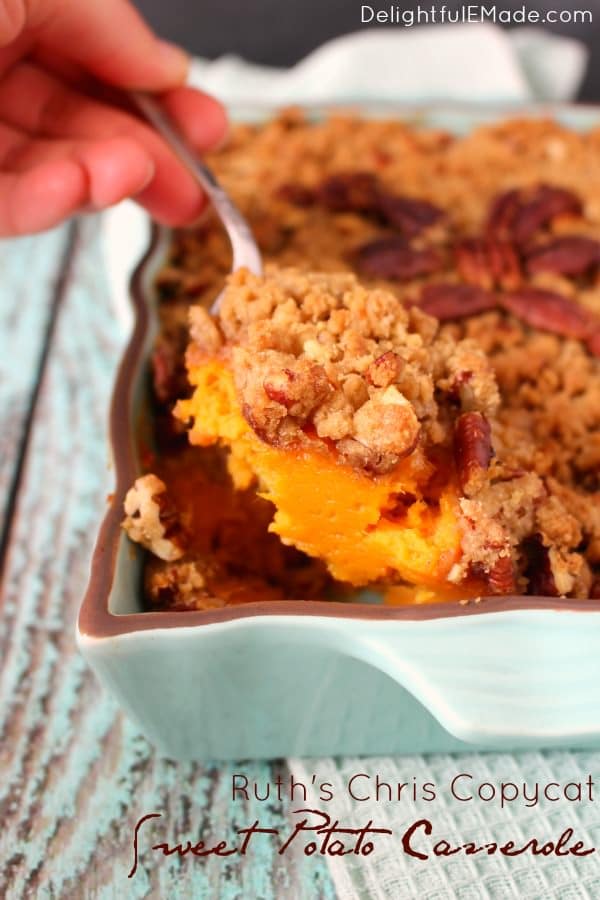 Ruth's Chris Sweet Potato Casserole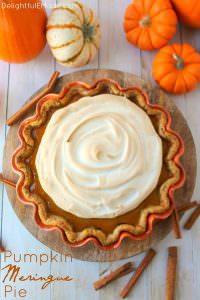 Here's the easy recipe for my Cranberry Salad recipe:
Erin Indahl-Fink
Yields 6
Cranberry Citrus Salad with Goat Cheese & Pecans
The perfect side for your holiday dinner, this Cranberry Citrus Salad with Goat Cheese Crumbles and sweet Brown Sugar Pecans is flavorful and delicious!
15 minPrep Time
15 minTotal Time
Ingredients
2 small heads of lettuce - Red Leaf, Frisee, Bib or Butter lettuce work well, rinsed and torn
1 (15 oz.) can mandarin oranges, drained
1 1/2 c. fresh cranberries (+ 2 Tbsp. sugar and 2 Tbsp. water)
2-3 sliced green onions
1/2 c. candied pecans
1/4 c. goat cheese crumbles
Dressing:
1/4 c. olive oil
1/4 c. balsamic vinegar
2-3 cloves garlic, minced
2 Tbsp. honey
juice of 1/2 orange (about 1/4 c.)
zest of 1/2 orange (about 1 Tbsp)
Instructions
In a small microwave safe bowl, add the fresh cranberries along with the 2 Tbsp water and 2 Tbsp sugar. Stir. Microwave for about 2 minutes until the cranberries begin to pop. Set aside to cool.
In a large bowl, add the rinsed and torn lettuce greens, oranges, onions, pecans and goat cheese crumbles. Toss to combine. Add the cooled cranberries and toss.
For the dressing: in a small bowl whisk together the oil, vinegar, garlic, honey, juice and orange zest. Thoroughly whisk and immediately pour over the salad. Toss to coat. Serve right away.
Notes
Note: if you are expecting left-overs, keep the dressing on the side. Once the salad is dressed, it doesn't keep well. The salad will keep better if its not dressed.
7.8.1.2
107
https://delightfulemade.com/2014/11/12/cranberry-citrus-salad/
Copyright by DelightfulEMade.com
As we get closer to Thanksgiving, I hope your able to enjoy lots of food, family, friends and giving thanks for all the blessings in your life. I'm always appreciative of my family, my sweet boy, my hard working husband, the food on our table and so many other aspects of our life. We may not have much, but what we do have I'm so very grateful for. Blessings to you and yours this holiday season!
Happy Thanksgiving!
Erin
The Thanksgiving Recipe Blog Hop recipes are all here
Maple – Glazed Turkey with Bacon and Sage | Five Heart Home
Turkey Tetrazzini w/ Mushrooms and Kale | The Fountain Ave Kitchen
Orange Balsamic Glazed Ham | Cherished Bliss
Turkey Soup | Carmel Moments
Cranberry Stuffed Turkey | Thoughts from Alice
Cauliflower Gratin | Love Grows Wild
Creamy Cheese Corn Casserole | Five Heart Home
Cranberry Citrus Salad with Goat Cheese and Pecans | Delightful E Made
Sautéed French Green Beans | Cherished Bliss
Potatoes Au Gratin | Yummy Healthy Eats
Mashed Sweet Potatoes | Live Laugh Rowe
Honey-Cinnamon Roasted Sweet Potatoes | Cooking with Ruthie
Cheesy Garlic & Herb Mashed Potatoes | Cherished Bliss
Harvest Grain Rolls | Heather's French Press
Jello Salad | Your Homebased Mom
Herb and Cheese Monkey Bread | Five Heart Home
Brown Rice | Uncommon Designs
Dairy Free Pumpkin Pie | Cooking with Curls
Apple Pie Waffles | Club Narwhal
Raspberry Pie | Dessert Now Dinner Later
Triple Layer Chocolate Pie | I Should be Mopping the Floor
Salted Caramel Pumpkin Pecan Pie | Lemon Tree Dwelling
No Bake Brown Sugar Cheesecake w/ Spiced Pears | Baking a Moment
Nutella Kahlua Truffles | Kleinworth & Co
Pumpkin Cupcakes & Maple Cream Cheese Frosting | Cupcake Diaries
Cream Filled Coffee Cake | Tastes of Lizzy T
Cranberry Orange Mulled Wine | Wine and Glue
Praline Pumpkin Cheesecake | Maison De Pax